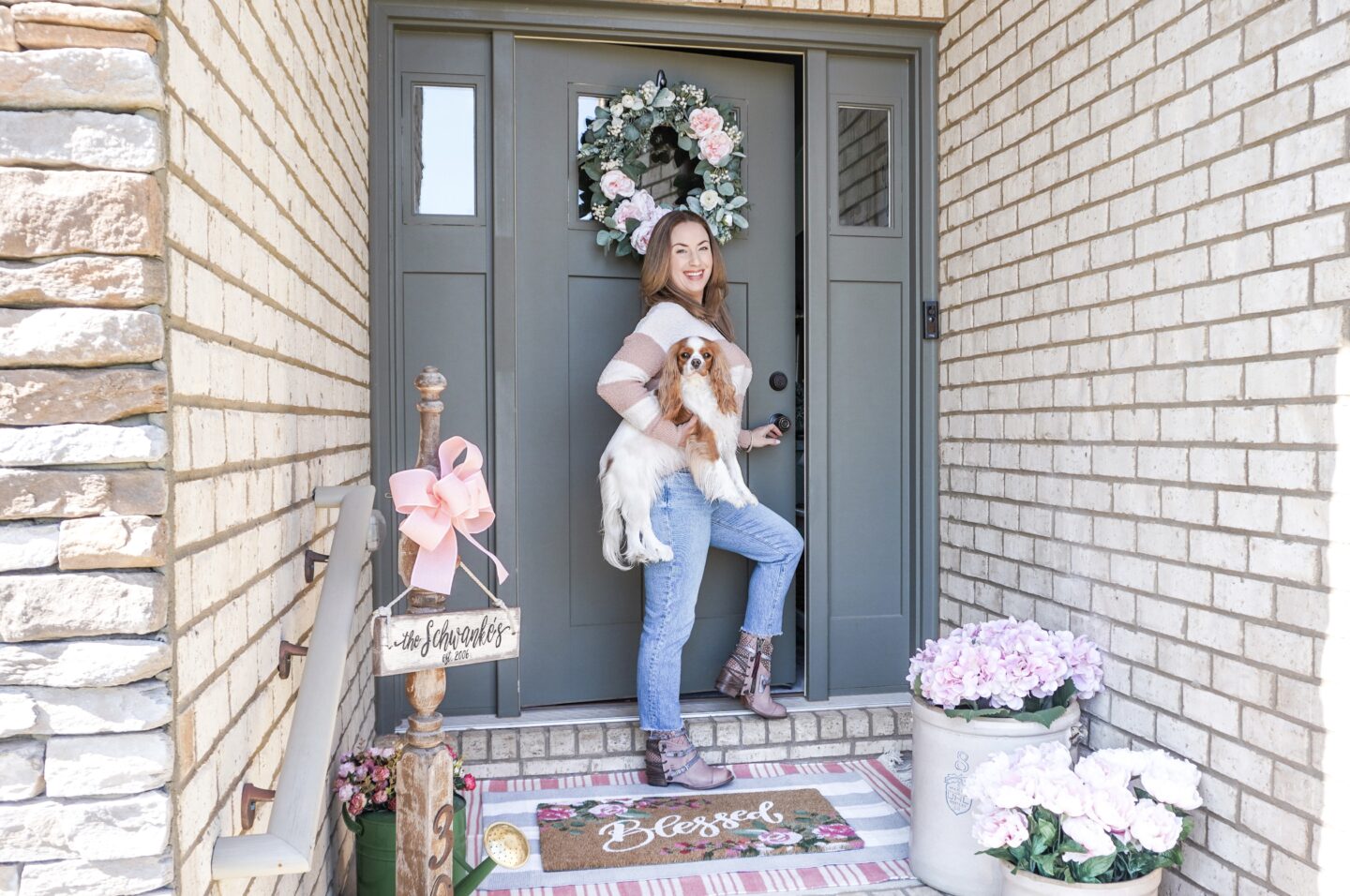 Hello everyone! It is so nice to be back at the keyboard and Blogging again! I took a little break from it to focus on my YouTube Channel, but I am so excited to share some new content with y'all! Today I am going to take you through my home for a 2023 Farmhouse Spring Decor House Tour! Don't forget to Comment down below and let me know what your favorite decor piece is.
Let's start with the front porch!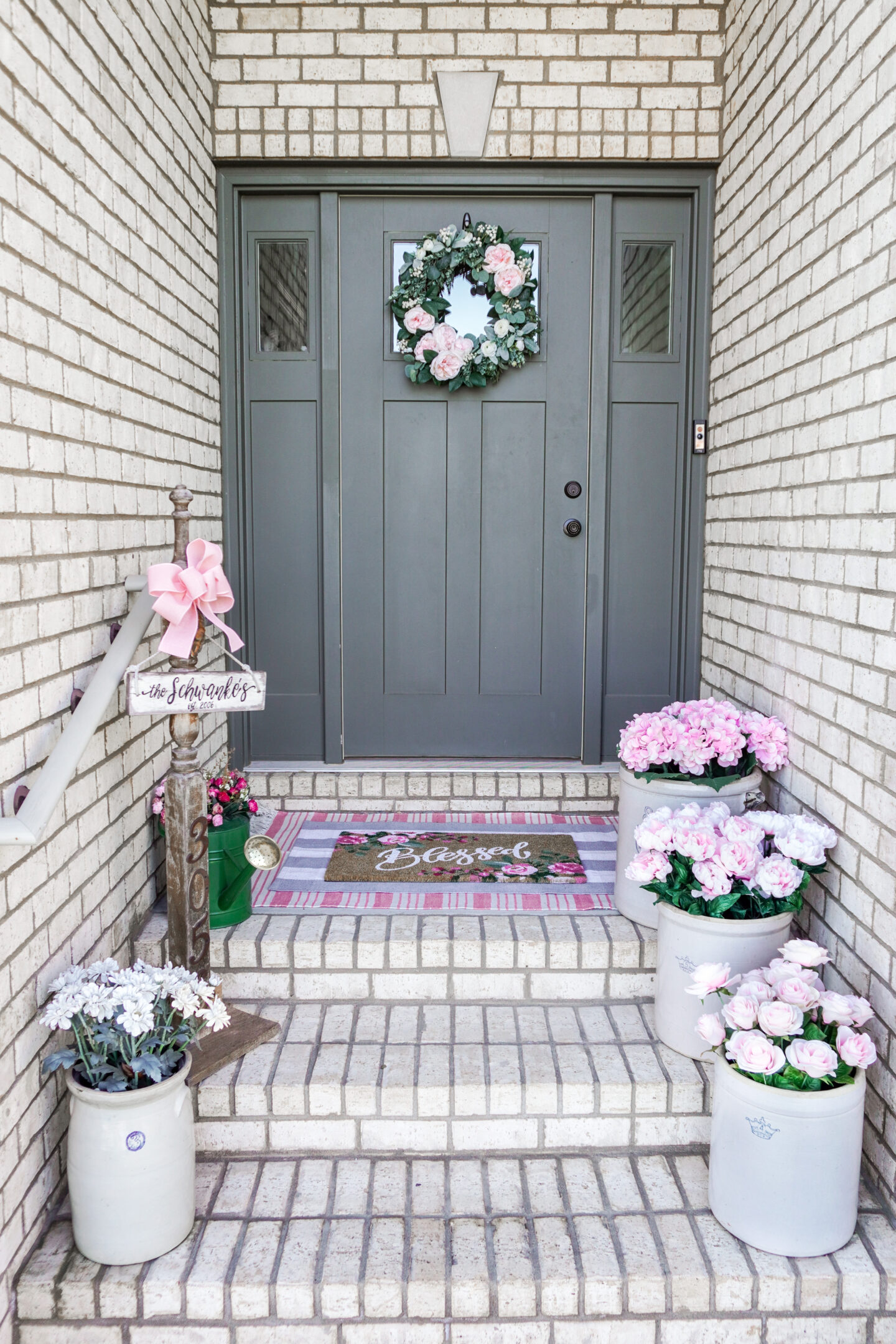 I chose to add a lot of pink into my Spring decor this year, and I am obsessed! Living in a house full of boys doesn't allow me to feel very feminine most days, but this year I decided Spring would be MY Season to decorate with one of my favorite colors.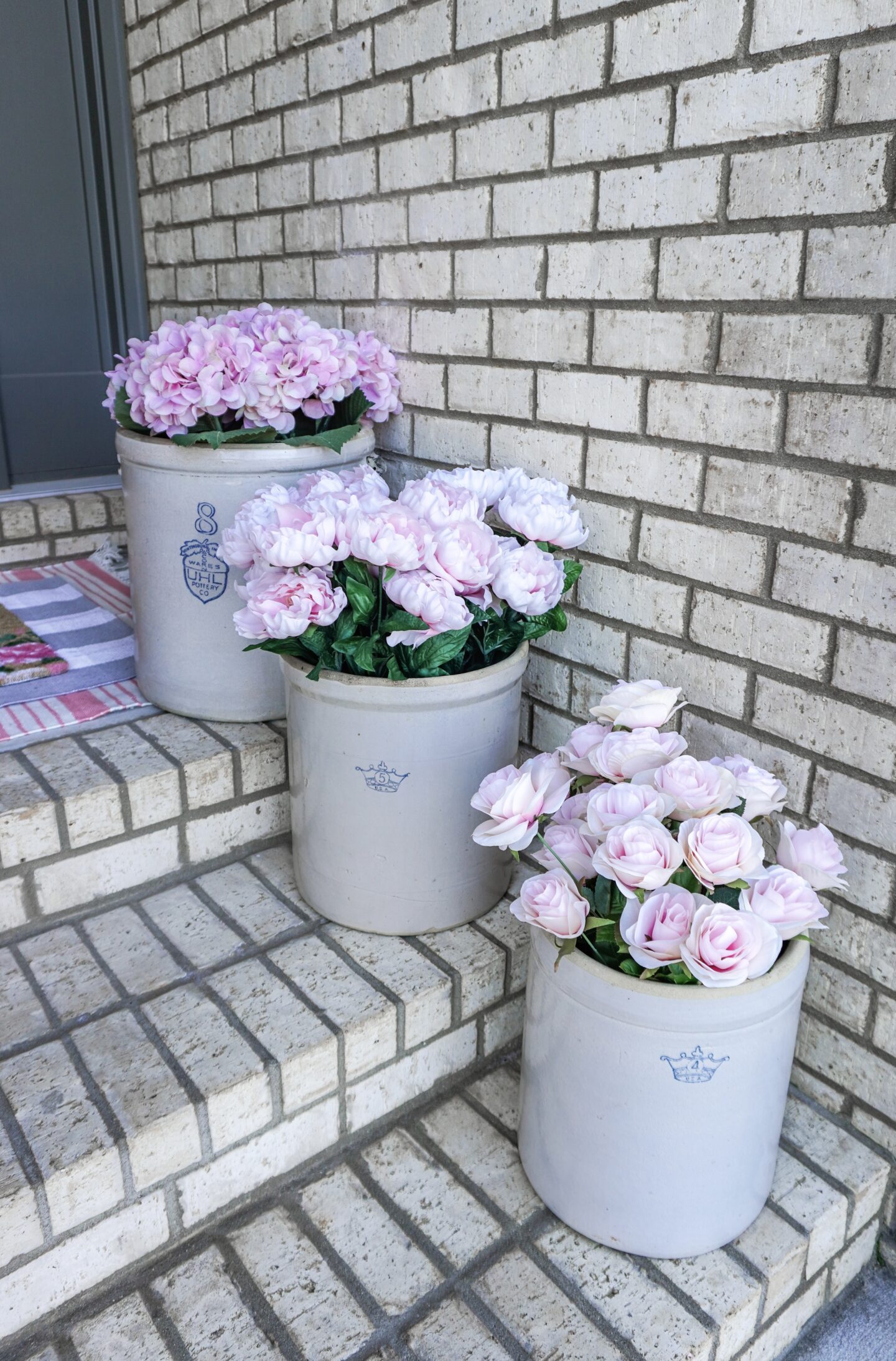 One of my favorite things to decorate each Season on my front porch are these vintage crocks! This Spring, I chose some faux florals to fill each one with. I have Roses, Peonies, and Hydrangeas…all pink! And here is a *TIP* if you want to try this same idea: buy some woodchips to put into each crock to help hold your florals in place. I found these flowers at Hobby Lobby!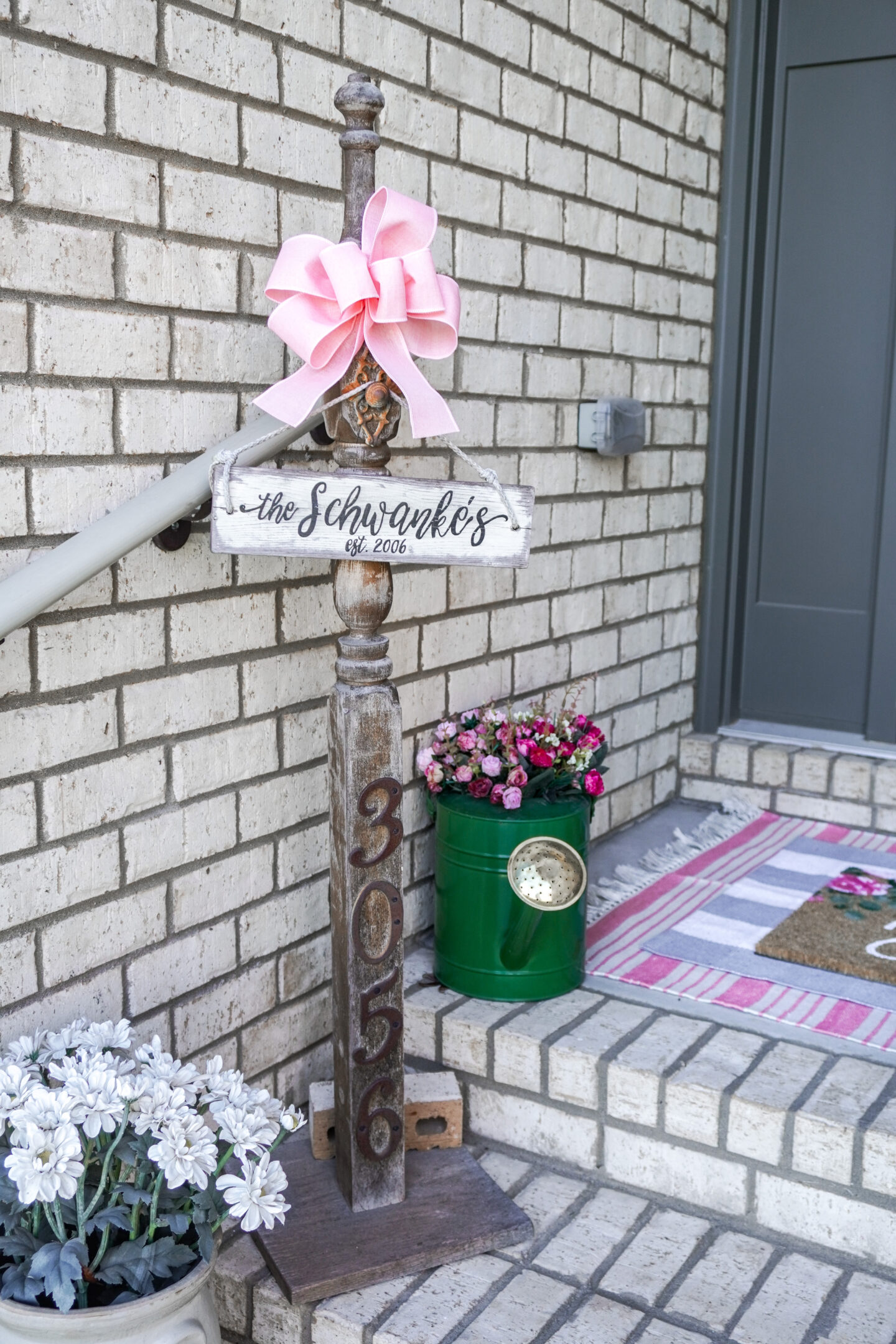 On the opposite side of my front porch, I always have a crock full of faux Daisies, as well as my Welcome post! I DIY'd this post using an antique bedpost screwed onto a wooden board I stained to match. I then added cast iron numbers on the front, an ornate knob, and a handmade wooden sign. On this post, I like to add a pretty bow for each Season, and this Spring I added on a pink bow, of course! I also added some pretty pink flowers into my watering can to add a pop of color.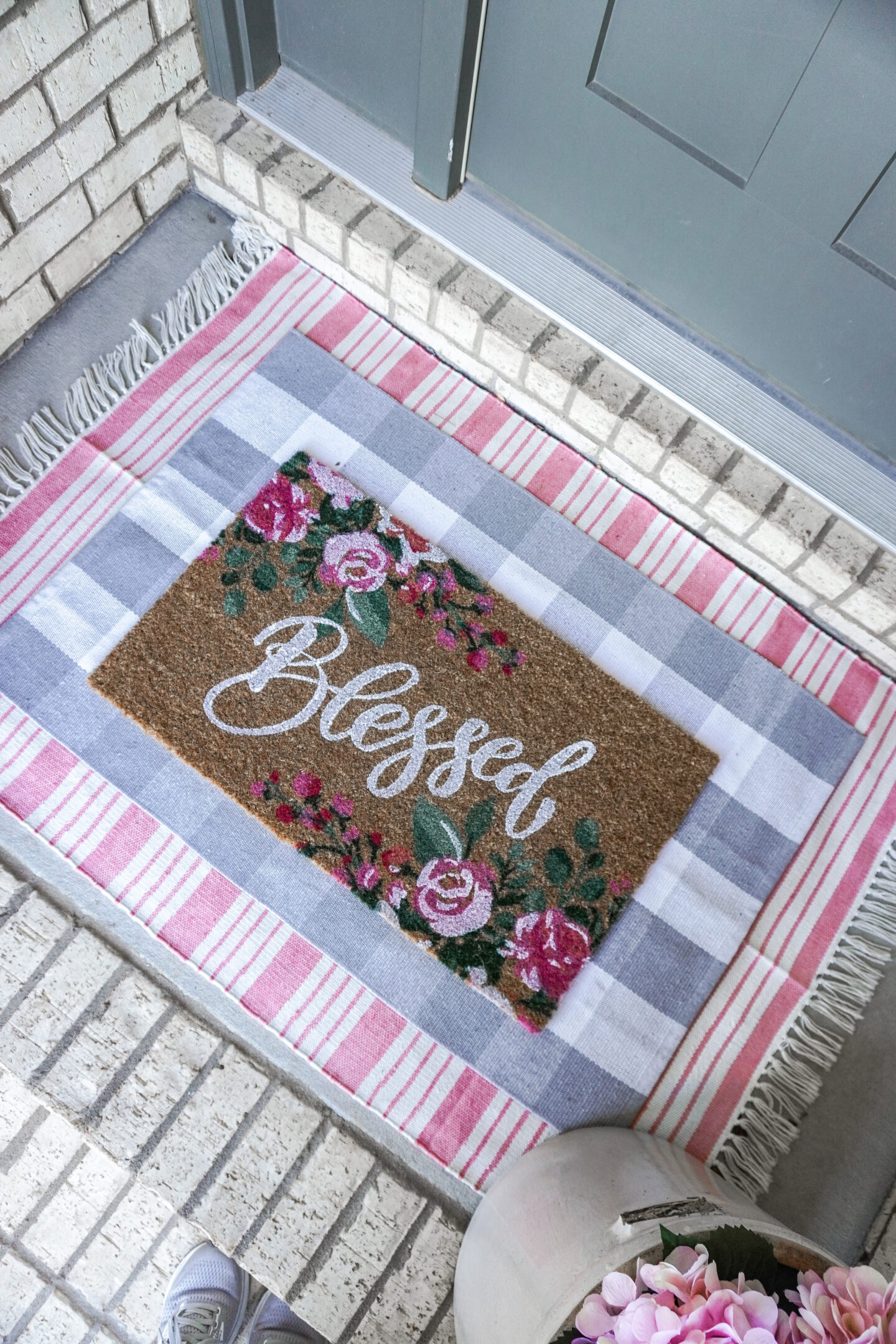 For my Welcome mat, I decided to go with a layered mat look! I am loving how this turned out! Both the pink bottom mat and the Coir rug are from Walmart, and the gray plaid rug is from Amazon. I love layered mats because they can instantly brighten up your front porch!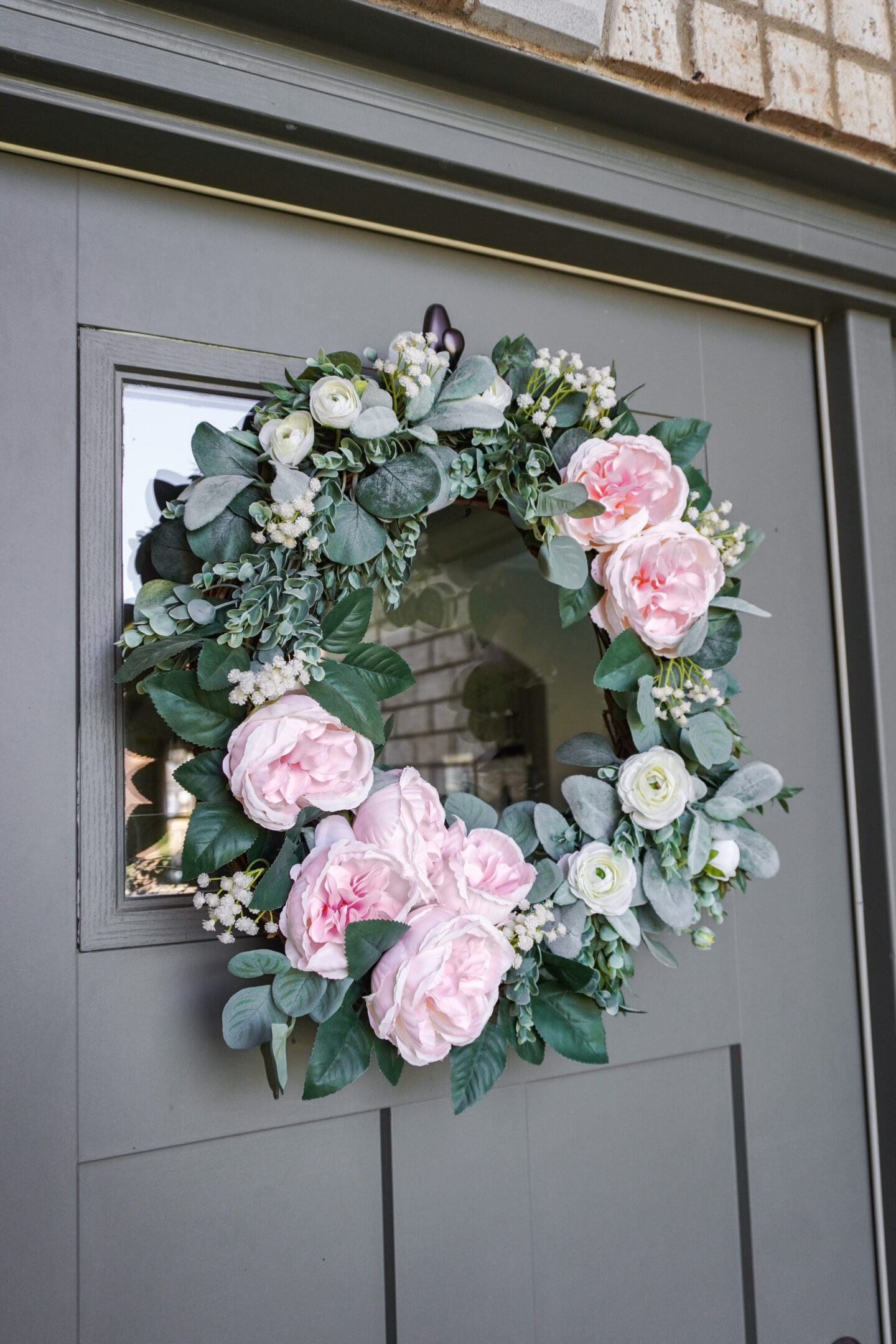 Last, but not least (actually probably my favorite part!), of the decor on my front porch is this gorgeous peony wreath made by Daisy Maebelle on Etsy! I am a huge fan of her wreaths! She has such an eye for design.
The Entryway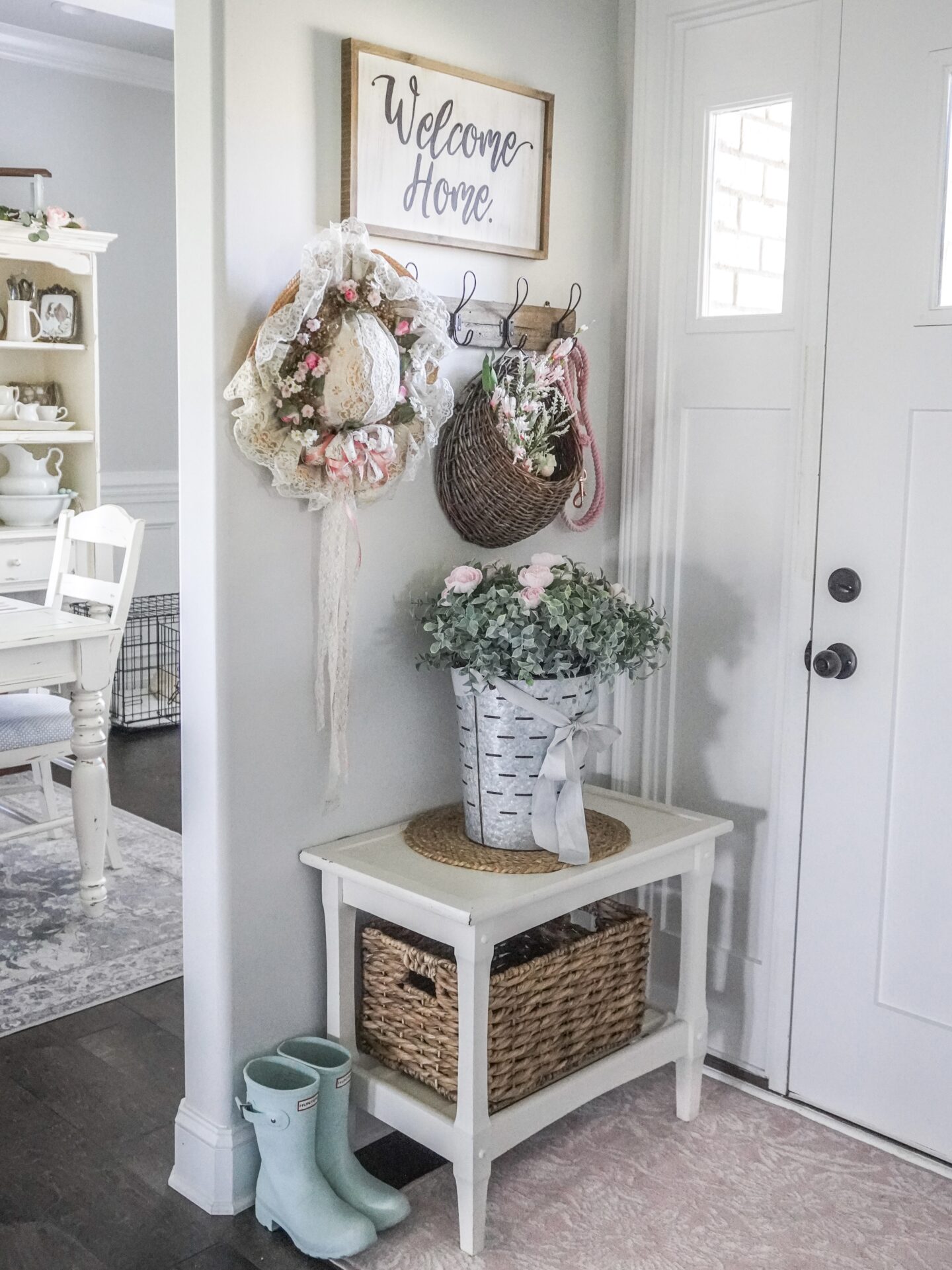 I had a lot of fun shopping for this space! Right by the front door, I always keep this little antique table. It's the perfect place to put a purse or keys on, but it also raises up my little olive bucket full of greenery. I poked in some little Target Dollar Spot peonies here and there on the top and also tied a bow around the basket. I also purchased this pretty pink floral rug from Target to brighten up this space!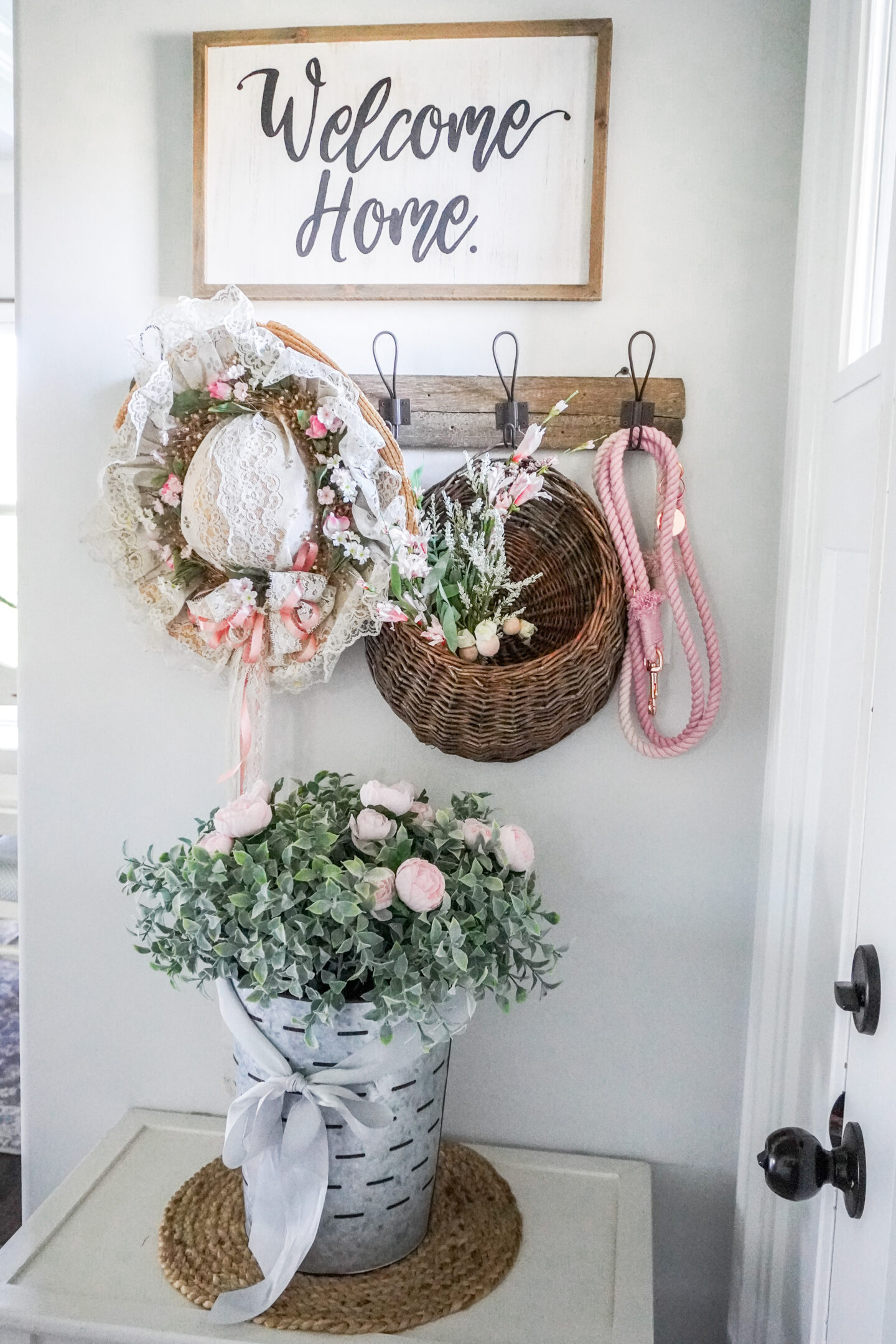 Above that on my hook rack, I have a vintage sun hat covered in lace and flowers that I found at Goodwill! I was so excited when I found that hat because it added a fun flare of whimsy to this space! Next to that, I have an antique hanging basket full of pink florals, as well as Emma's pink rope leash (use code EMMA to save 10% on it!).
The Dining Room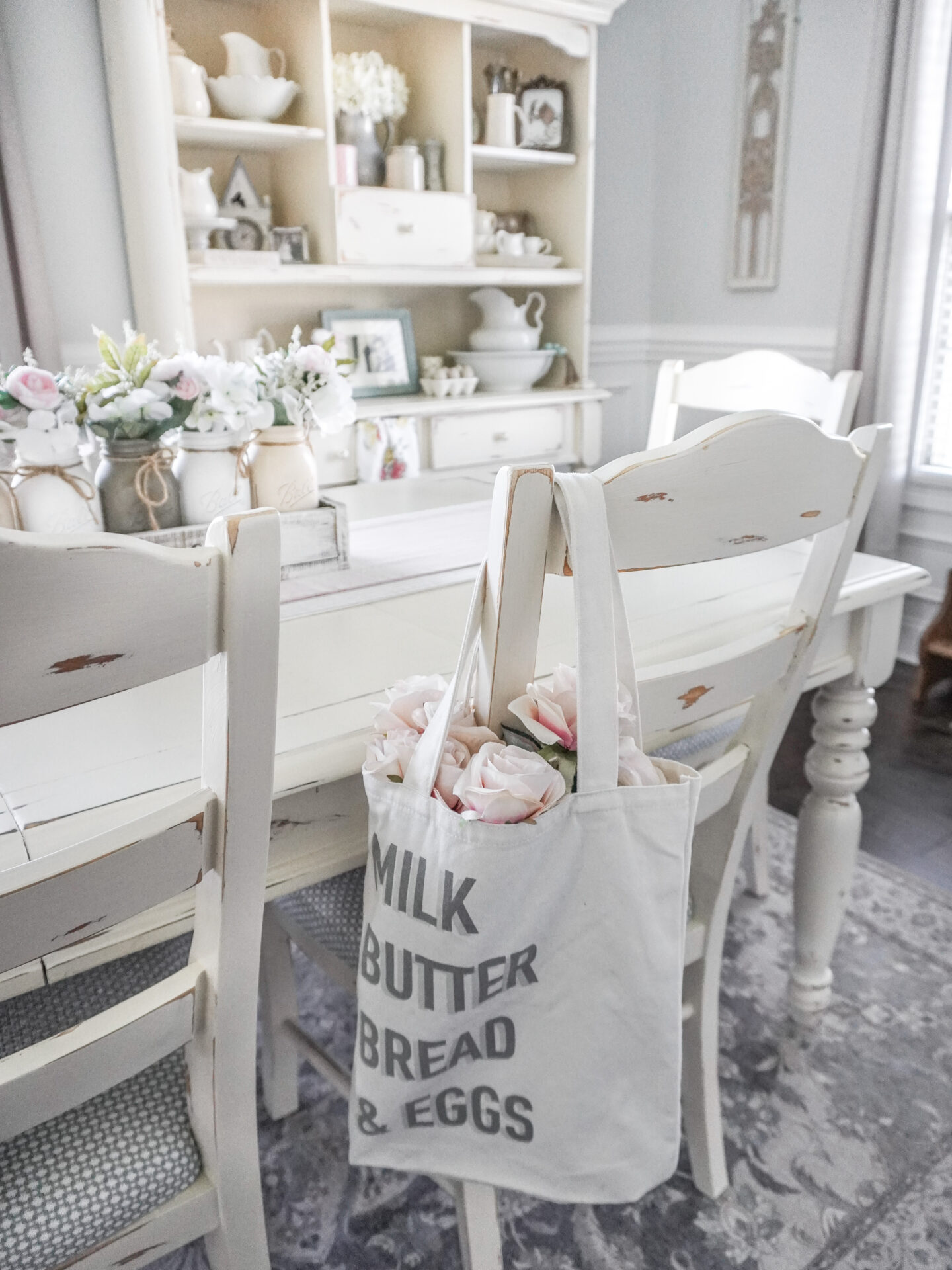 Welcome to my dining room! This room is actually pretty good size, and includes my dining table, a side chair, two hutches, and my coffee bar! I refinished all of the furniture in this room to be farmhouse style, and painted everything with off-white paint. I love how they all turned out!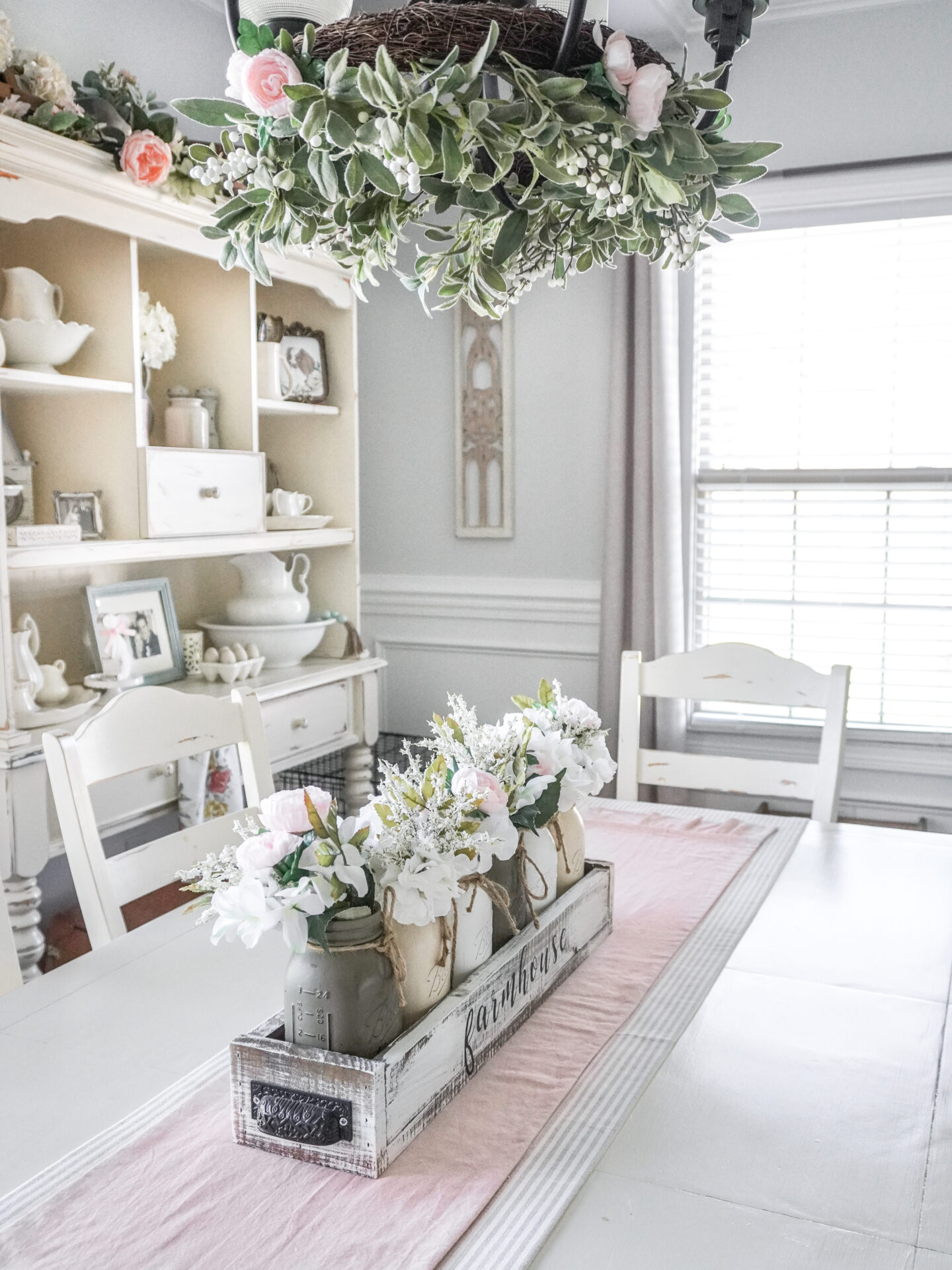 Down the center of my table, I have a layered runner look. I paired a handmade pink linen ruffle runner on top of a ticking stripe runner. On top of the runners, I have a little wooden Mason jar caddy filled with green, white, and pink florals. Hanging above my table, I have a wreath that is there year-round, but I like to tuck in different colored florals depending on the Season. I love this space because it has such a feminine vibe!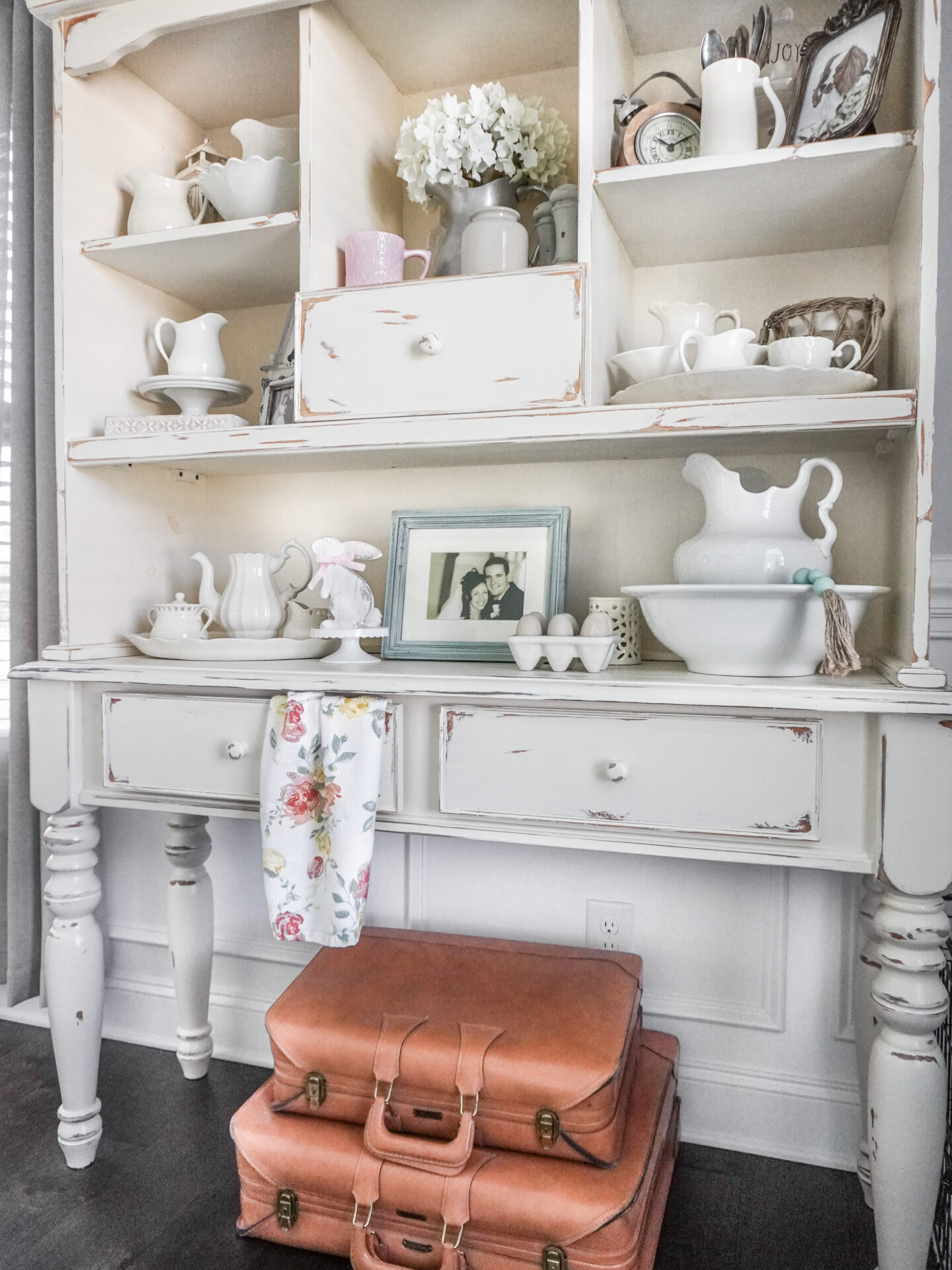 My larger hutch, which matches my dining table, is full of different kinds of vintage dishware and Ironstone which I have collected over the years. I also tucked in some Spring decor here and there, such as the little bunny rabbit, egg tray, floral hand towel, and hydrangeas. Below this hutch, I have stacked some vintage leather suitcases. I love that touch!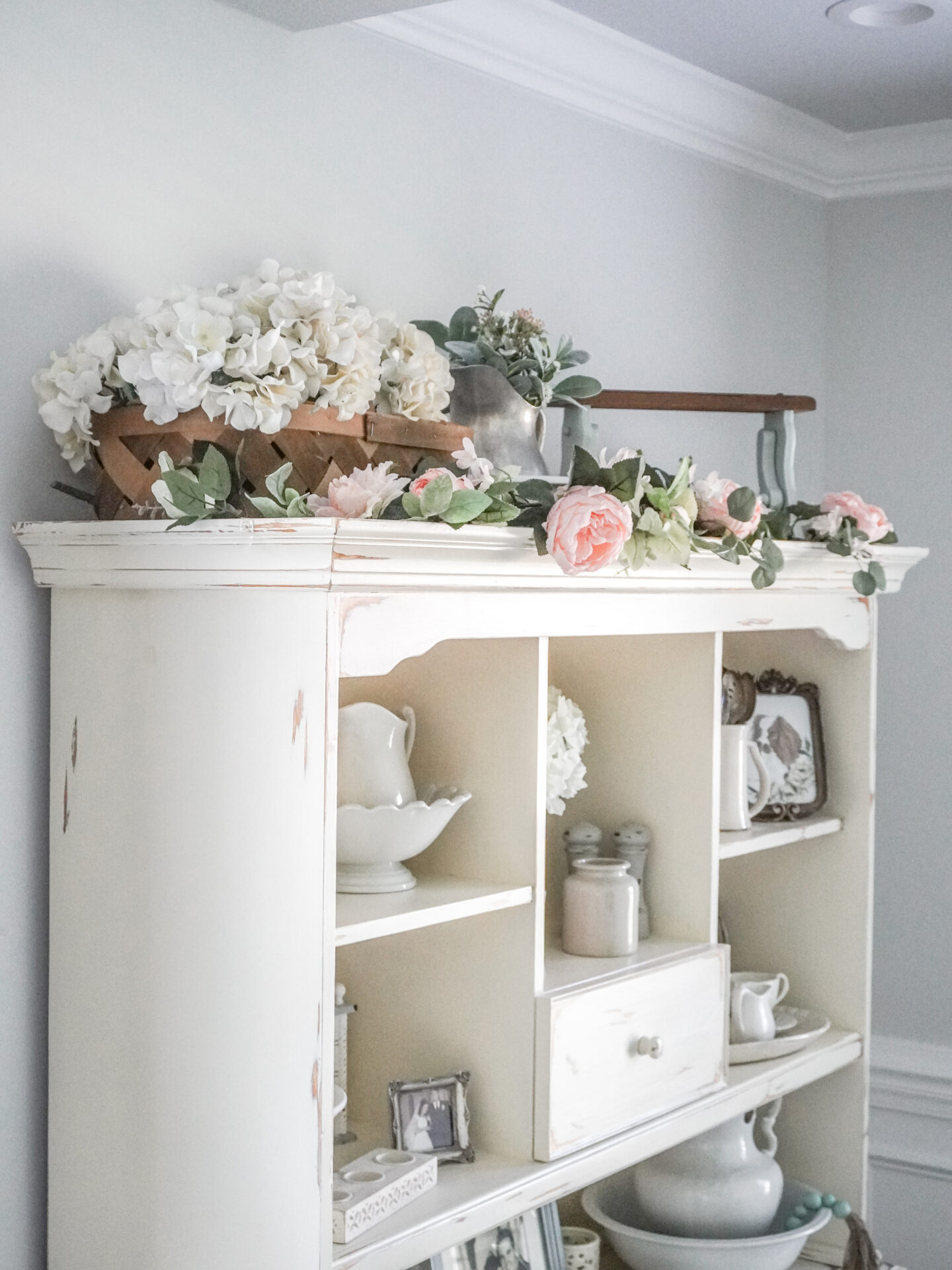 On the very top of this hutch, there is tons of space to place nicknacks and baskets, and flowers! One of my favorite pieces from my 2023 Spring Farmhouse Home Decor shopping is this rose garland. I found it at Hobby Lobby! It's just gorgeous with the soft pinks and greens.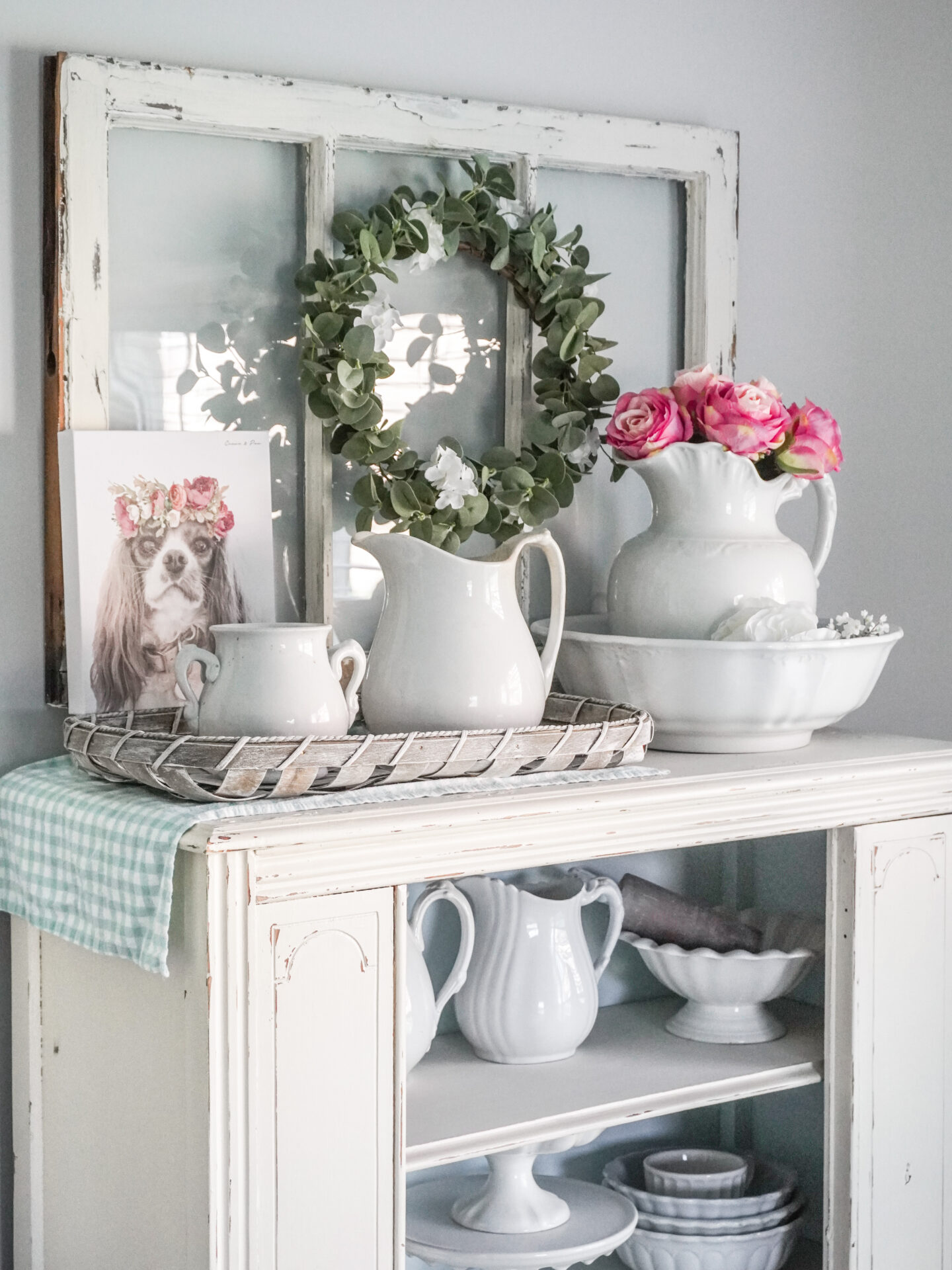 On another wall in my dining room is this antique hutch that is full of my Ironstone collection! You can check out how I refinished this hutch HERE! I added in some vibrant faux pink roses into one of my pitchers for a pop of color. Beside that, I draped a cotton-printed hand towel over the edge of the cabinet to bring in some minty green. Then, I topped the handtowel with a mid-sized tobacco basket, more Ironstone, and a cute portrait of Emma!
The Coffee Bar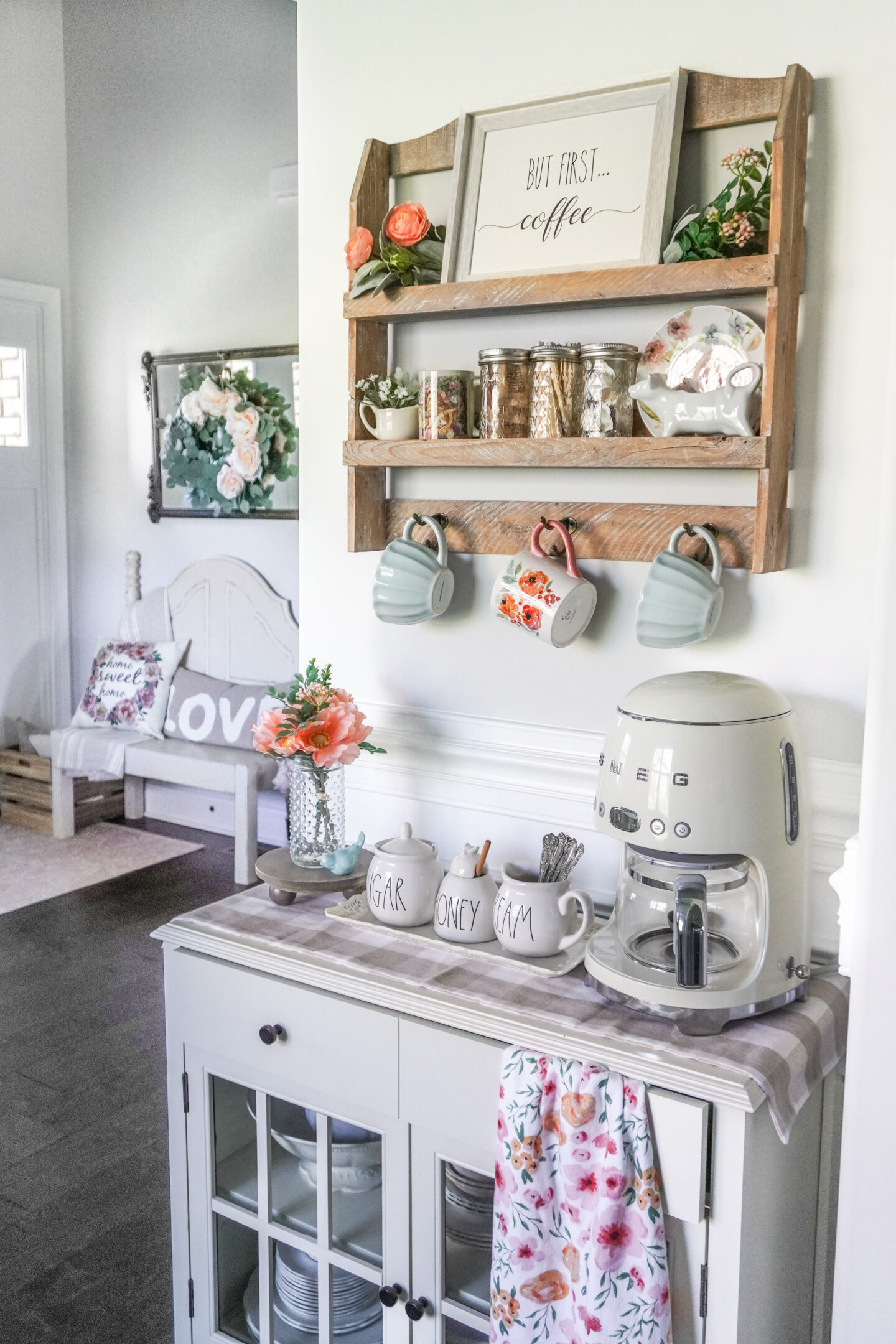 One of my favorite spots in my whole house is my Coffee Bar! I love decorating it for each Season.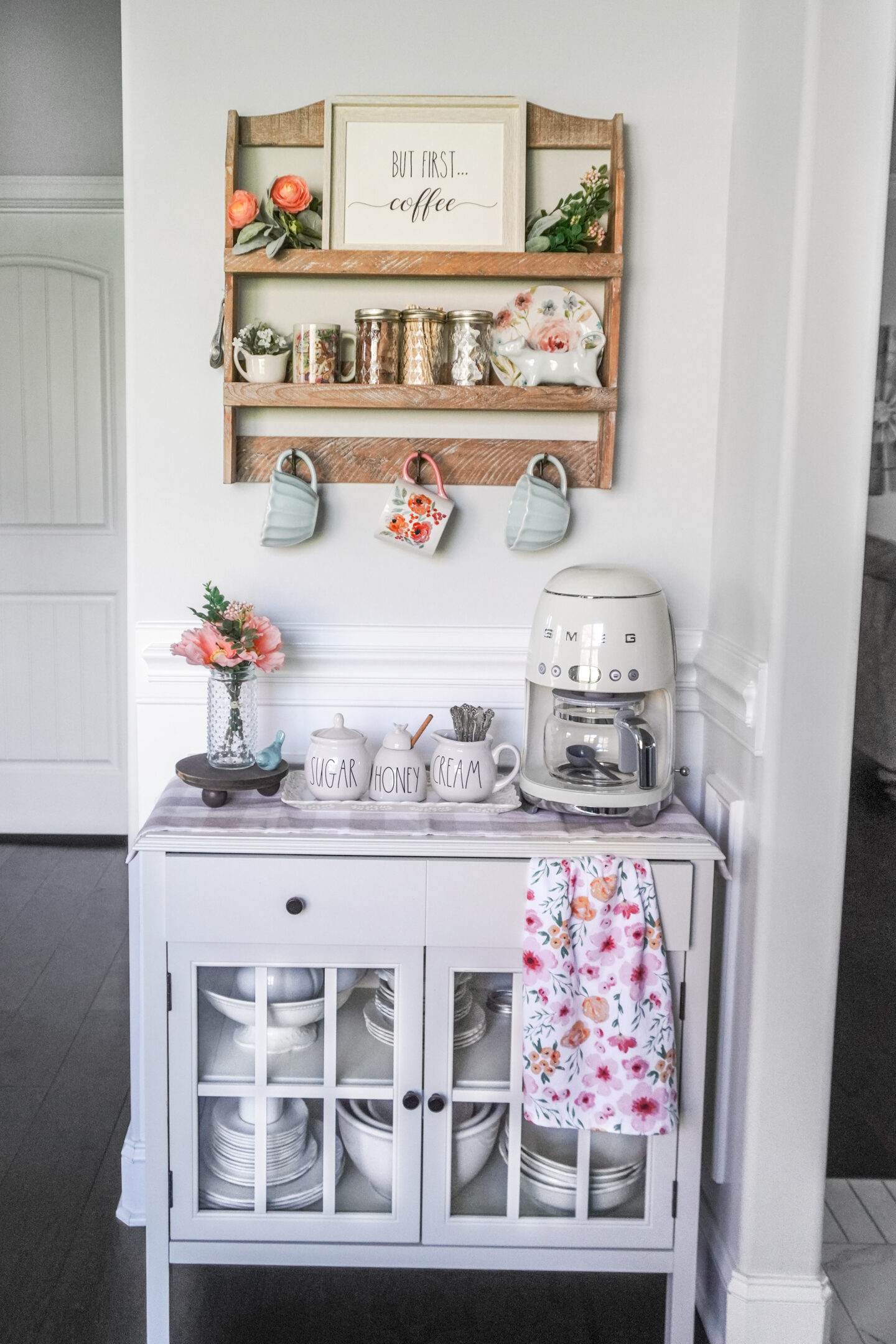 The top shelf of this coffee bar rack has some coral-colored flowers tucked in beside my handmade sign. The second shelf has vintage diamond glass jars filled with sugar, stir sticks, and creamer. This shelf also has a small Ironstone creamer, a vintage Cavalier mug, and a cow creamer with a floral plate behind it.
I like to change out my mugs with each Season, so this time I added in my Anthropologie mugs as well as this floral mug I got from Tuesday Morning. I'm totally obsessed with my SMEG Coffee Maker, it is just perfect with my decor all year round! The cabinet holds more Ironstone, of course! 🙂
The Kitchen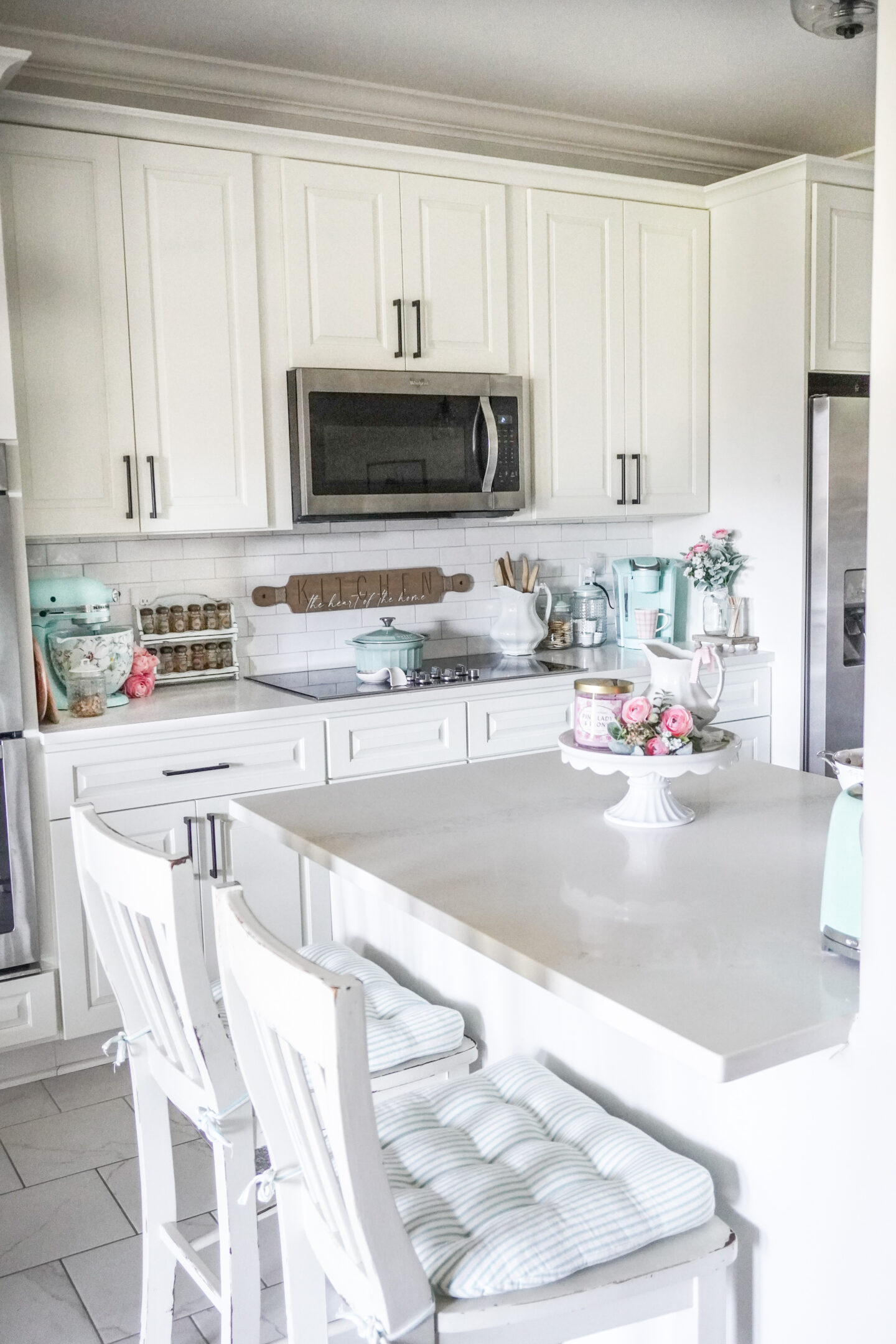 Our next stop on our 2023 Farmhouse Spring Home Decor tour is my Kitchen! I keep aqua in my home for every Season, and it pairs so beautifully with pink. It gives off Shabby Chic vibes and I love it! I got these adorable aqua ticking stripe chair pads from Barnette Home Decor.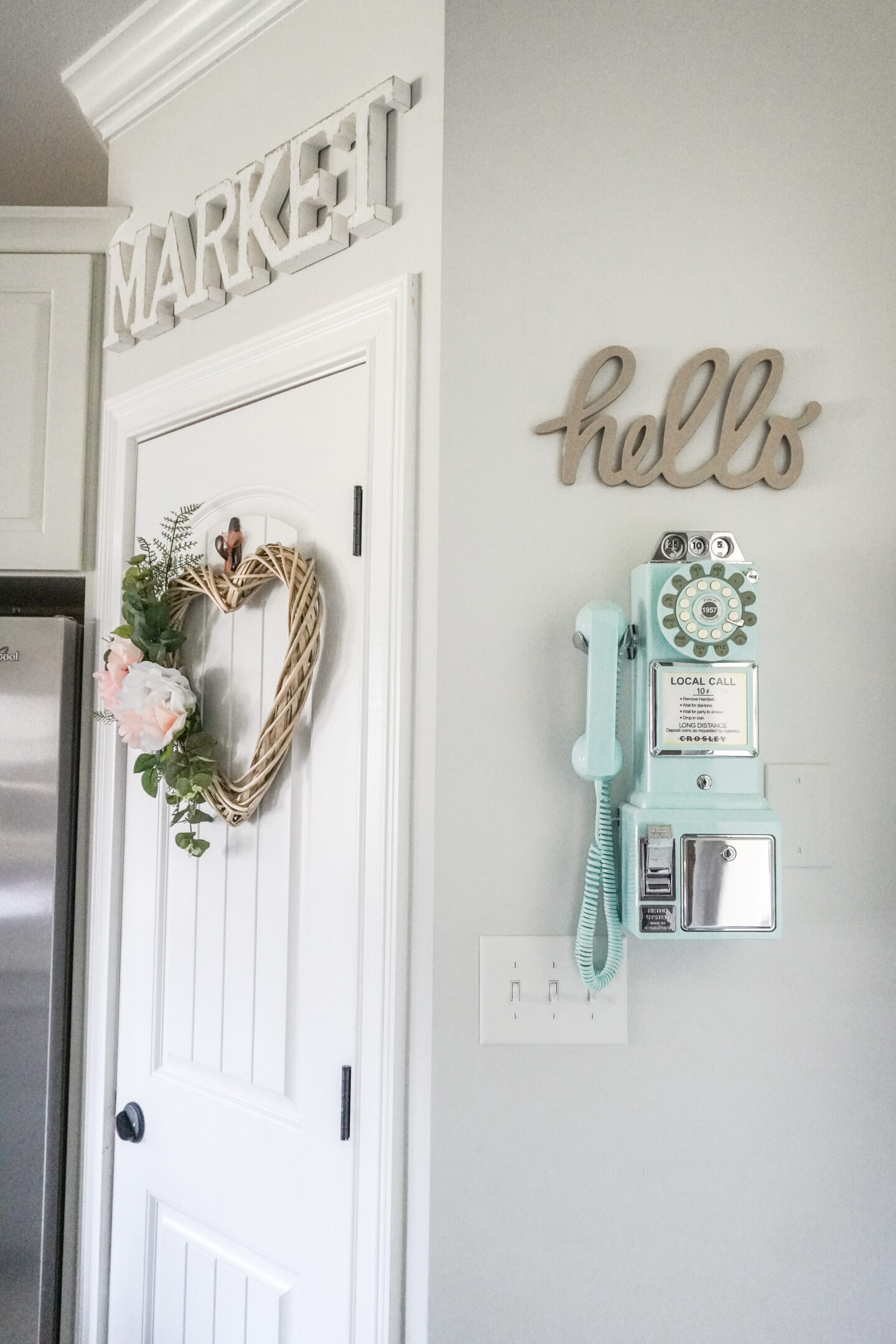 I get asked quite often about this darling little aqua phone! A few years ago, Cracker Barrel was selling them in their store, but now you have to hunt them down on eBay. It does work as long as you have a landline, but I just have it for looking at. On my Pantry door, I have a heart-shaped wood wreath with some peachy pink flowers on it from TJ Maxx.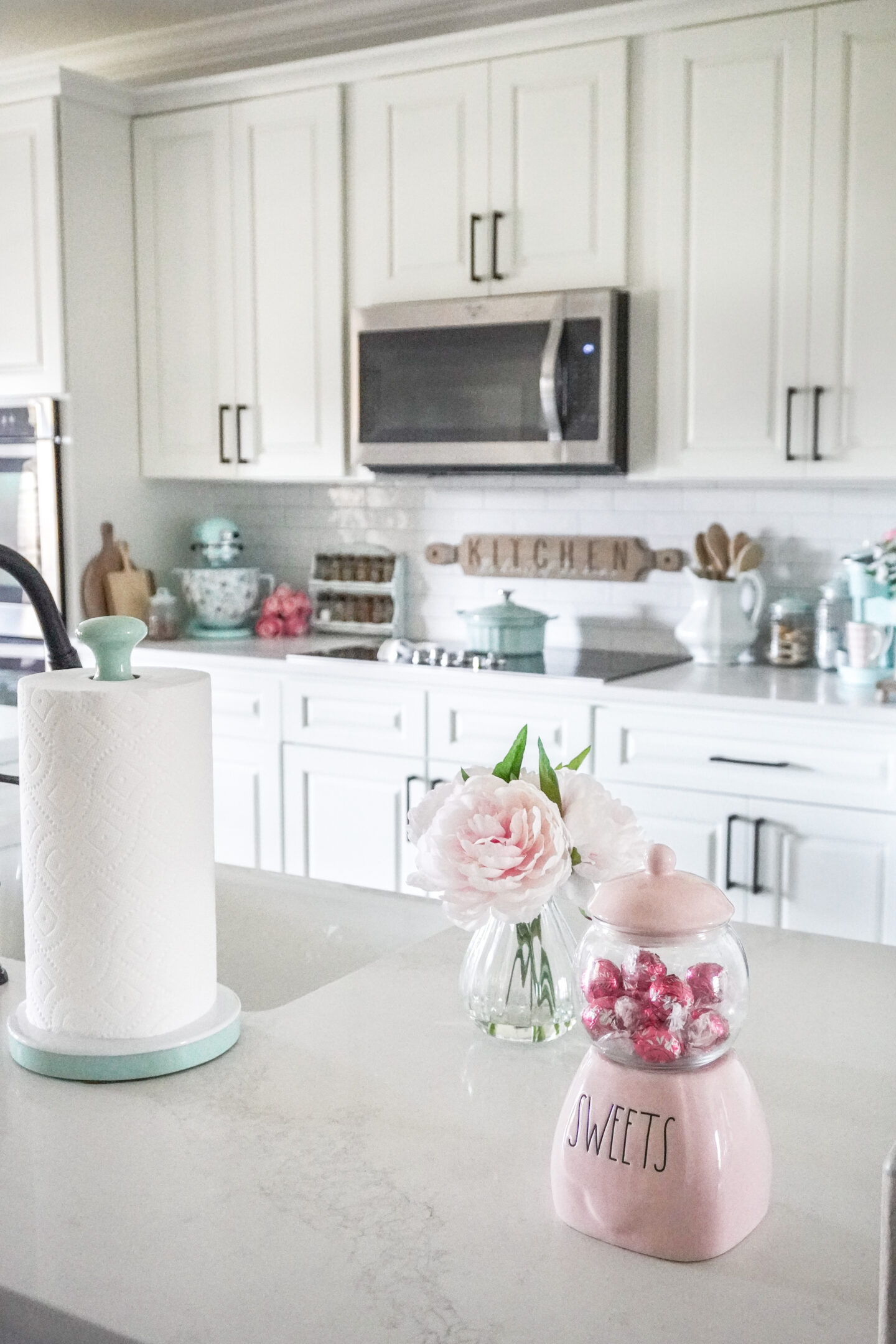 Across the way on my island, I have this adorable little Rae Dunn Sweets candy dish. I filled it with some pink (of course) Lindor Strawberry White Chocolate truffles, yum! Next to that, there is a pretty vase with pink flowers from TJ Maxx.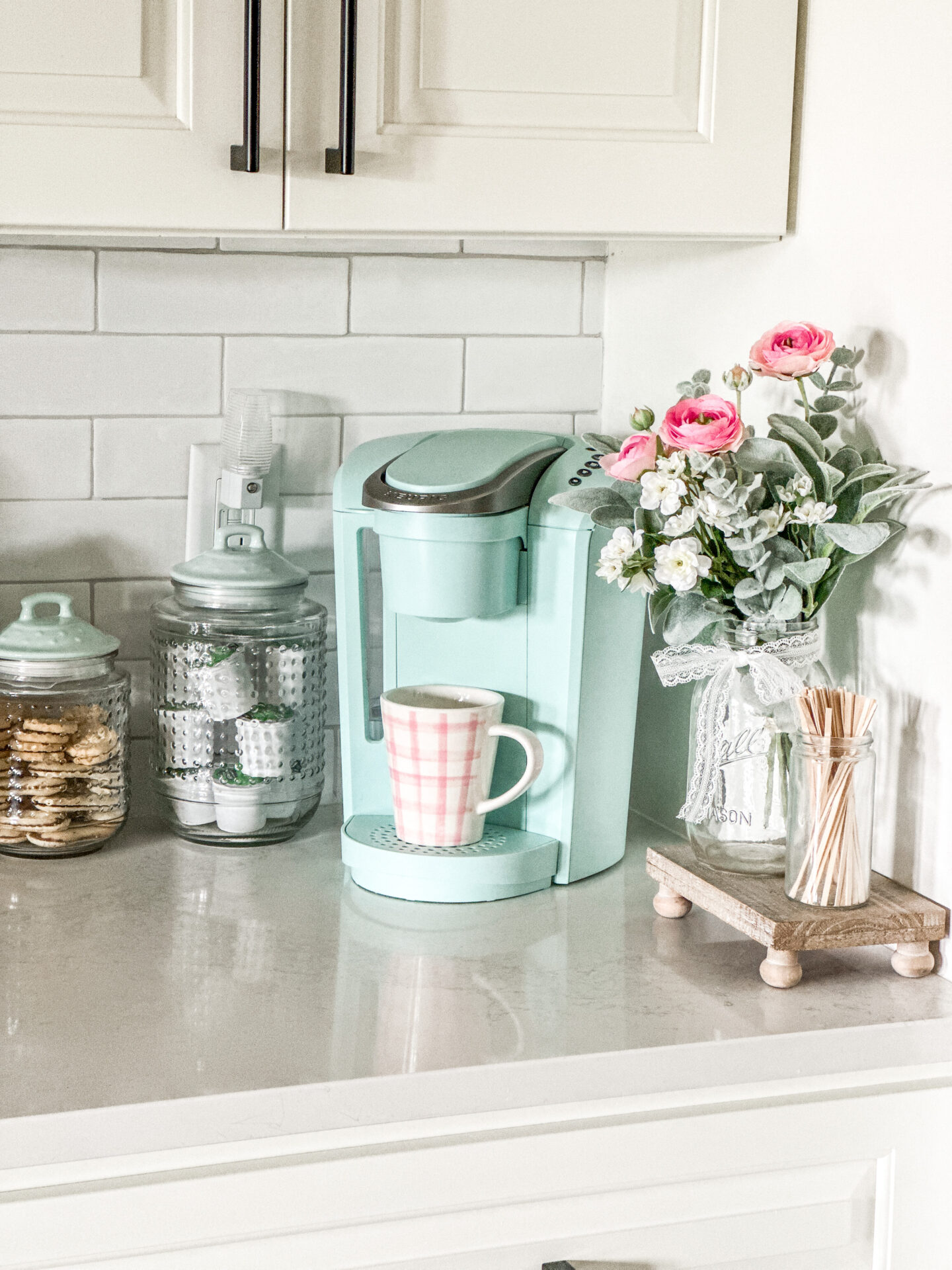 This is my second coffee bar…Yes, I love coffee! And it's totally ok to have two coffee bars lol! I adore my Oasis Keurig, so it's a must-have. The little pink, plaid mug is actually a Goodwill find, but I love it. I have a small pedestal from Hobby Lobby with some pink florals in a Ball jar, as well as a little jar of stir sticks. The canisters beside the Keurig hold my K-Cups and some cookies and are made by Magnolia Bakery.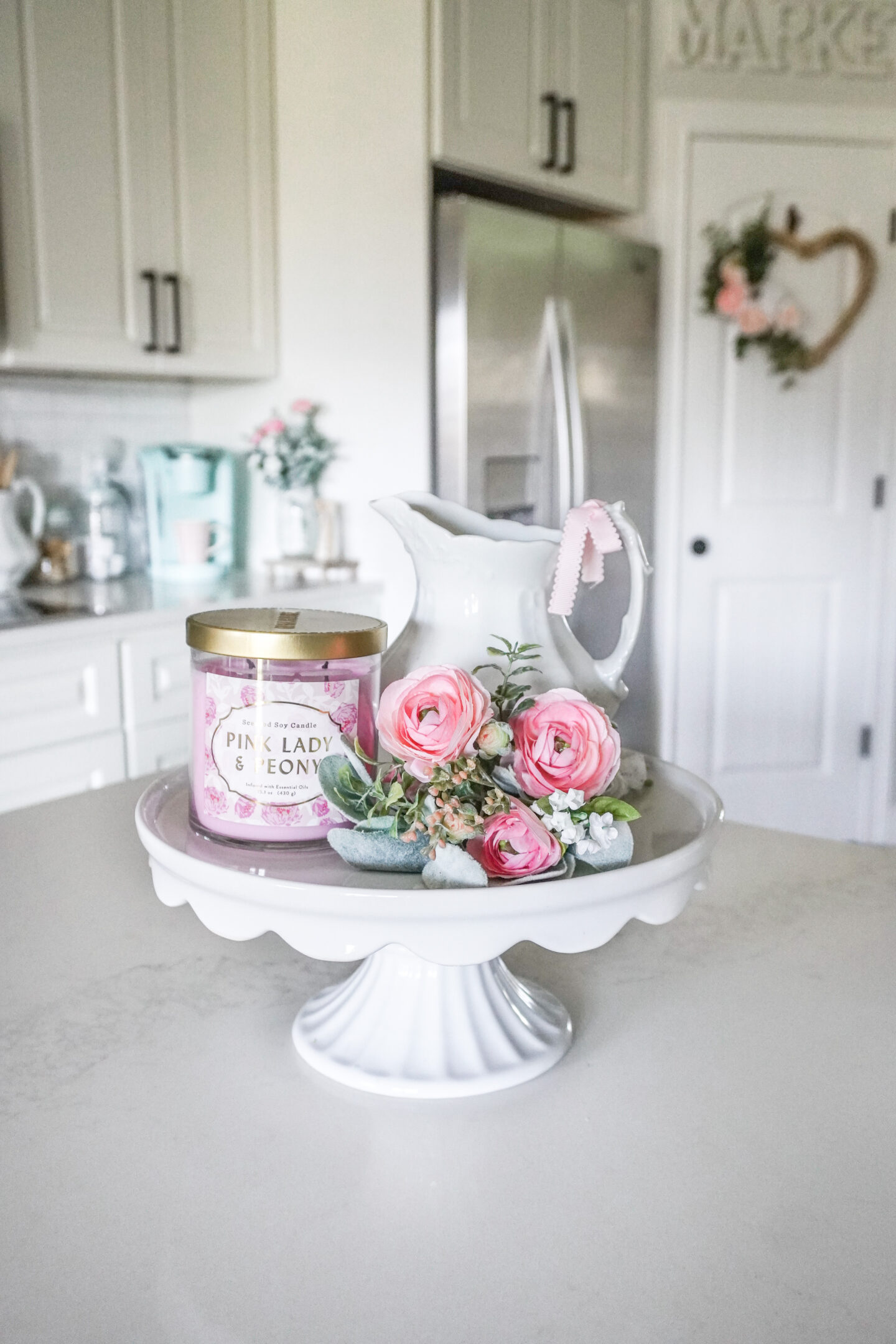 This cake stand is another favorite of mine! I like to top it with an Ironstone pitcher, a pink candle, and some pretty pink flowers. You can find this cake stand at Martha.com!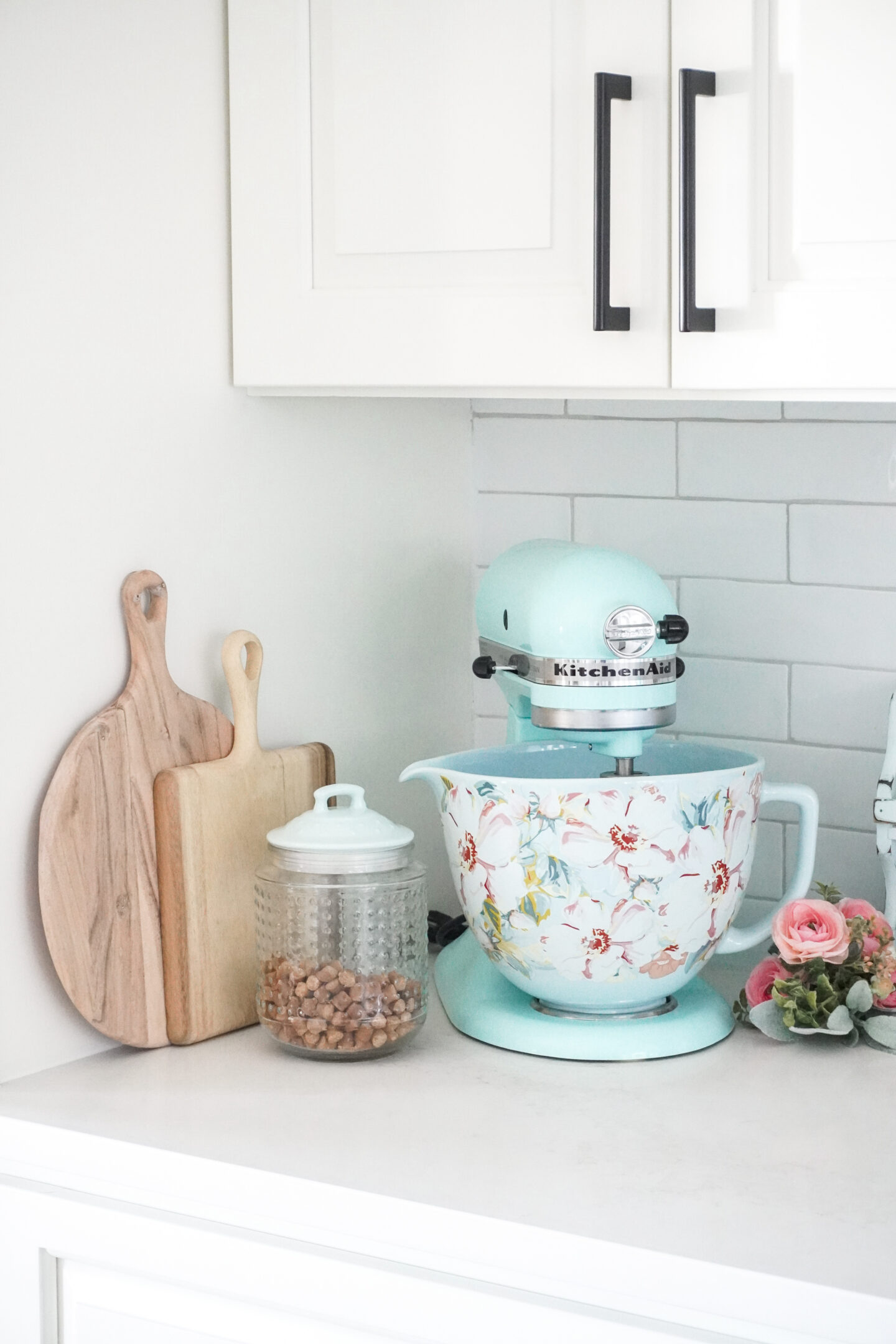 In the furthest corner on my countertops sits my KitchenAid Stand Mixer, which I paired with my Spring bowl! I love these two together. I also have two charcuterie boards, another Magnolia Bakery canister with puppy treats, and some florals.
The Eat-In Kitchen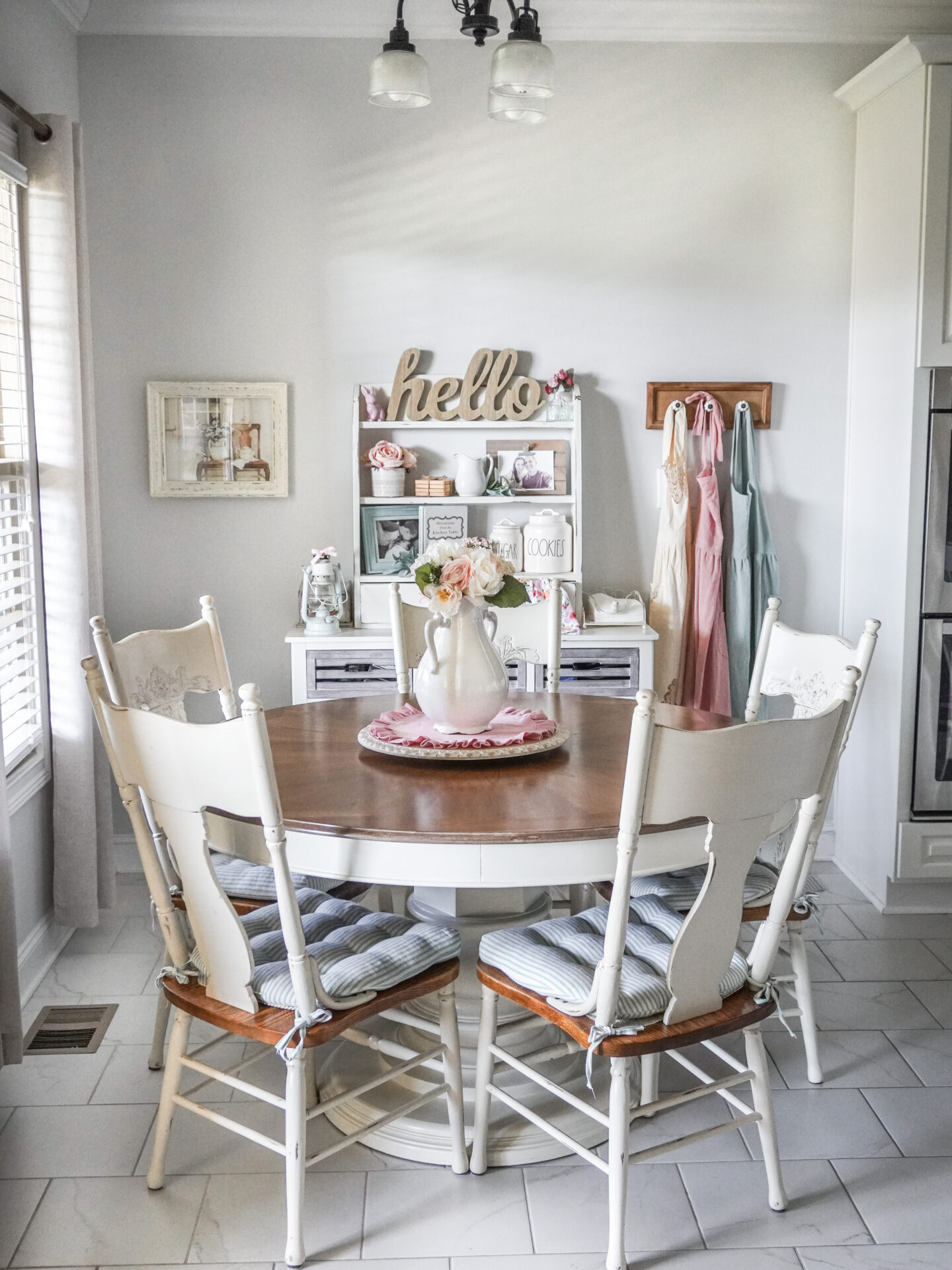 I just love this sunny little eat in kitchen nook! I often get asked about where I got this table from, but it is actually one of my refinishing projects. You can check out that blogpost HERE! I also refinished the chairs, and you can check out that blogpost HERE.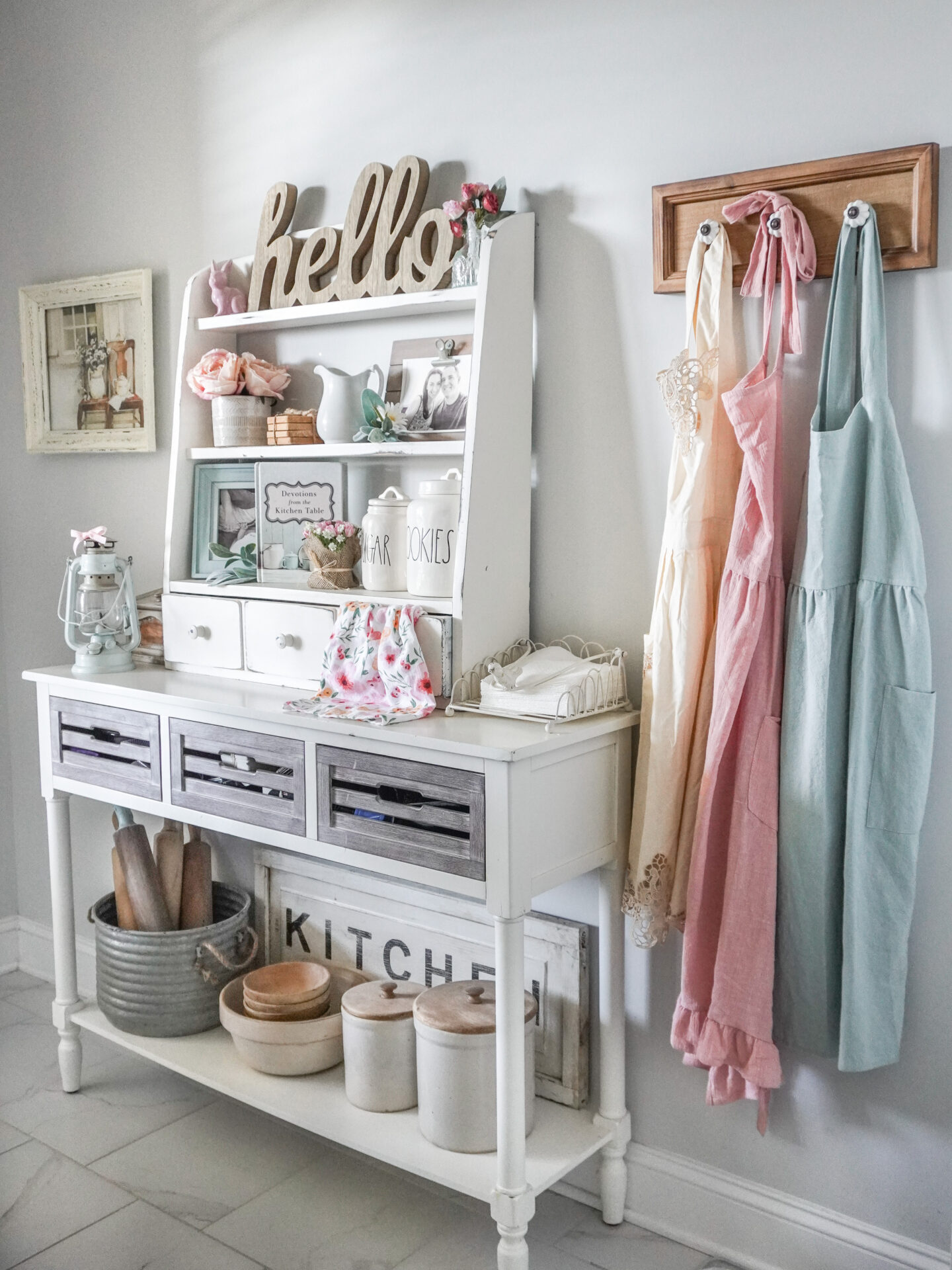 Every new Season I put different aprons up on my apron rack and it adds so much charm to this space. For Spring I have an aqua, pink, and vintage ivory apron. The hook rack is from Hobby Lobby, but I just loved the wood color and the ceramic knobs! It adds an extra vintage flare to this nook.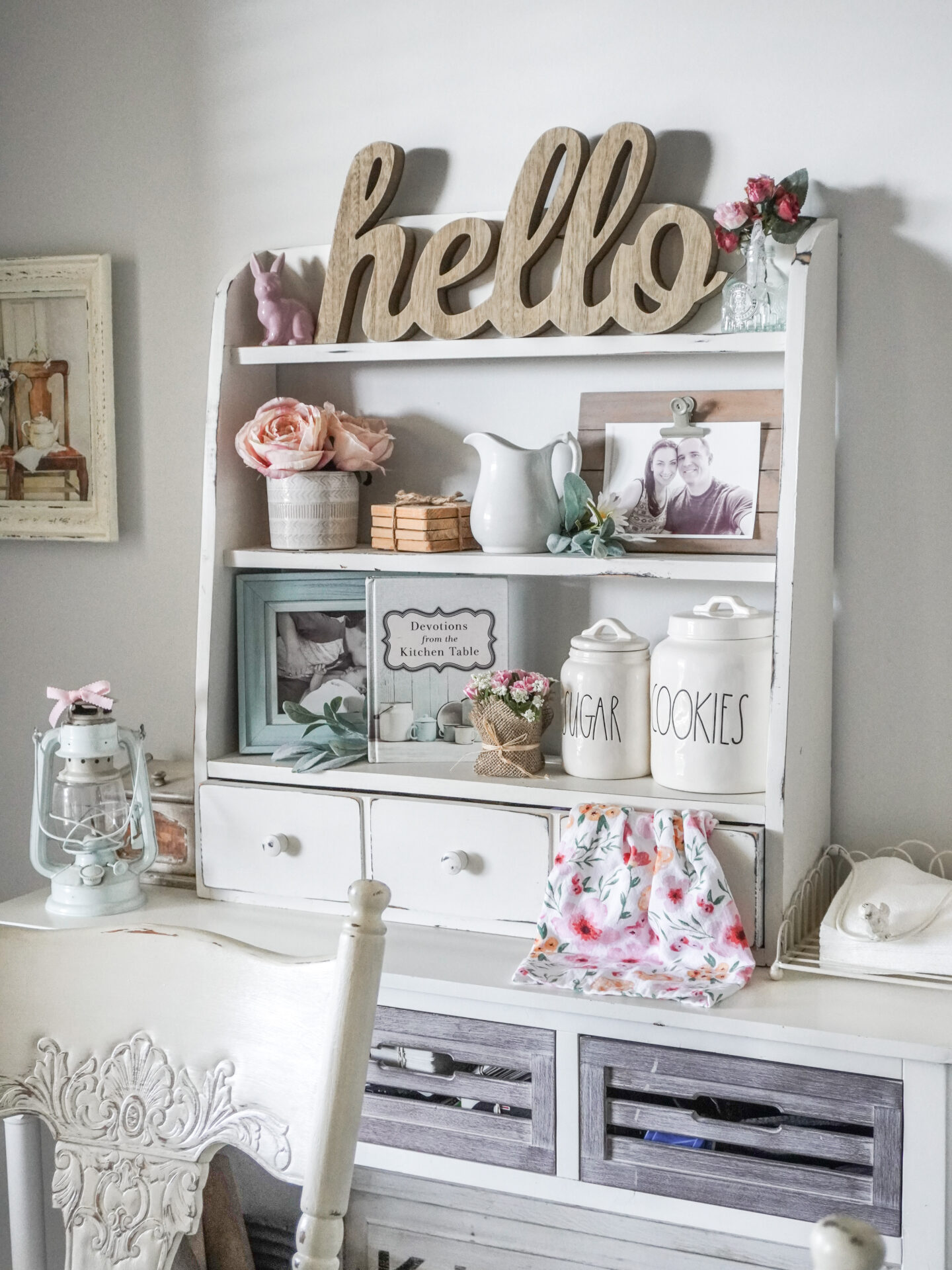 This little table top shelf can hold lots of different things! I have tucked in flowers here and there for a little splash of color, as well as a floral handtowel. I love mixing new and old things together, and I feel like everything on this shelf blends nicely. Psst here's a secret the kiddos don't know: that Sugar jar is filled to the brim with Candy lol!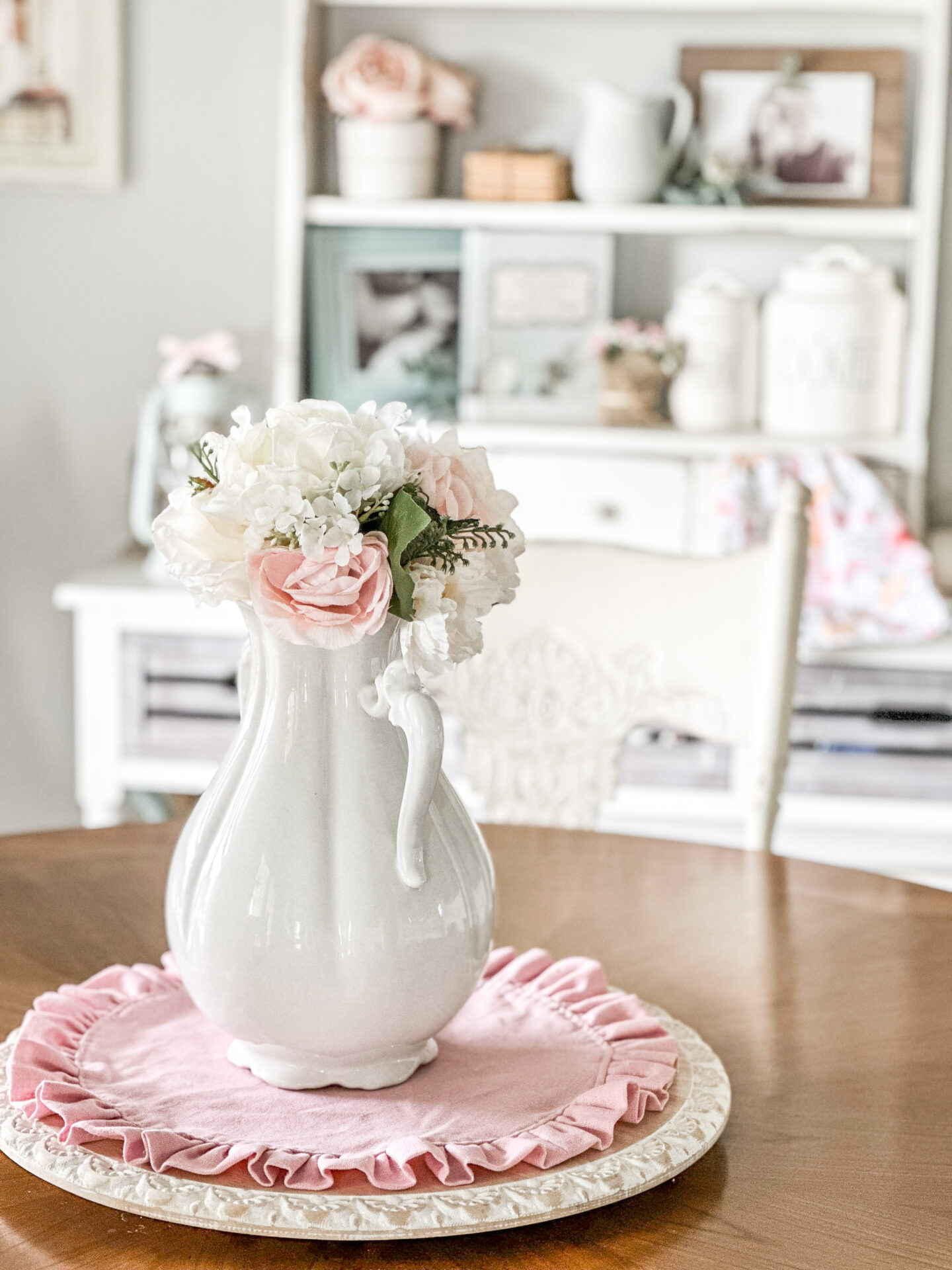 I just love this centerpiece! I found this Lazy Susan at Hobby Lobby and it has been perfect for family game nights as well as taco Tuesday! For Spring I topped it with a pink ruffle placemat from Hobby Lobby, and Ironstone vase, and a bridal bouquet. It's so feminine and dainty, I can't get enough of this space!
The Living Room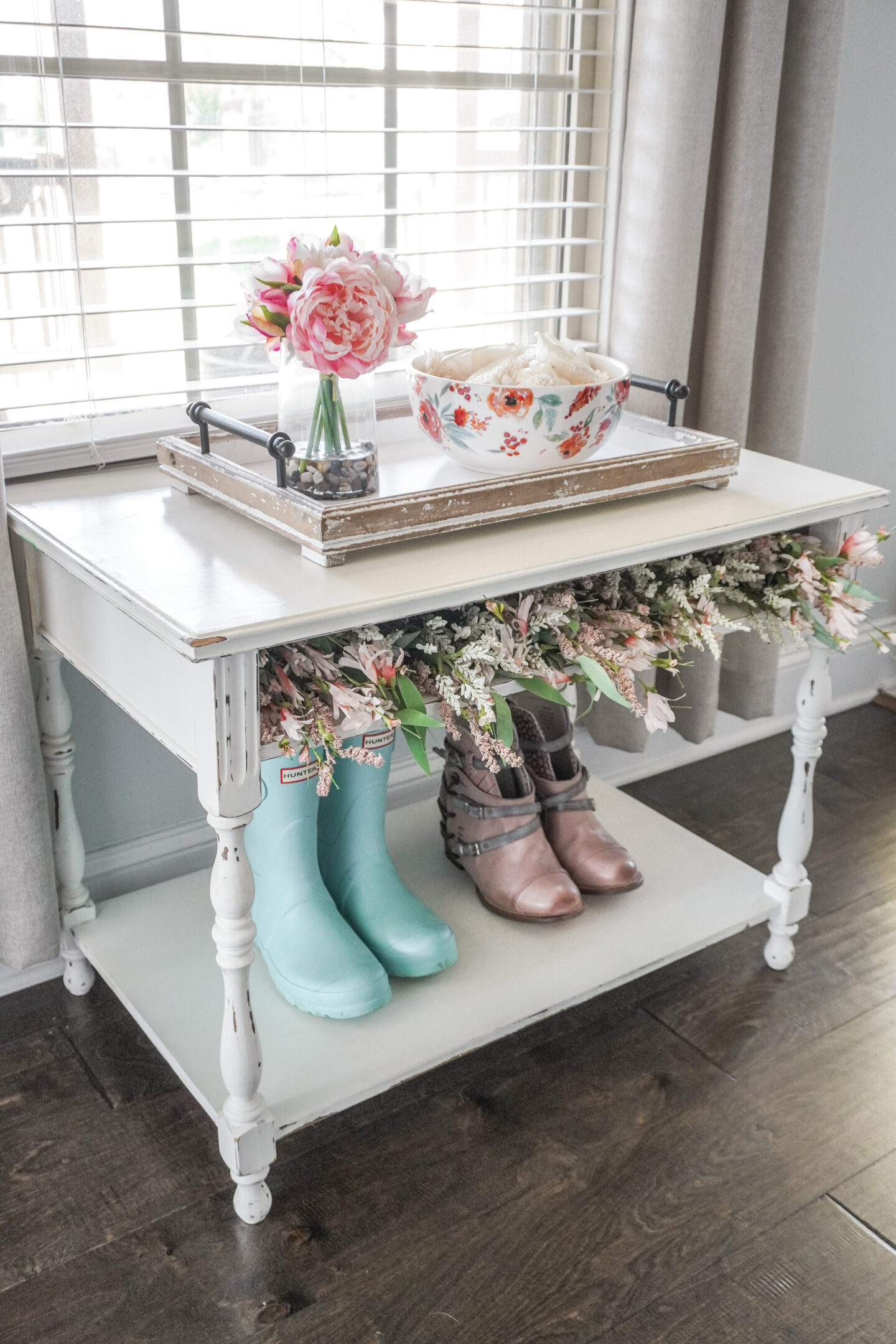 Before we head into the main living room area, lets talk about this little window table. I originally purchased it so my cat would have a place to sit and look out the window. Over time it evolved into a decoration piece! The tray on top is from Hobby Lobby, the bowl is from Tuesday Morning, and the flower arrangment is another Goodwill find! I filled the bowl with some paper flower bowl filler from Target.
This table didn't come with a drawer, so I decided to use that empty space as a flower holder. I absolutely love filling this spot with different greenery each Season! And the bottom shelf is reserved for my rain boots, Freebird boots, and the cat 🙂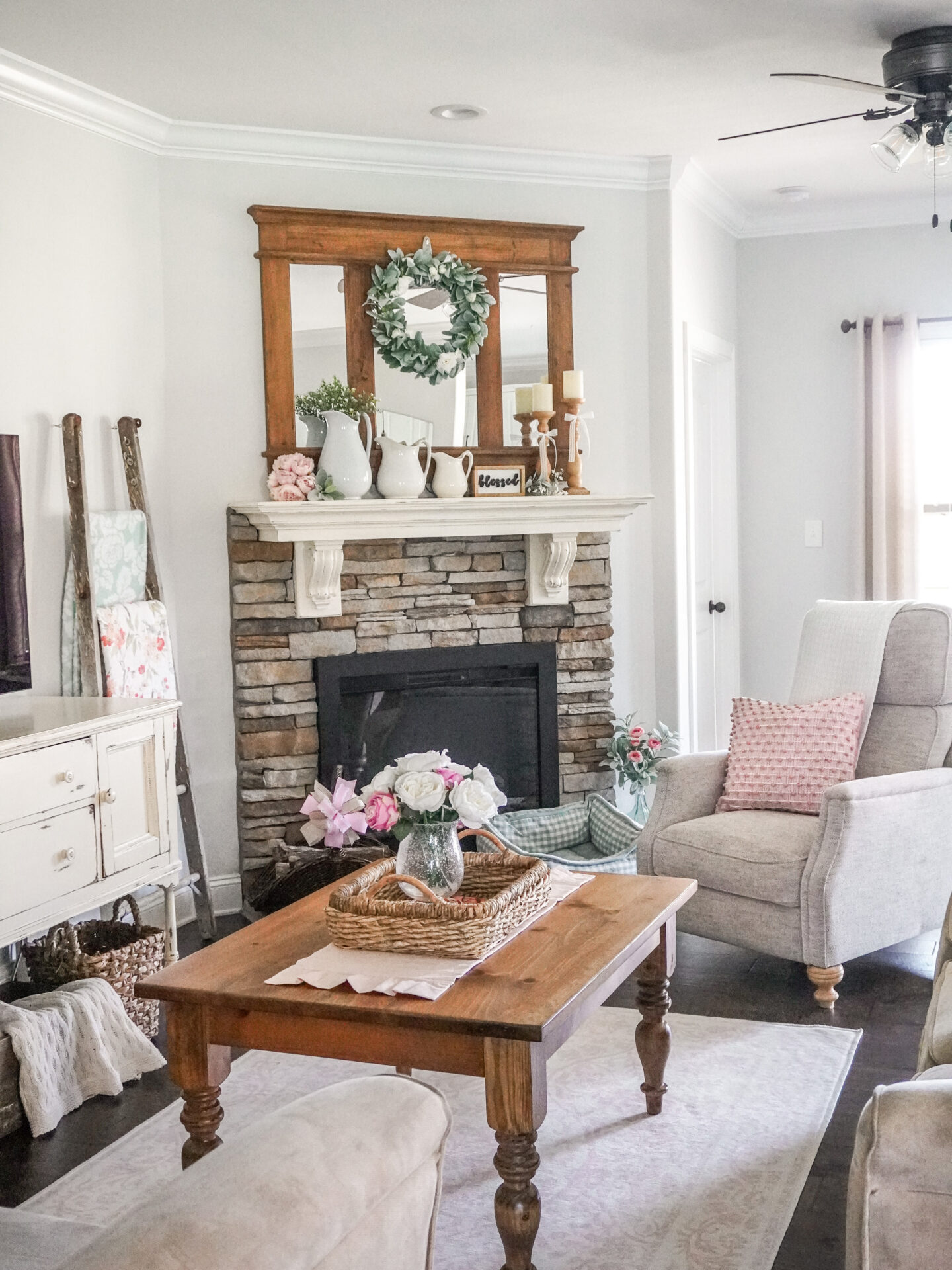 Welcome to our Living room, the most lived in room of the house! It's also one of my favorite places in my home to spend time. In fact I am blogging this very blog while sitting in that chair/recliner there lol! I shopped for so many pink things for this room and I love how it all came together.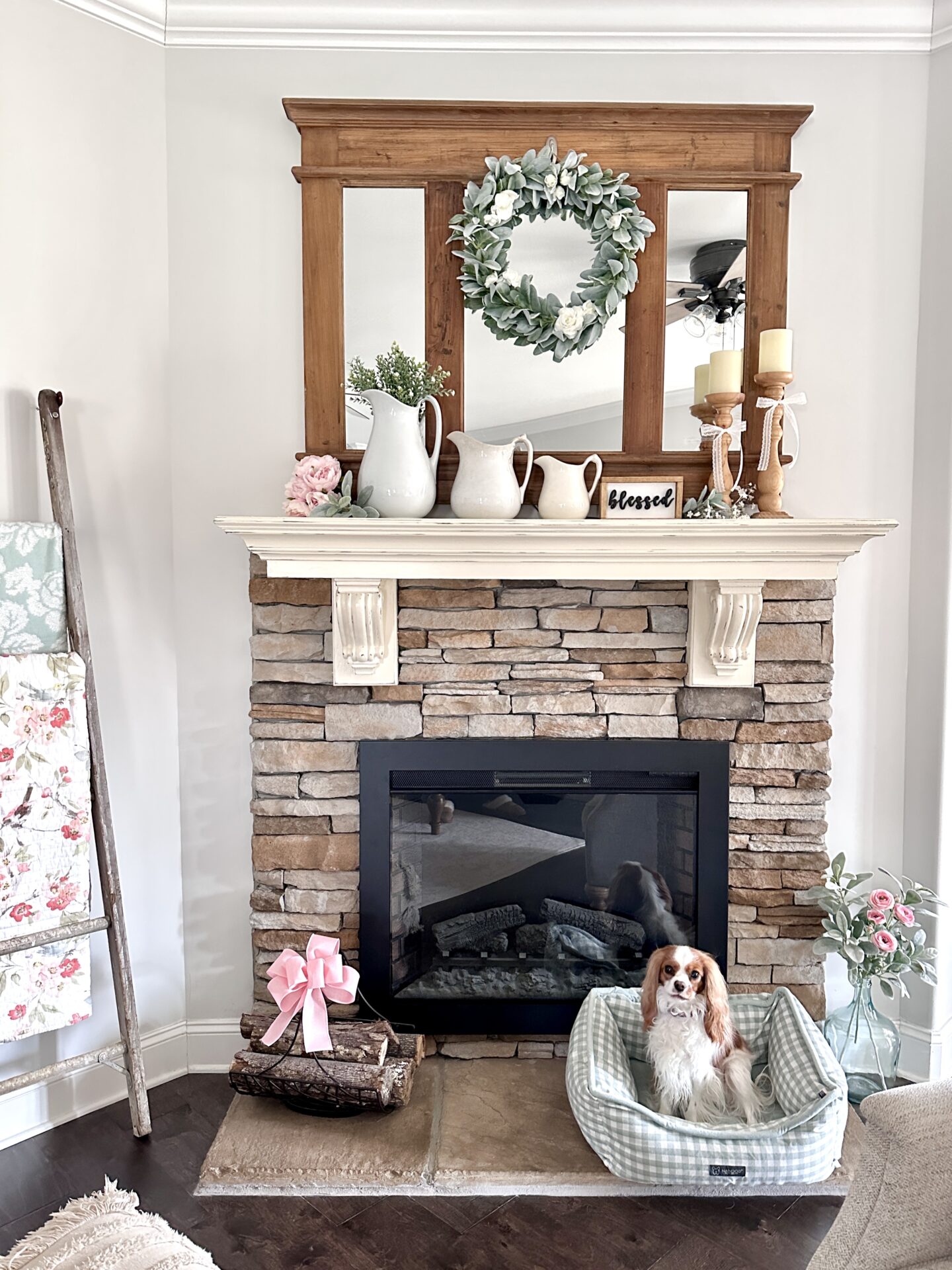 The blankets on my antique ladder are from At Home and Target. They compliment eachother well because of the greens! On the hearth, I have my wood basket with a pink ribbon pinned on top. The little bed Emma is sitting in is our "Spring bed" which I specifically put out each Spring. The color is just so pretty! I got it at Marshalls. The jug and florals on the right are from Hobby Lobby.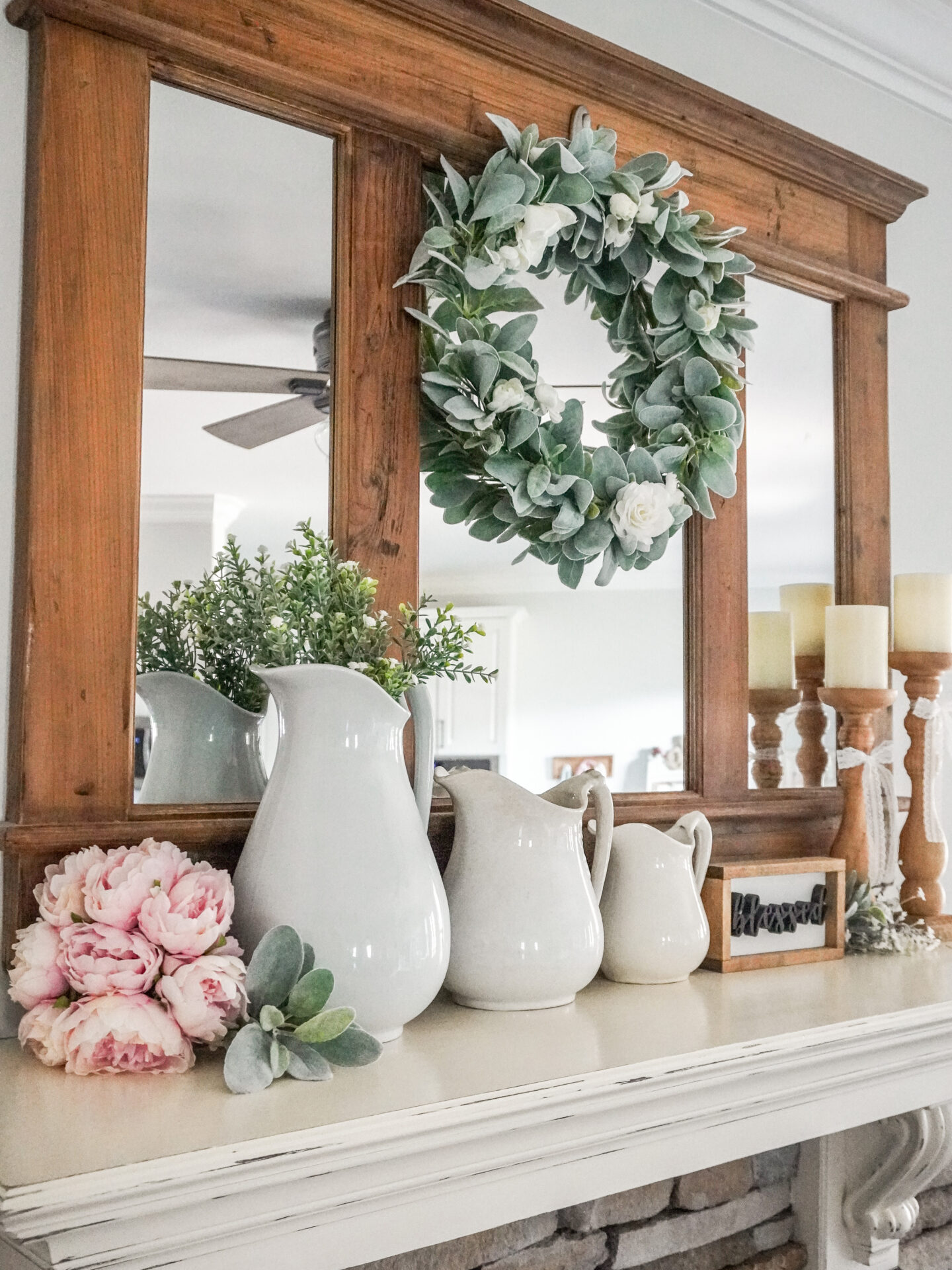 Hanging on my antique panel mirror is a pretty lambsear and white rose wreath I purchased on Etsy. On the mantle, the peonies are from TJ Maxx, and they look so realistic! I placed a bushel of wildflowers into my largest Ironstone pitcher for a more Springtime feel, and also tied some lace ribbon onto my candlesticks for a feminine touch.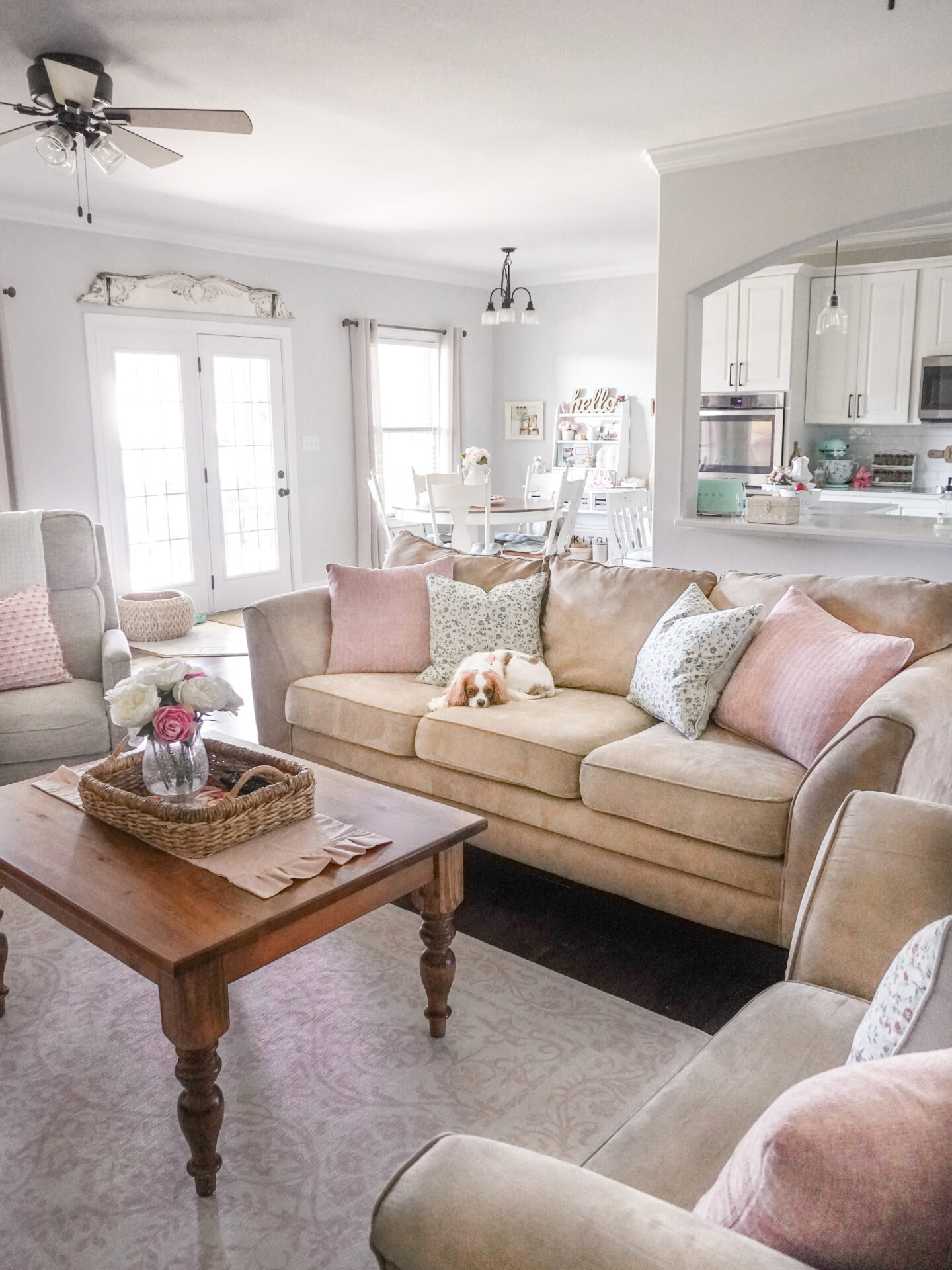 I purchased this new Ruggable rug specifically for Spring this year and I just love it! When I put it down it instantly made this room feel softer and more cozy. I love Ruggable rugs because they are machine washable, but they also spot clean easily. On my coffee table, I have a short, blush pink ruffle runner that matches the one in the dining room. My mom is a seamstress and sewed those for me and I just love them!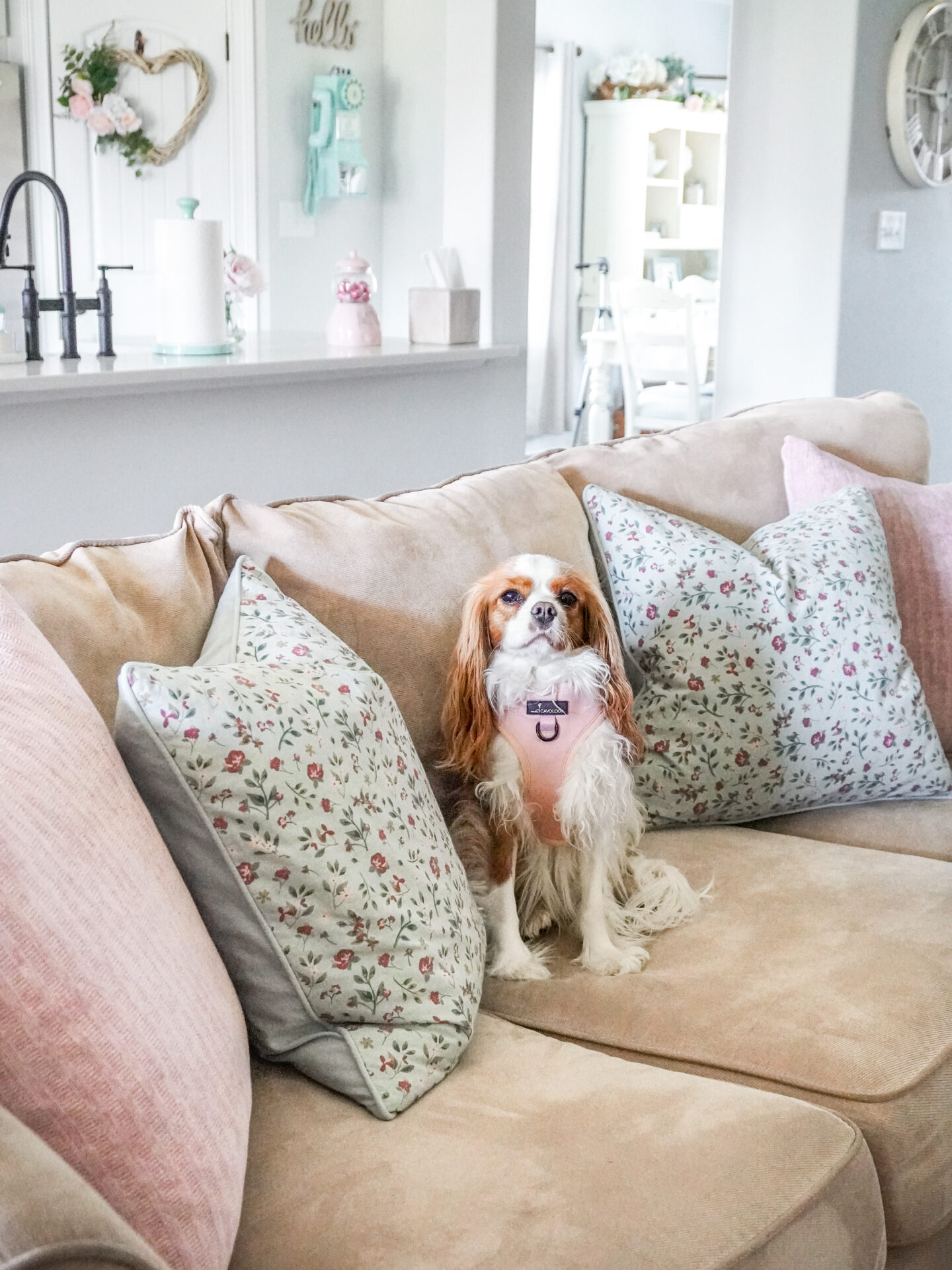 On both my sofa and oversized chair, I paired these two pillow covers together. The pink covers are from Amazon, and the floral covers are from Boutique Rugs! The floral ones are on a major sale too, BOGO! And I just can't get over the look on Emma's face here lol She must think she's the Queen of the castle or something!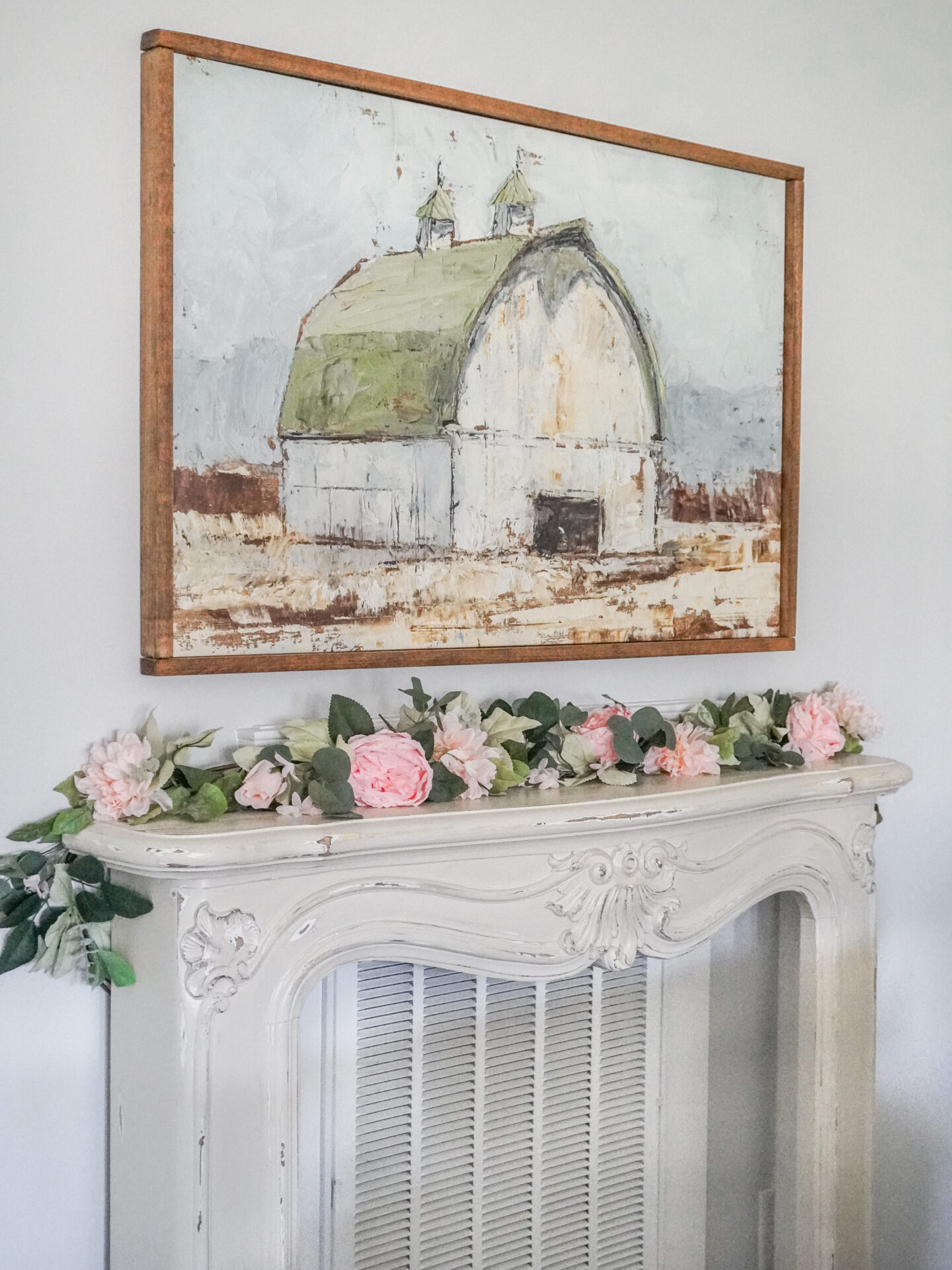 And lastly, I have this beautiful antique mantle that I refinished a few years ago, which I placed it over my air intake vent so that I could utilize the space a bit more and decorate around it. I draped one of those gorgeous rose garlands I found at Hobby Lobby across the top, which I think helped make the canvas painting a bit more Springy as well!
I hope you enjoyed this blog post and found it fun and inspirational! If you did, please share it with a friend or Pin the images to Pinterest!
If you would like to see the whole walkthrough in real time, check out my 2023 Farmhouse Spring Decor House Tour on my Channel!
Pin the image below to Pinterest!