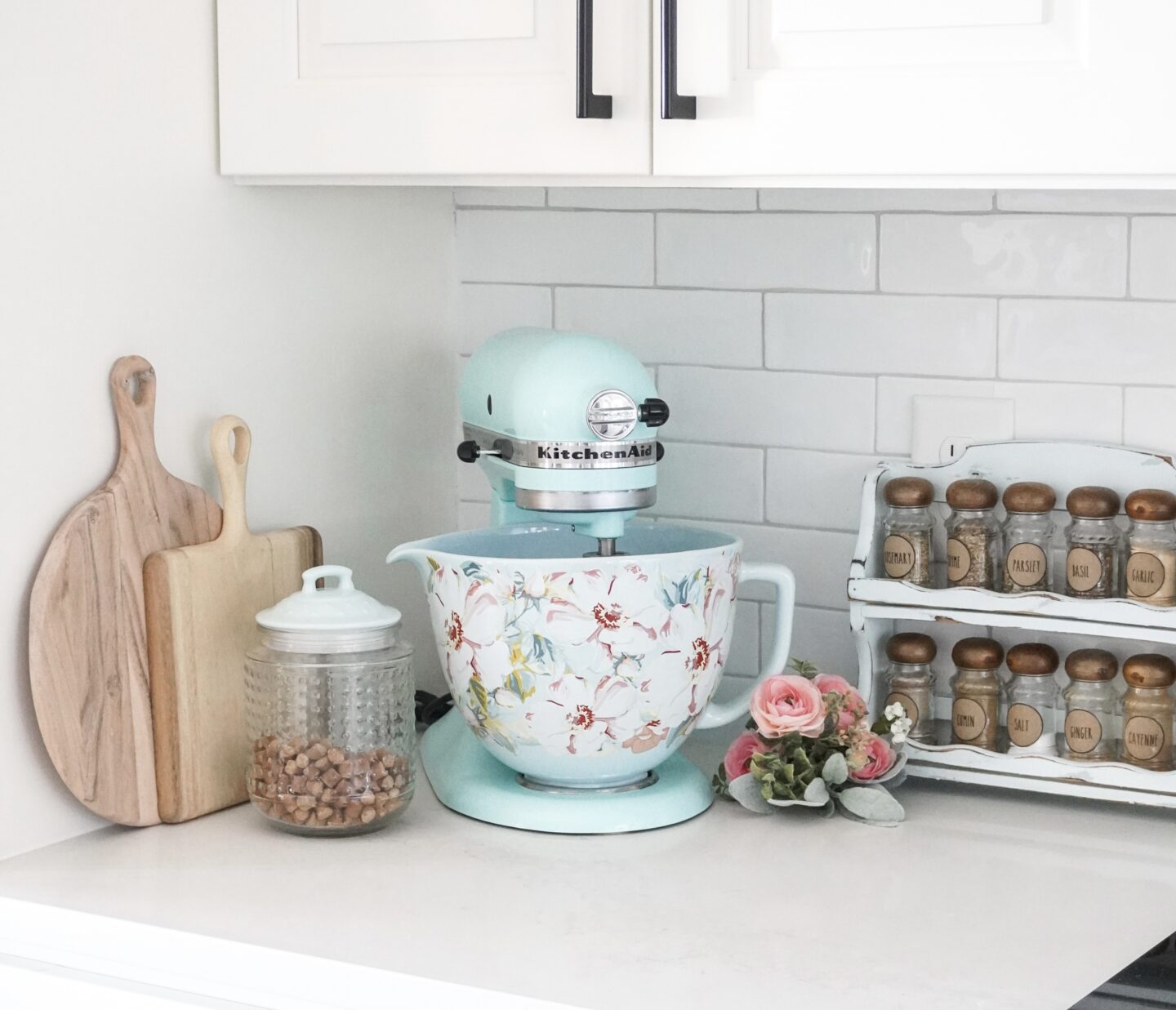 This post contains affiliate links. When you shop through these links I earn a small portion of the sale. Thank you for shopping with me!
Hi, friends! Welcome back to my Blog for another fun Decor Inspo post. It's hard to believe I have been enjoying my new Kitchen for almost 2 years already! If you want to see our Kitchen Renovation, visit THIS POST! Today I am redecorating my Kitchen counter space for a Kitchen Decor Refresh! This Refresh is perfect for Spring and Summertime. There are LOTS of photos for this post, so I am going to make sure I link as much as I can that is shown in the photos. Keep in mind that some things are antiques, but I will be linking similar products for y'all!
Before
This is my previous decor for my Kitchen Counters, and I do still love it, but I love my new decor even more! I can't wait to show you all of the new things I got. Let's start with the space to the left of the stovetop.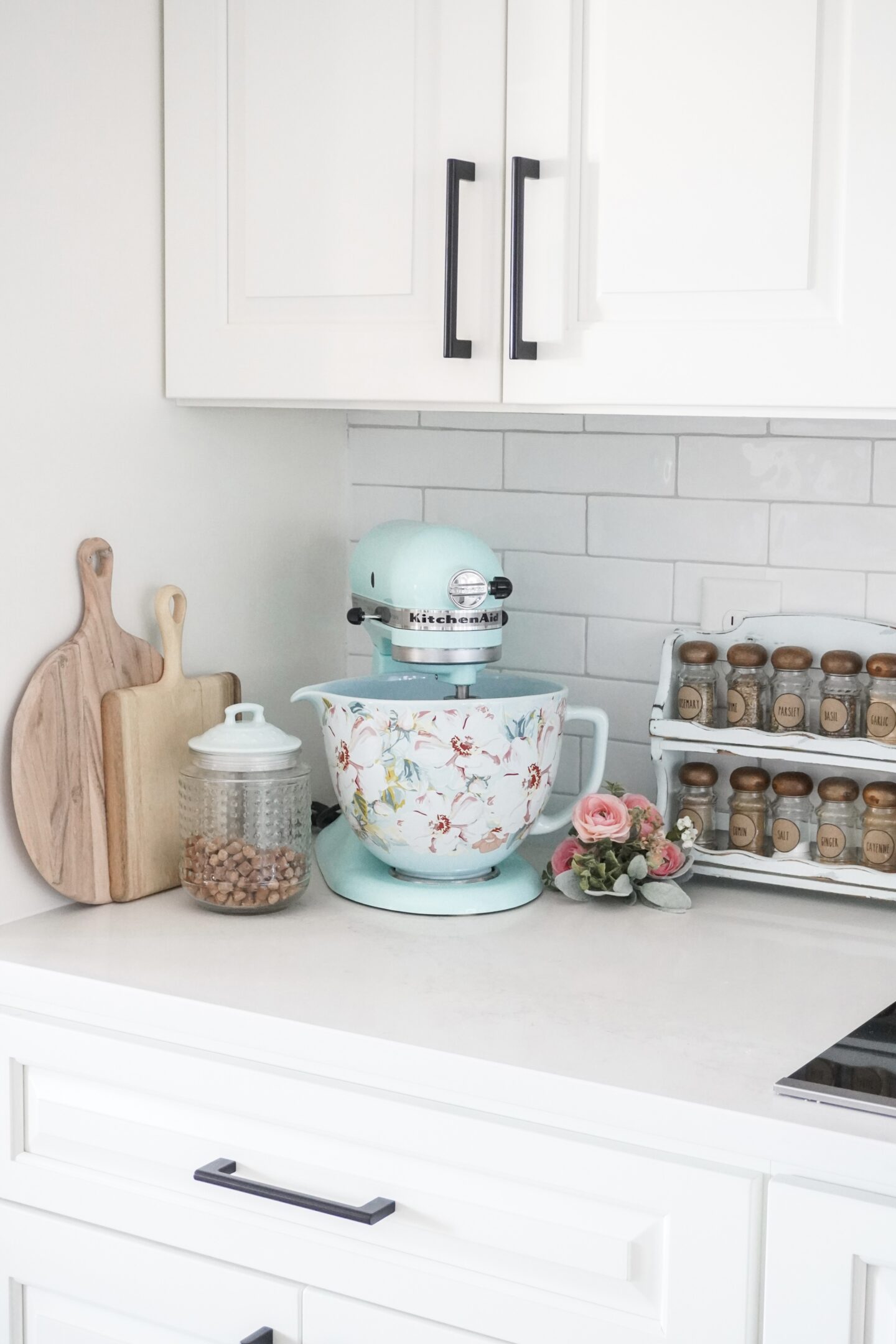 The only two things that stayed the same in this space, are my KitchenAid mixer, and my vintage Spice Rack. I did change out my Mermaid Lace Bowl for this gorgeous Gardenia Ceramic Bowl to bring in a little more color. If you want to see some of my KitchenAid Bowl collection, visit THIS POST! They really do add so much personality to your Kitchen.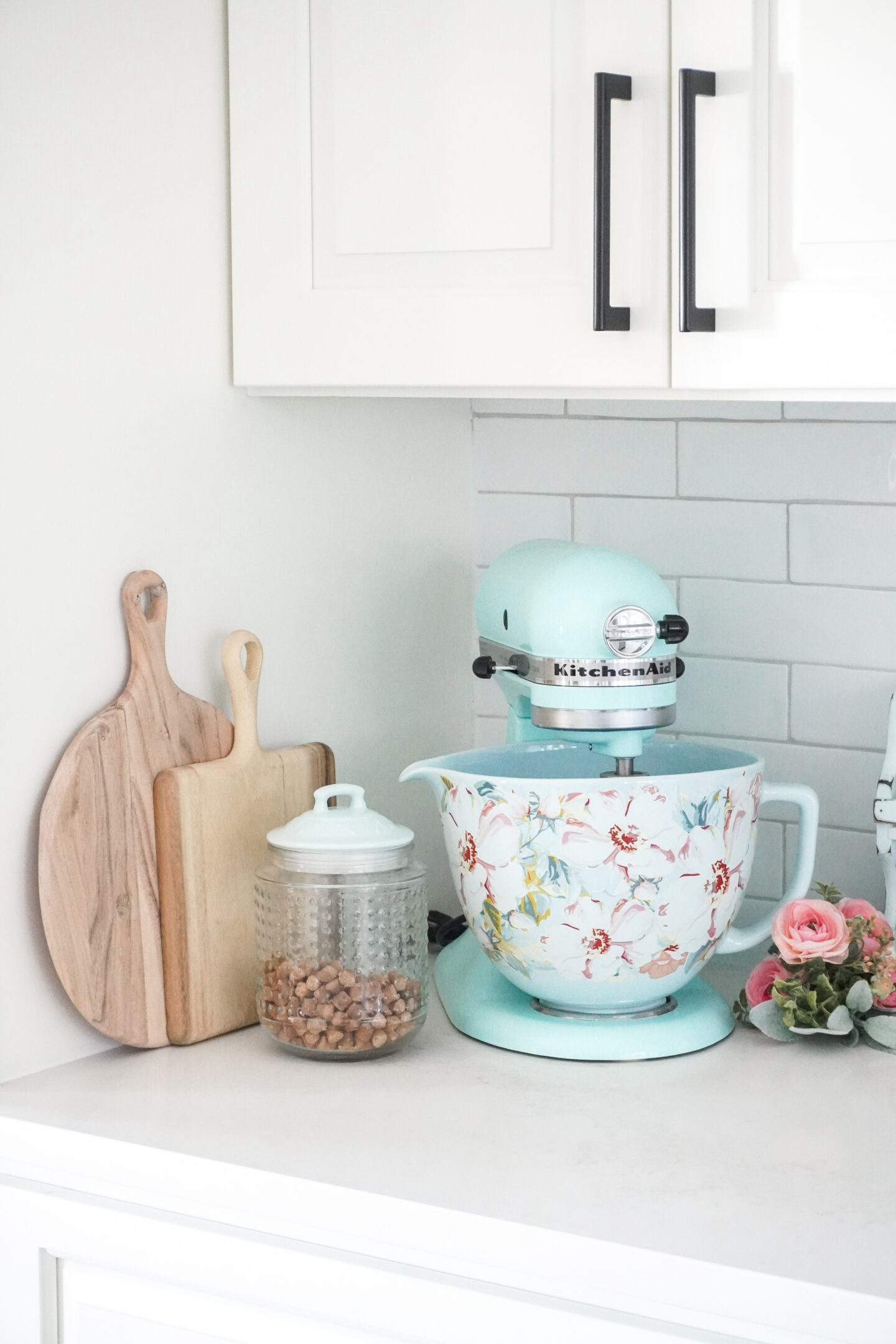 I replaced the Rae Dunn Candy Dish with a Hobnail Canister from Magnolia Bakery. When I was shopping at Burke's Outlet, I found these adorable canisters! If you don't have a Burke's nearby, you can also find the canisters HERE! I am obsessed with these canisters because they are just so pretty with the clear jar and the pale aqua lids. Perfect for storing and displaying all sorts of goodies. In this particular canister, I am storing Emma's doggy treats.
I also found two cute charcuterie boards that were just the perfect size for the small space beside my KitchenAid Mixer! And, of course, adding in some pink florals definitely brighten this corner up as well!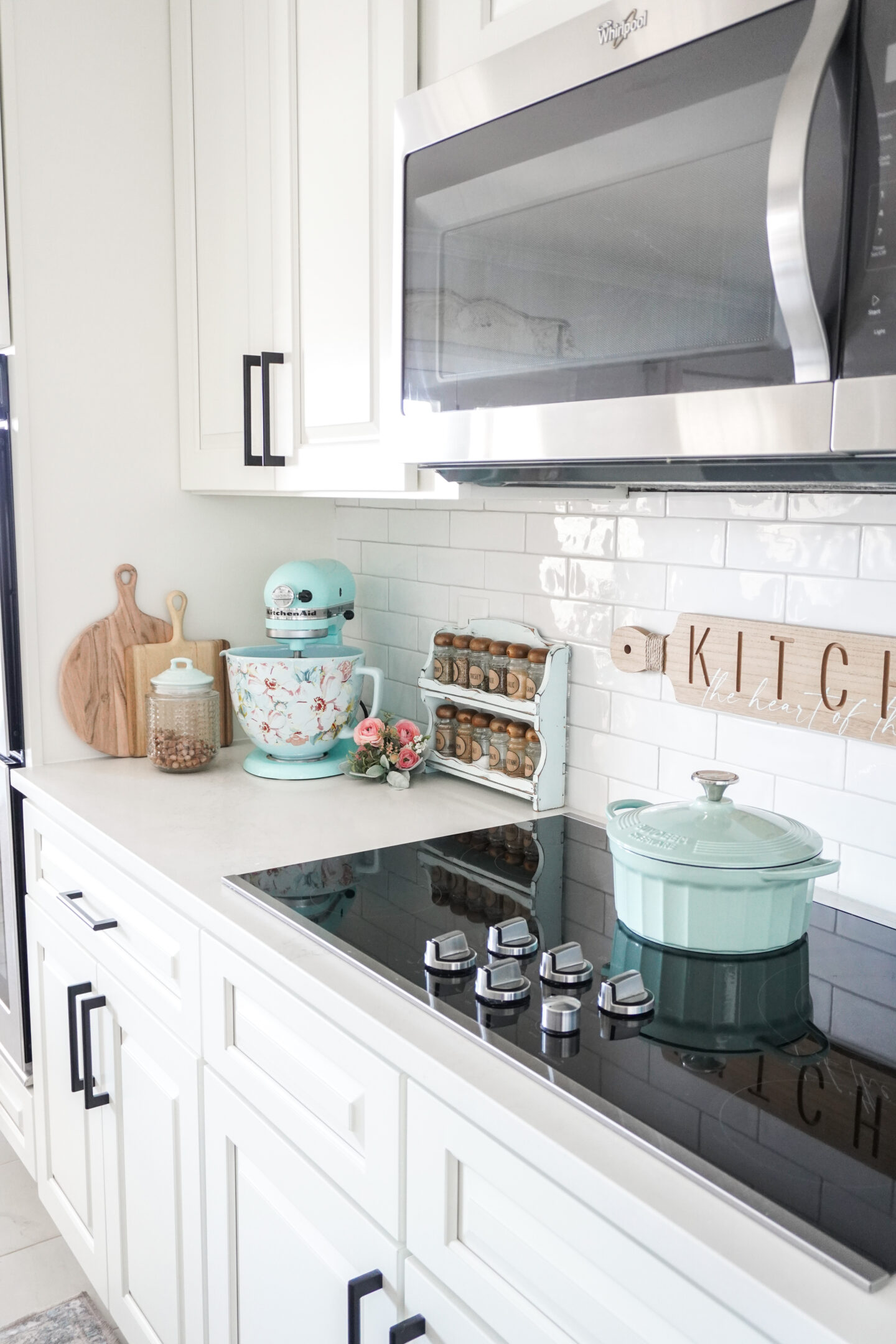 One of my very favorite new additions to my Kitchen Decor is this adorable Dutch Oven! It has this cupcake style to it that just makes me so happy every time I look at it, not to mention it is also mint green, which was a MUST. You can shop my Dutch Oven HERE.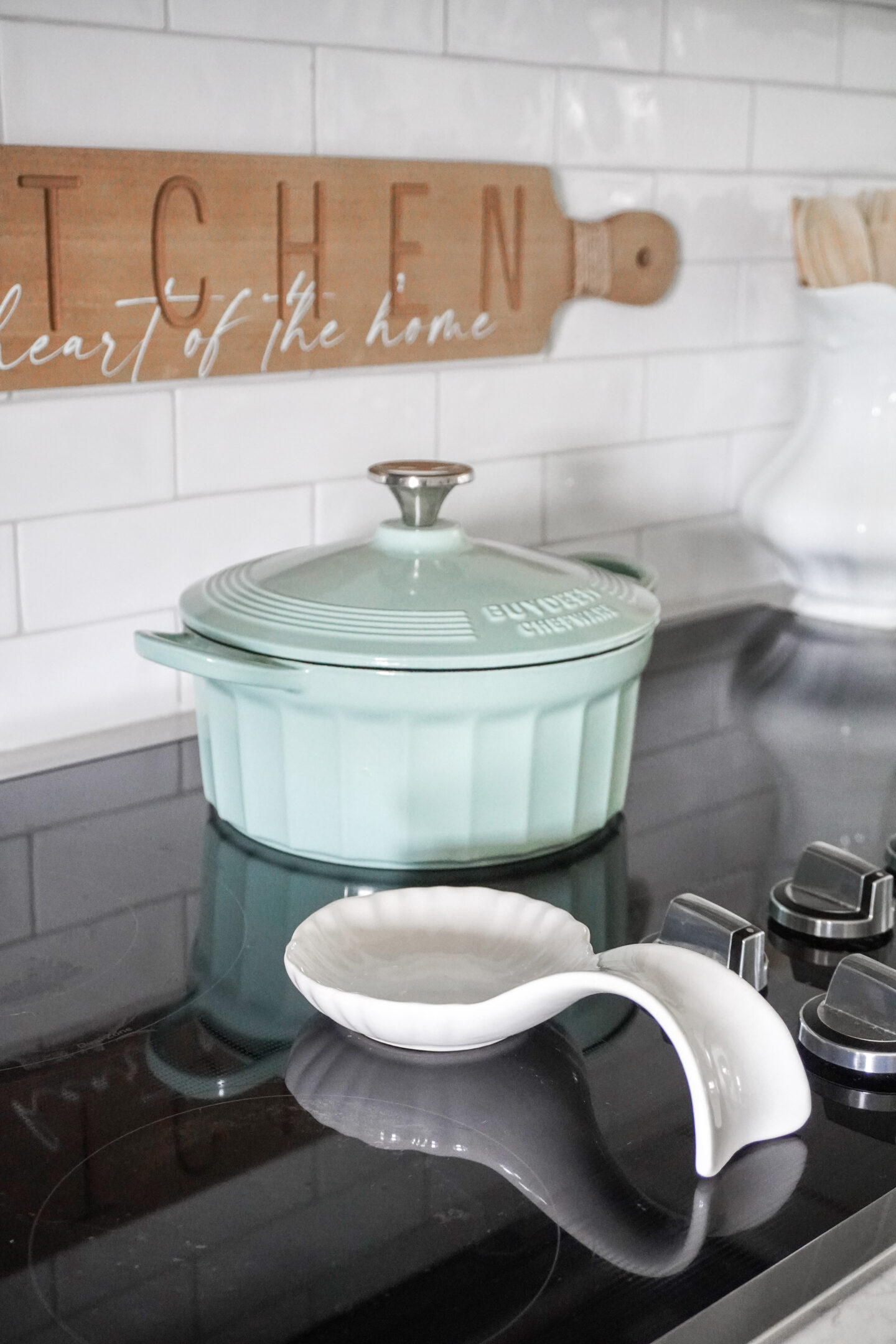 I also bought this super cute spoon rest recently that I thought just looked perfect with my new decor! I keep it out when I'm cooking, but put it away when it's not in use. You can find similar styles HERE!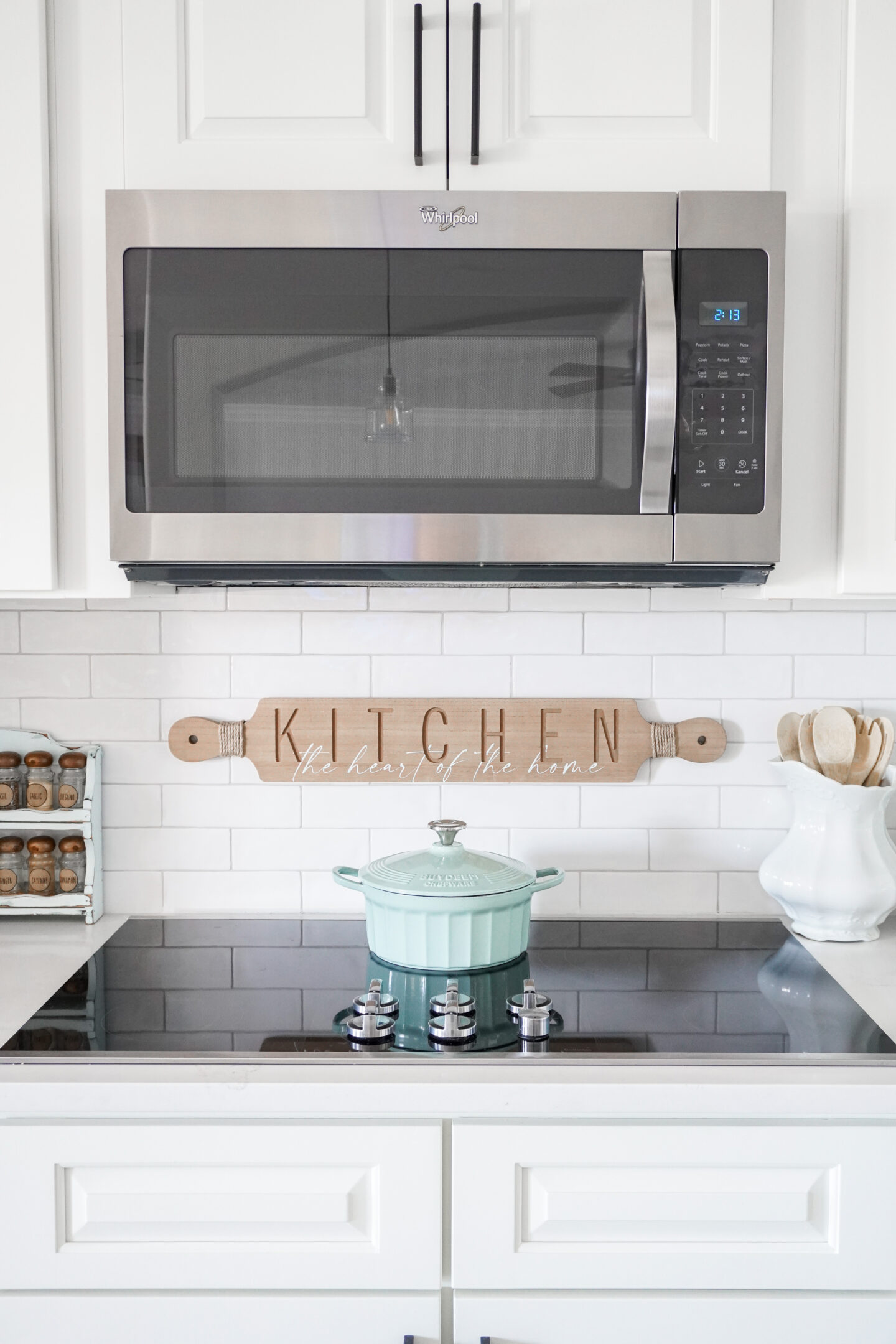 For the space above my stovetop, I removed my "Homemade" metal wall art sign and replaced it with this darling wooden rolling pin sign! The sign reads "Kitchen – the heart of the home", which I just love! I especially like the little twine detailing on the ends of the rolling pin. You can shop this sign HERE!
Shop products from this Post!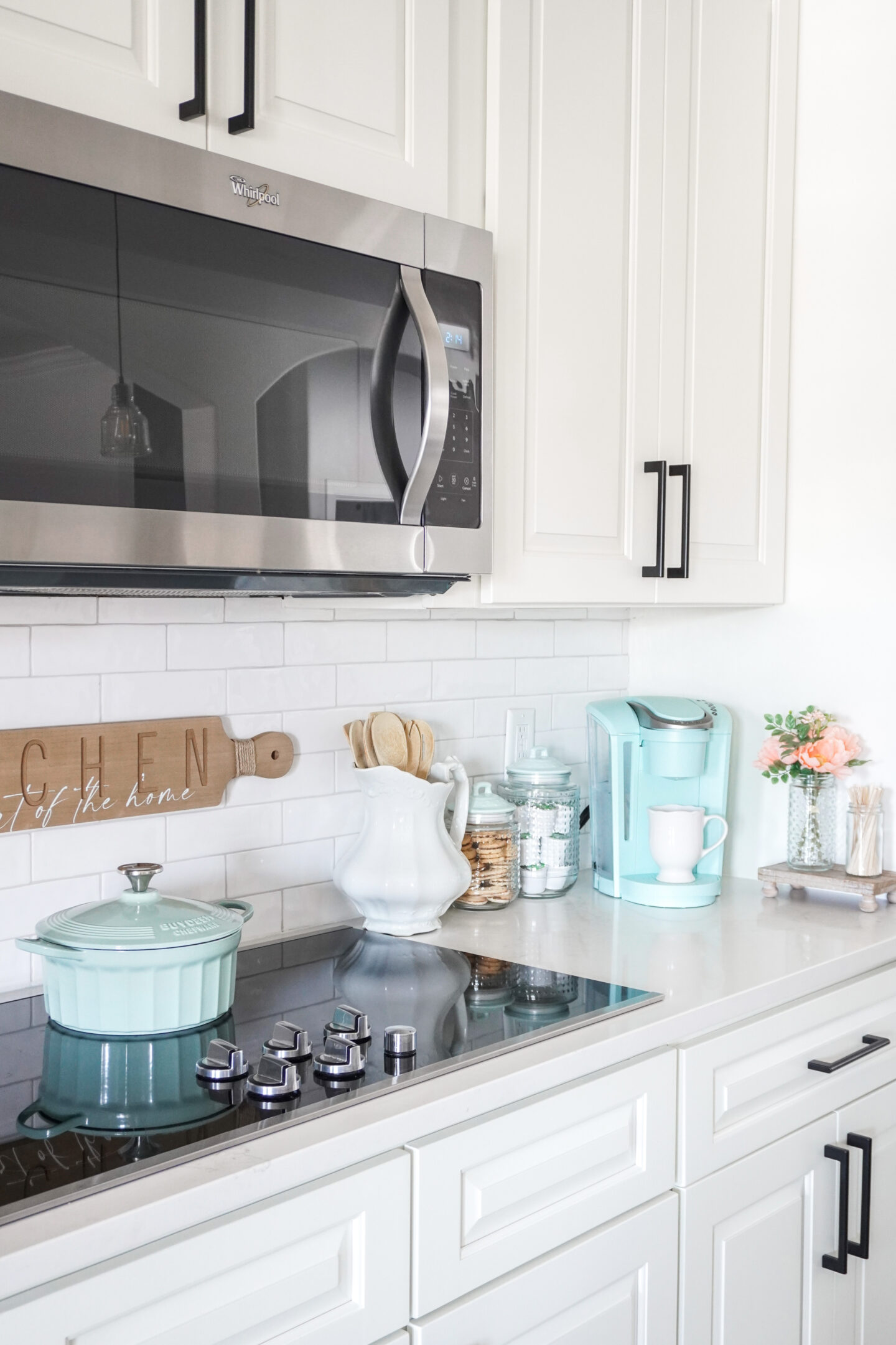 I can't wait to talk all about the right-hand corner of this counter space! I had so much fun decorating and finding all of the perfect pieces for it.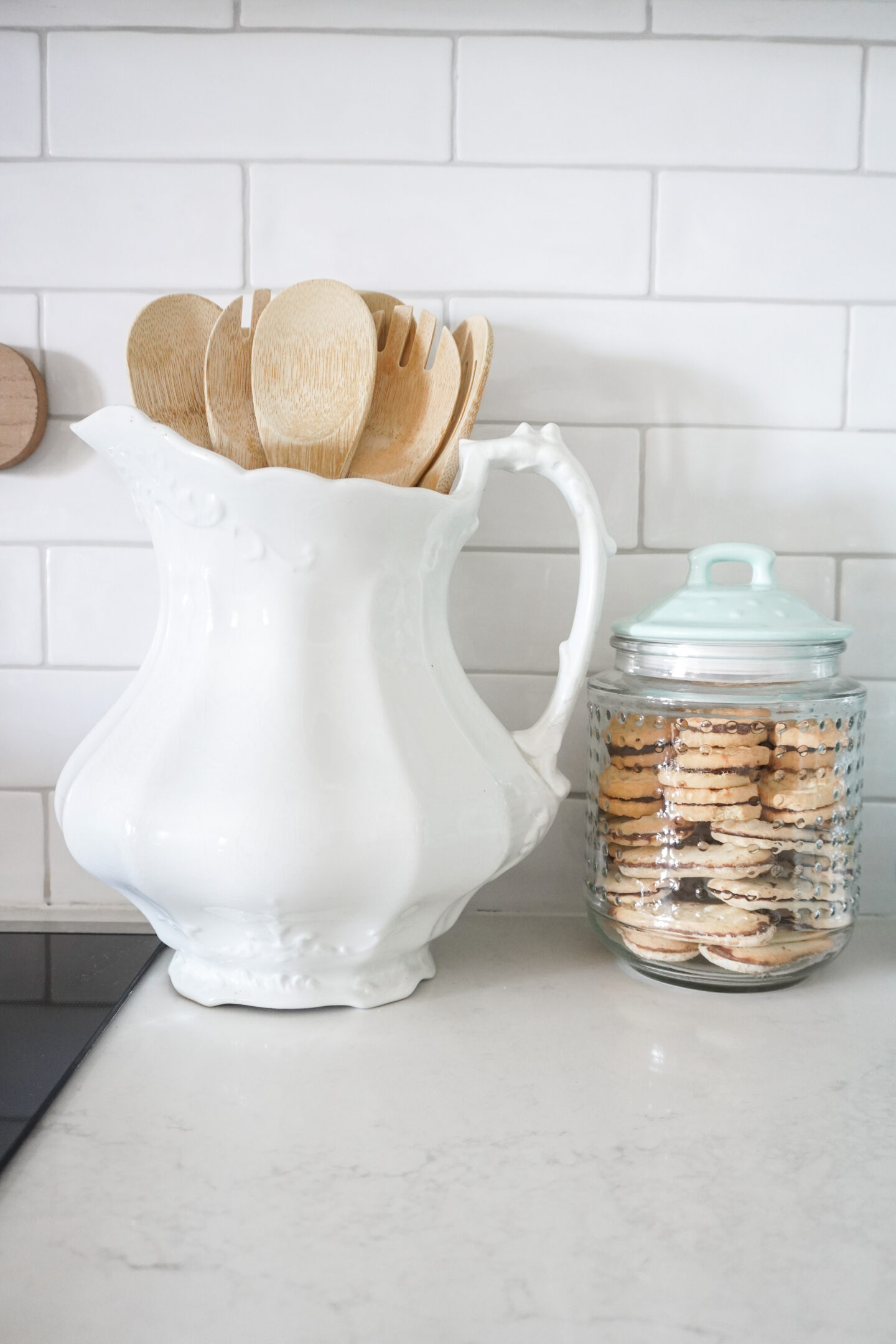 This pitcher is one of my very favorite pieces in my whole Kitchen. I found this gorgeous vintage Ironstone pitcher on Mercari and it was instant LOVE. I knew I had to have it to hold all of my wooden cooking spoons! You can find a similar pitcher HERE! I feel like it has a lot more personality than my vintage Aluminum Pitcher. And to the right is another one of those adorable canisters from Magnolia Bakery! Ugh, it's so cute lol! In this canister, I stacked up some Milano cookies for when someone has a sweet tooth.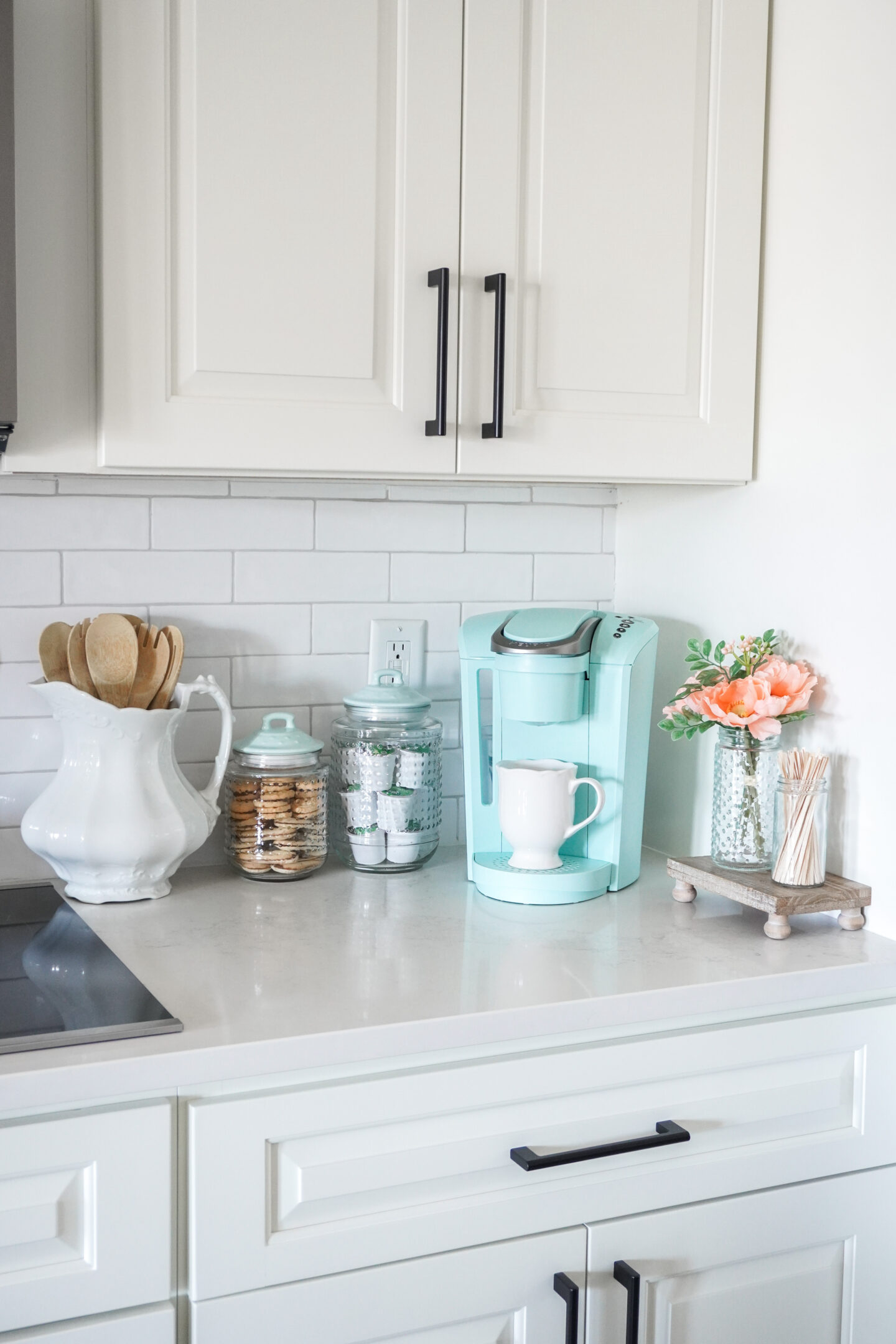 Next to my smaller hobnail canister is one which is a little bit larger, and this one holds my coffee K-Cups perfectly! I can actually fit 12 pods in this canister. My coffee maker is a Keurig in the gorgeous Oasis color. I hope they always make this color, as it is my favorite! Shop my Keurig HERE.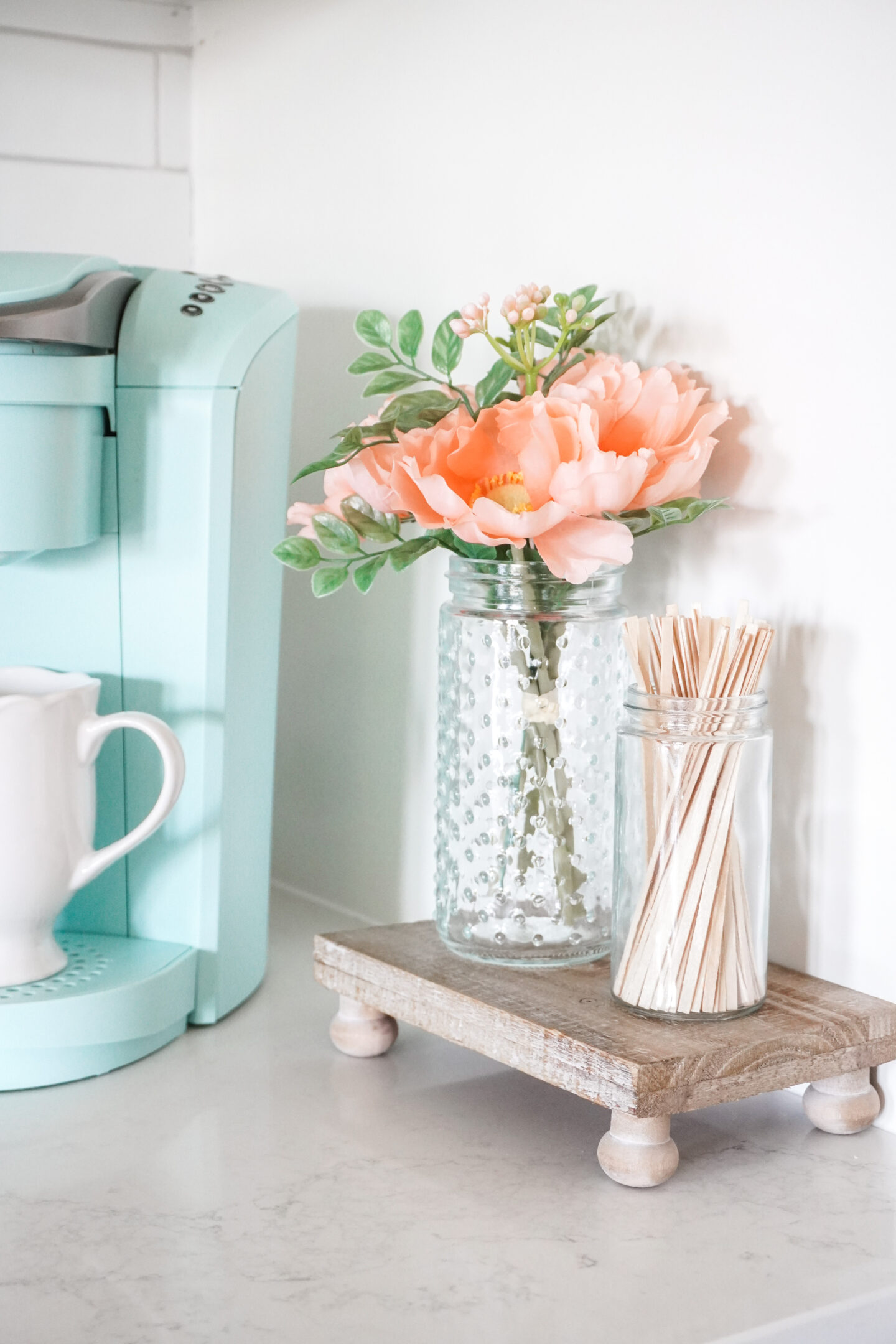 To the right of my Keurig, I have this small, wooden riser which I purchased at Hobby Lobby. It is the perfect size for the space between the coffee maker and the edge of the counter. On top of the riser, I placed a hobnail jar filled with faux Summery flowers, as well as another jar full of coffee stir sticks. It brings the perfect balance of beauty and function to this space! Shop my Wooden Riser HERE.
The Island
Let's talk about decorating LARGE islands in a Kitchen. If you're anything like me, you struggle between putting too much on it and too little. The best thing to do when you have a large island is to keep it simple. It's all too easy to over-decorate a large space, but keeping it simple leaves a nice clean appearance that you will definitely appreciate!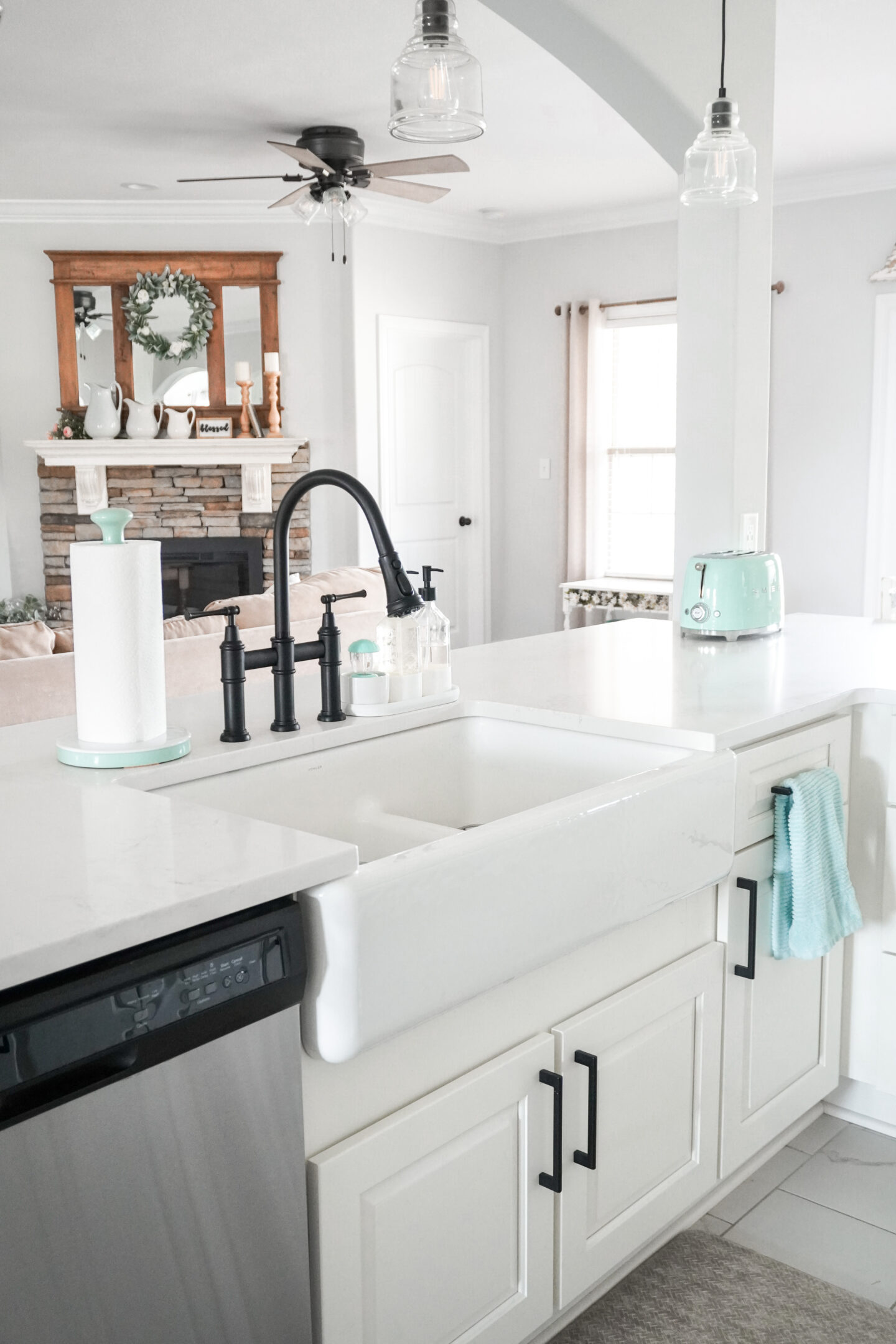 My goal for this large counter space was to keep it light and bright. My favorite new piece on this section of the counter is actually this little paper towel holder. Believe it or not, I went through two other horizontal style paper towel holders before finding this one. It turned out that having a horizontal paper towel holder next to a bridge-type faucet was redundant lol!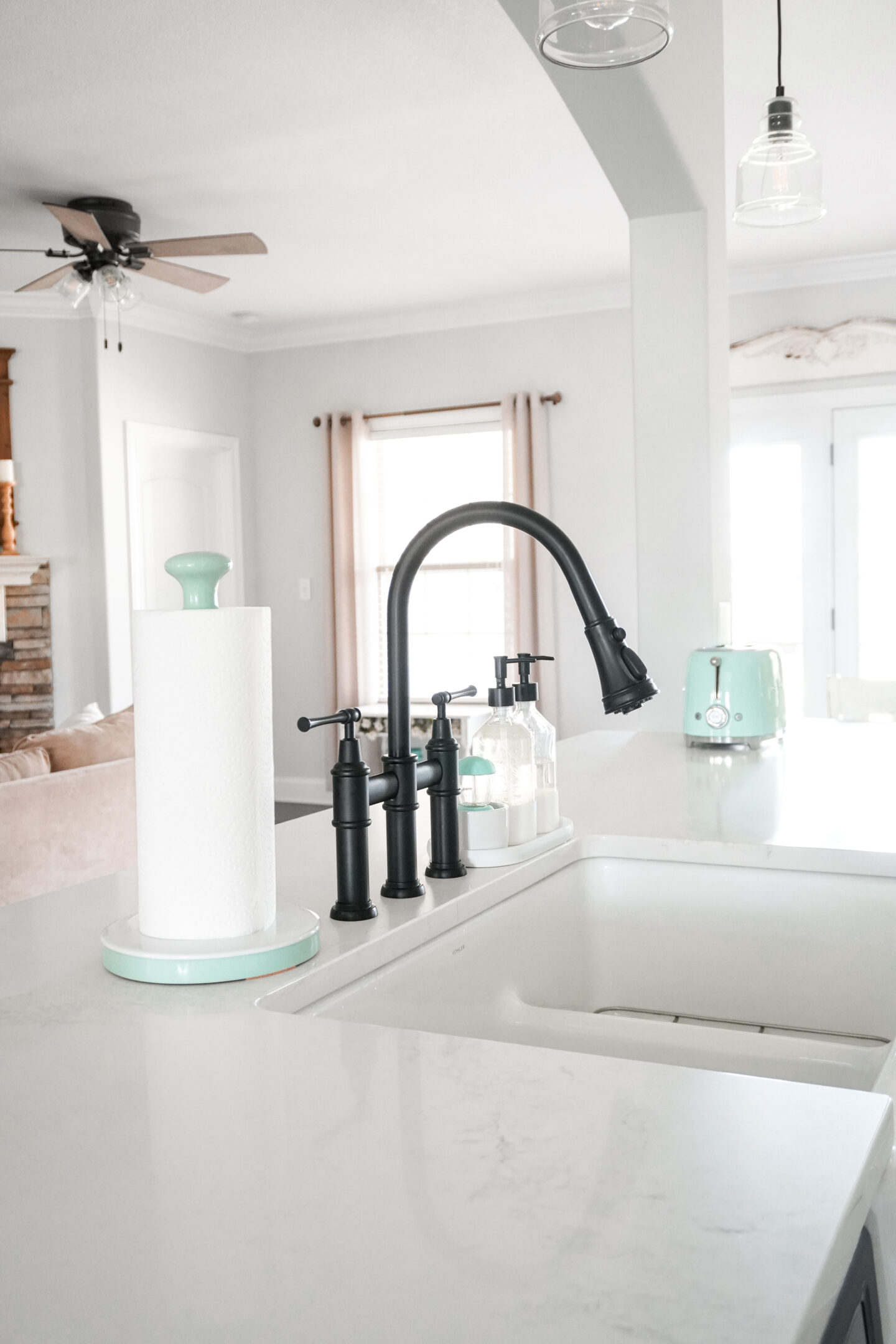 This paper towel holder features my favorite shade of aqua! The aqua and white parts are porcelain, and it features small strips of cork on the bottom to prevent it from moving around. The top pops off for easy refills, and the middle pole is a gorgeous shade of wood! It's so easy to use and super retro-chic-farmhouse, if that is a thing! You can shop my Paper Towel Holder HERE.
I didn't change out my soap dispensers or tray, because I still love them! You can find my tray HERE, and similar dispensers HERE.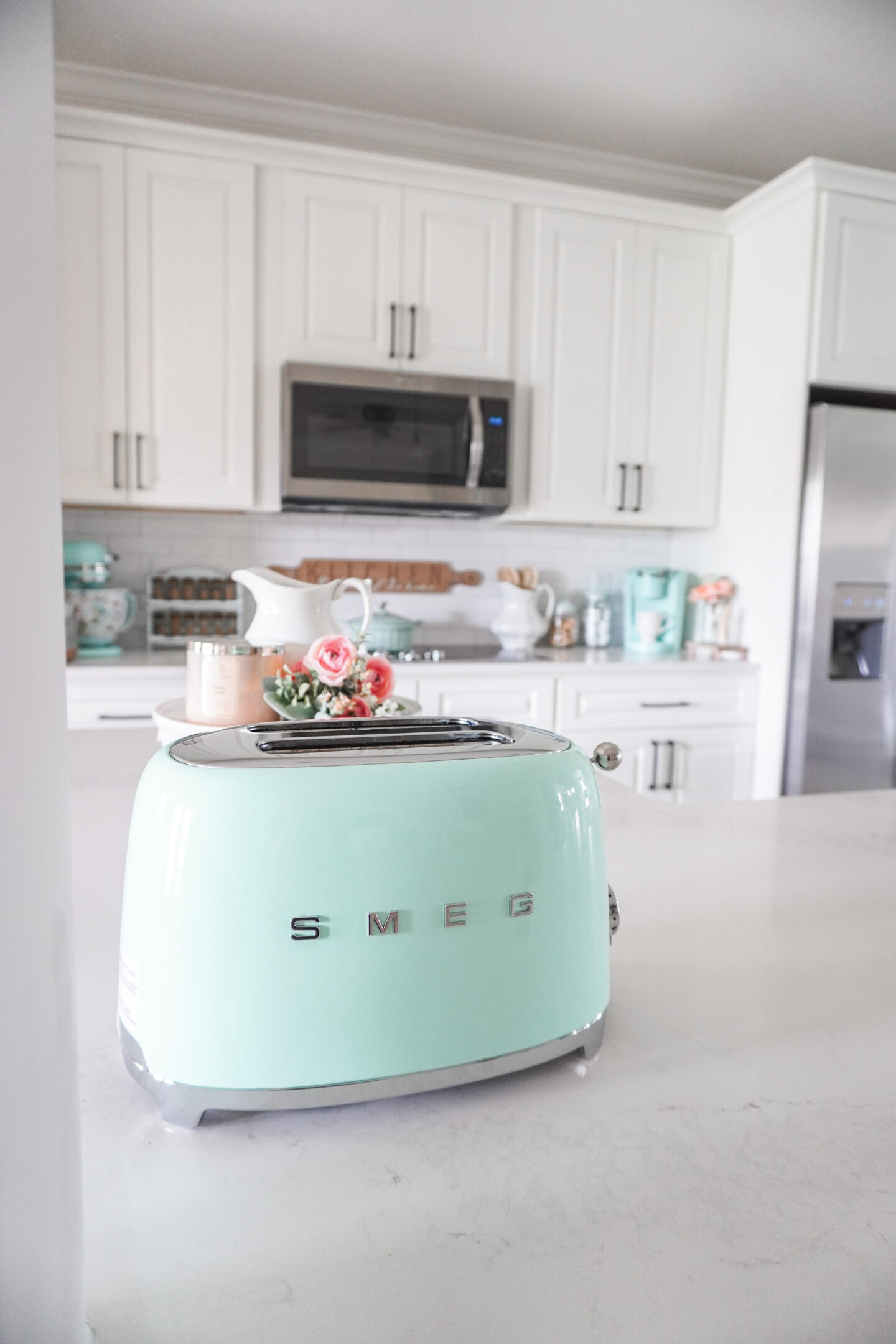 I definitely couldn't leave my SMEG Pastel Green Toaster out of this Kitchen Decor Refresh! For a while, we were keeping this in the cupboard, but we found we were using it a TON and it was getting annoying pulling it out each time to use it! So, I made space and decided to make it a permantent part of my Kitchen decor. I highly recommend this toaster, you guys! It toasts perfectly, we love it. You can shop my toaster HERE!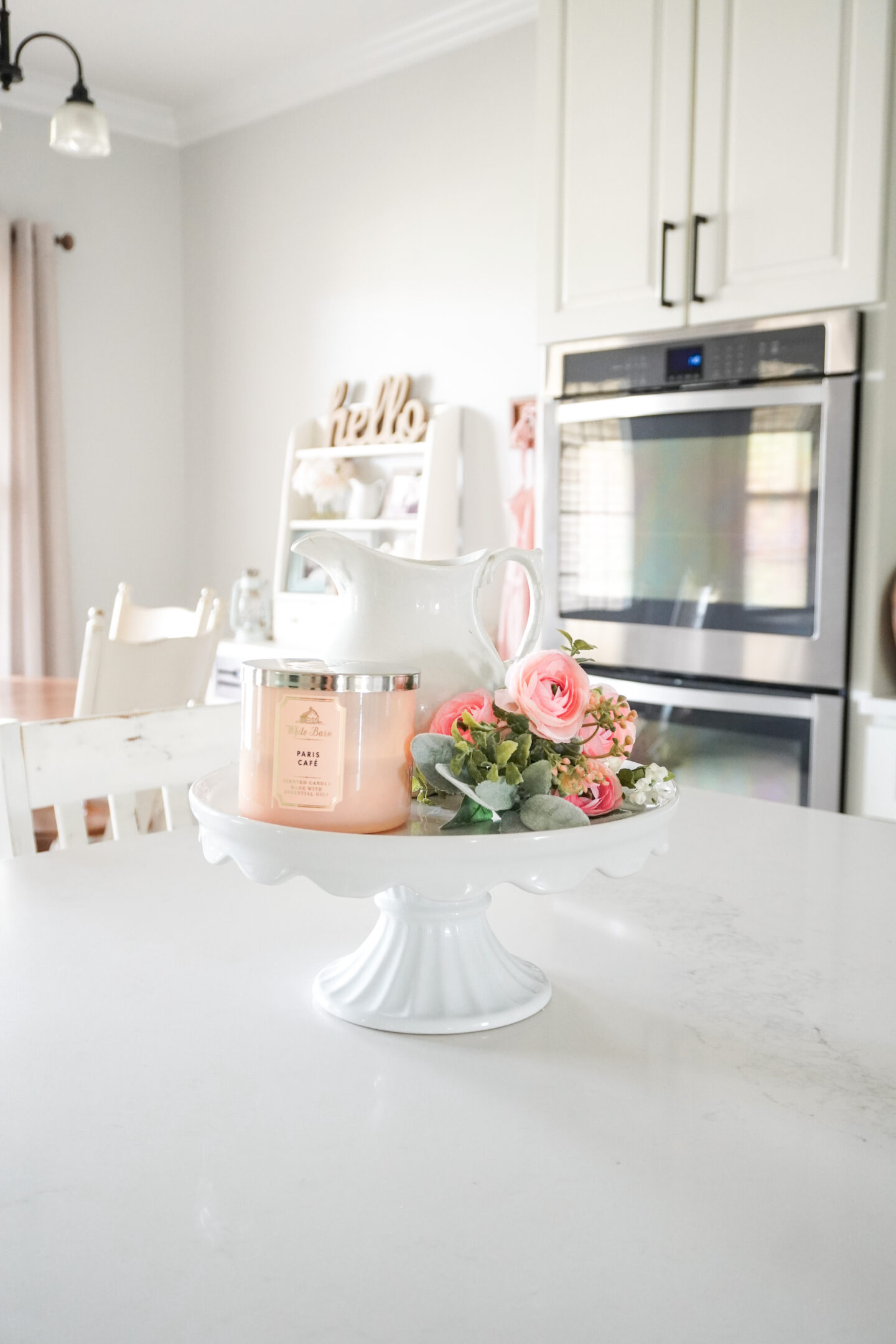 This space is actually just beside where I keep my toaster! When I was getting ready to do this Kitchen Decor Refresh, I was at a loss for how to decorate this particular space. It is a large open slab of Quartz in front of my counter bar, and I knew I wanted to put something there, but just wasn't sure what lol! That's when I took to one of my favorite Military Spouse decor Pages on Facebook, White Walls, and asked for suggestions. I got a handful of good ones, but my favorite was to use a cake stand in this space!
This is the cake stand I chose, and I am obsessed! It is actually a replica of an antique Ironstone cake stand. Original Ironstone cake stands are VERY hard to come by and also cost a pretty penny, but this one was affordable and of wonderful quality, and I still got the look I was after! You can shop my cake stand HERE if you want to get a similar look! I also added some florals from Hobby Lobby, an antique Ironstone small pitcher, as well as a Candle from Bath & Body Works.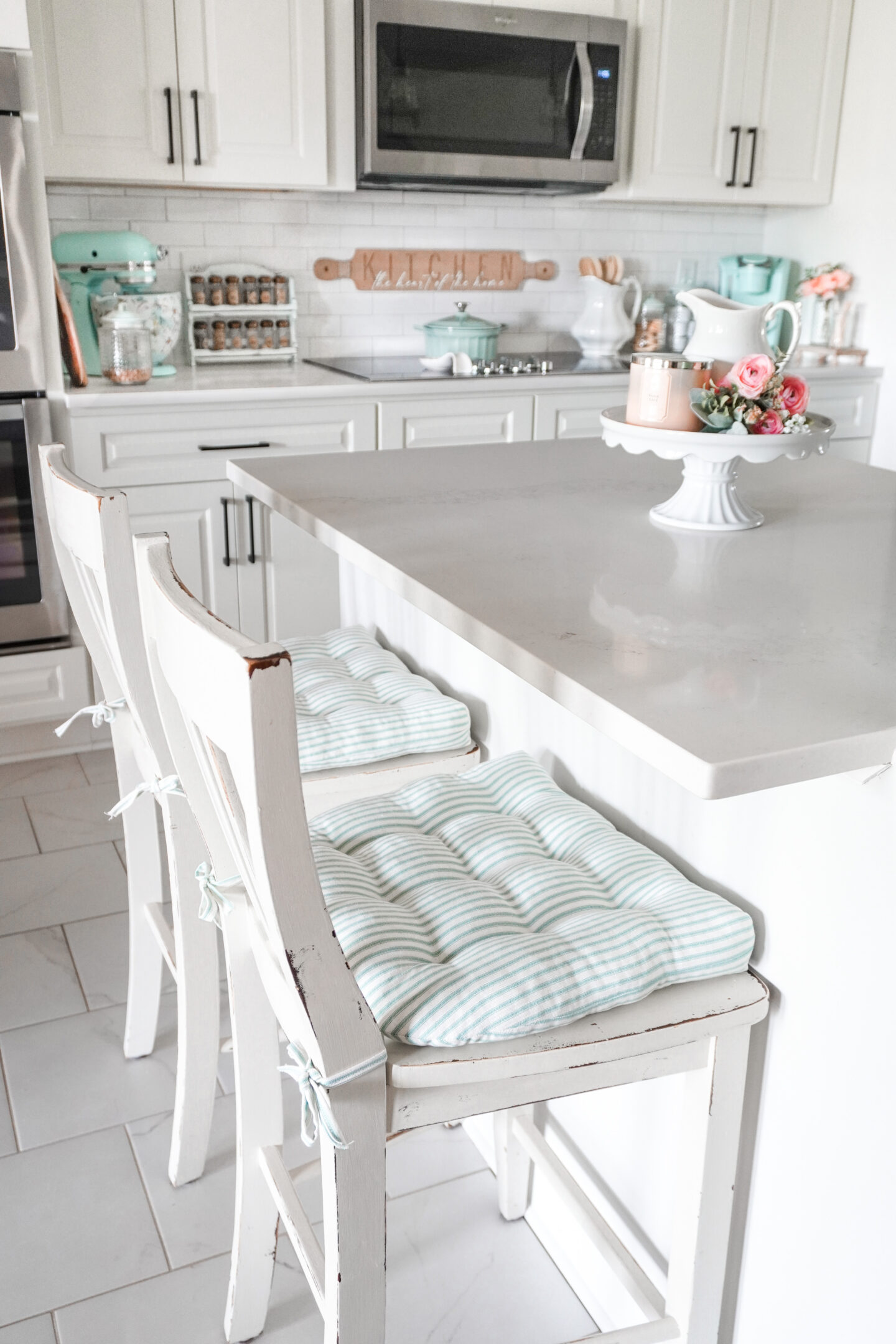 The last pieces of my Kitchen Decor Refresh are these super comfortable and cute farmhouse style tie cushions I purchased for my bar stools! These cushions come in so many different shapes and sizes, so if you have another style of chair, they likely have a pad for that! These are machine washable and double-sided. I've found when we even have spaghetti sauce on them, a little bit of Oxi Clean spray will take it out. With three little boys in this house, easy clean-up products are very important to me! You can shop these cushions HERE, and you can shop my Ruggable Rug in the photo below HERE!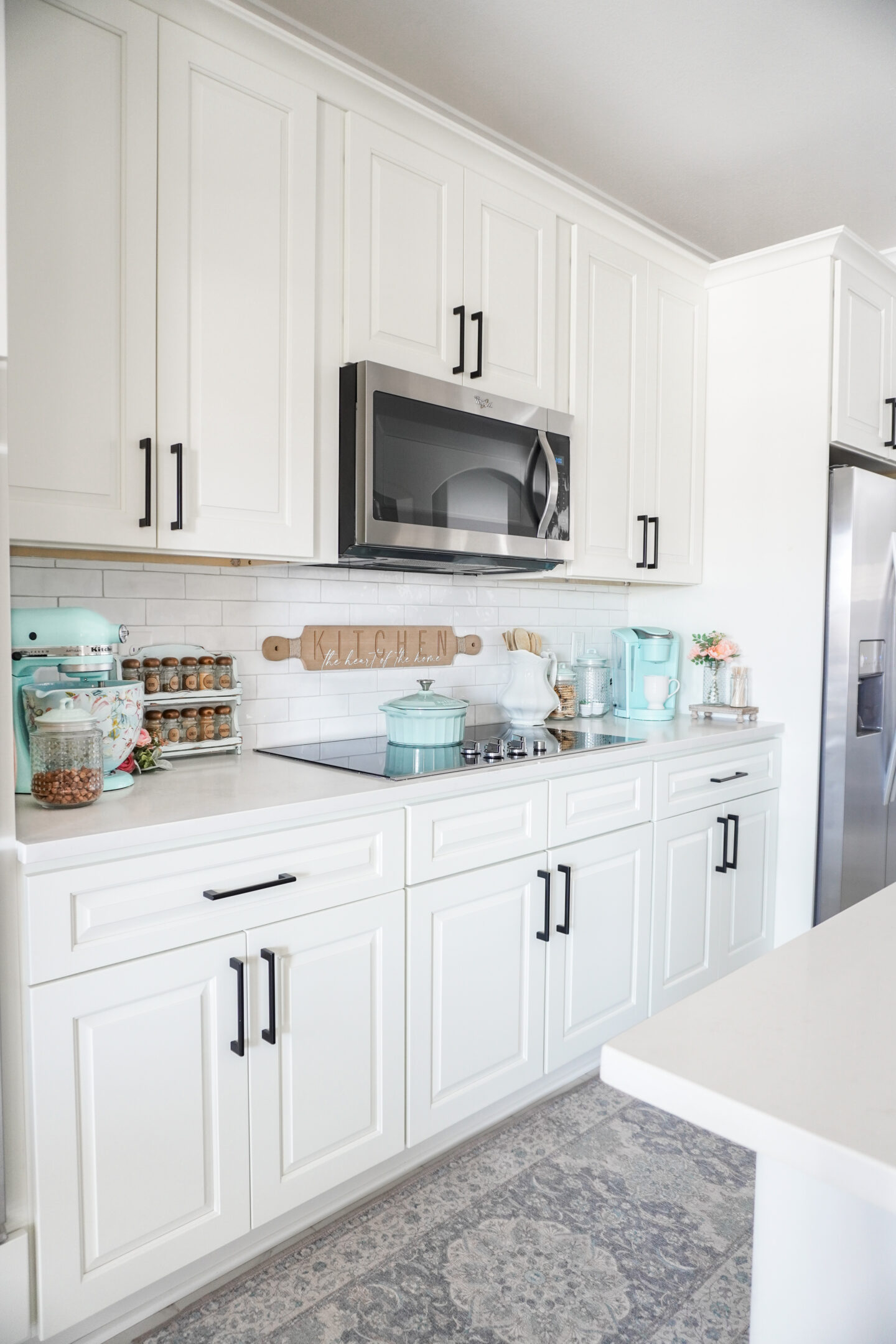 What did you think of this Kitchen Decor Refresh? Let me know in the comments below! If you want to see a fun Reel I made for Instagram featuring this transformation, check out the video below!
Shop products from this Post!
Want to share this Post on Pinterest? Use the photo below!