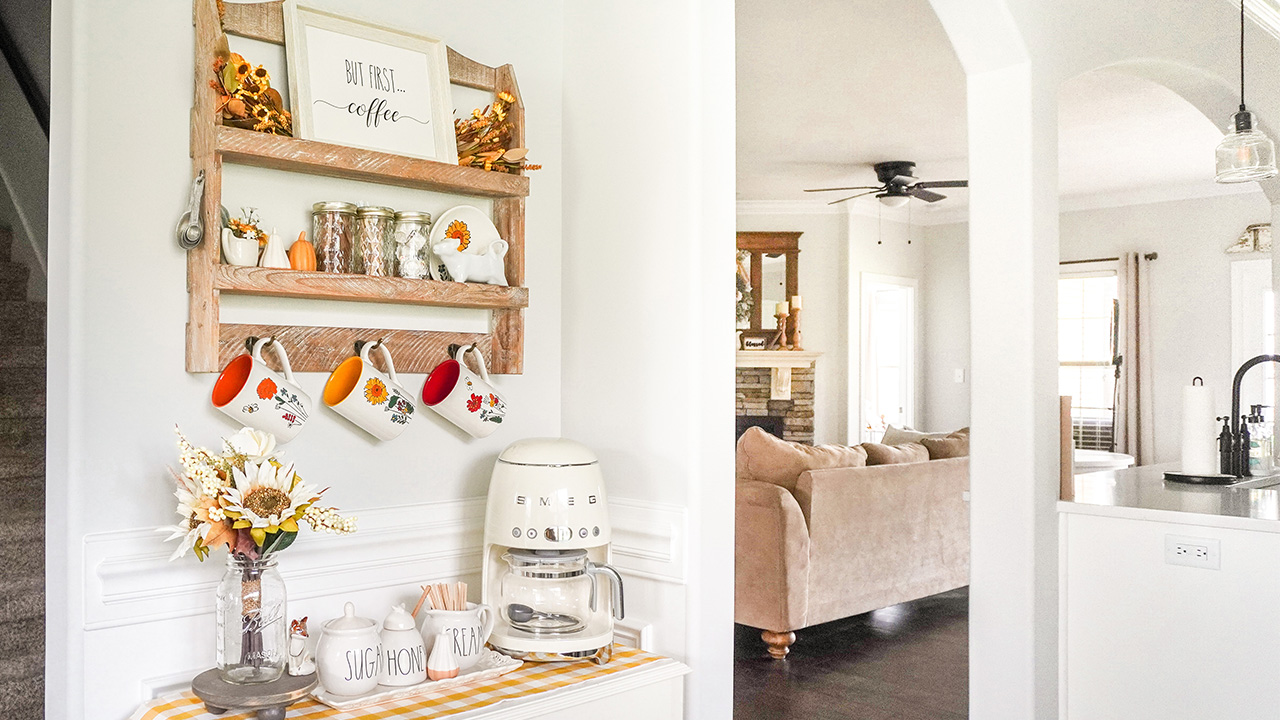 This post contains affiliate links. When you shop through these links I earn a small portion of the sale. Thank you for shopping with me!
Hi friends! It's that time of year when I do a Seasonal refresh on my Coffee Bar! I always have so much fun decorating this space, but this time we are decorating for Fall. Fall is one of my favorite Seasons! The colors, the warmth, the smells, and the tastes of Fall are some of my favorites! Keep reading to see how my Fall Coffee Bar turns out.
I'm going to make this Blog short today because I know so many of you visit my blog from my Pinterest and you are here for the pictures and the decor inspo, right? So let's get to it!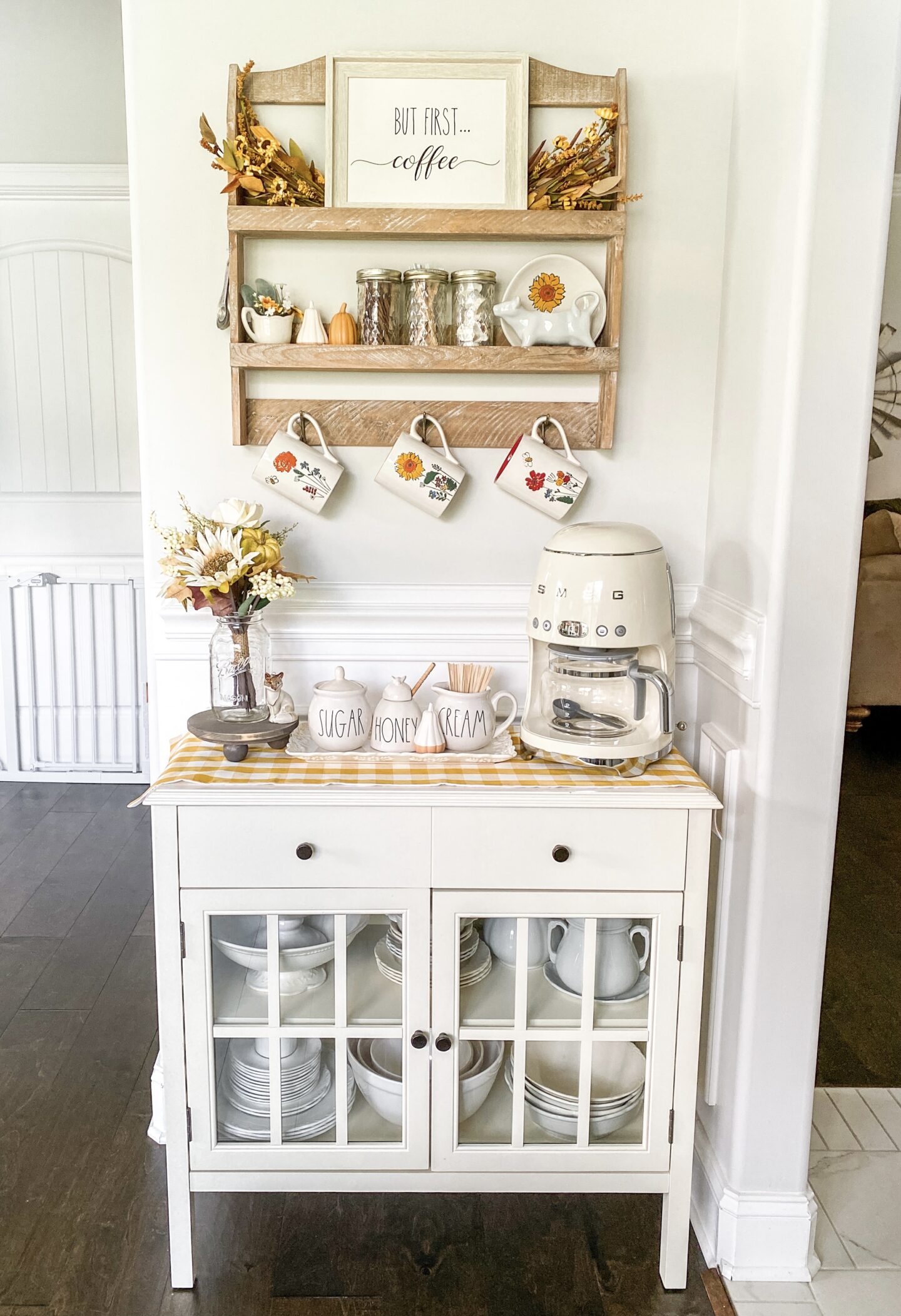 How Minimalists Decorate for Each Season
With each Seasonal decor change, the best way to make a big impact while also staying budget-friendly is to change out smaller items. Being a Minimalist by nature, I have always decorated this way as well! For instance, the top shelf of this rack had some Lamb's Ear that I traded out for a small bushel of fall-colored leaves and some coordinating yellow flowers! This alone is enough to immediately transform this small space into a little Fall getaway. I found both pieces of greenery at Hobby Lobby for a steal!
Pick a Color and Go From There!
Another important thing to keep in mind is what color you want most pronounced in your space for each Season. For Fall it may be Mustard Yellow, Burnt Orange, or Deep Red, but whatever color you pick try to stick with it! Can you tell which color I chose to go with for this space? If you said Mustard Yellow, you're right!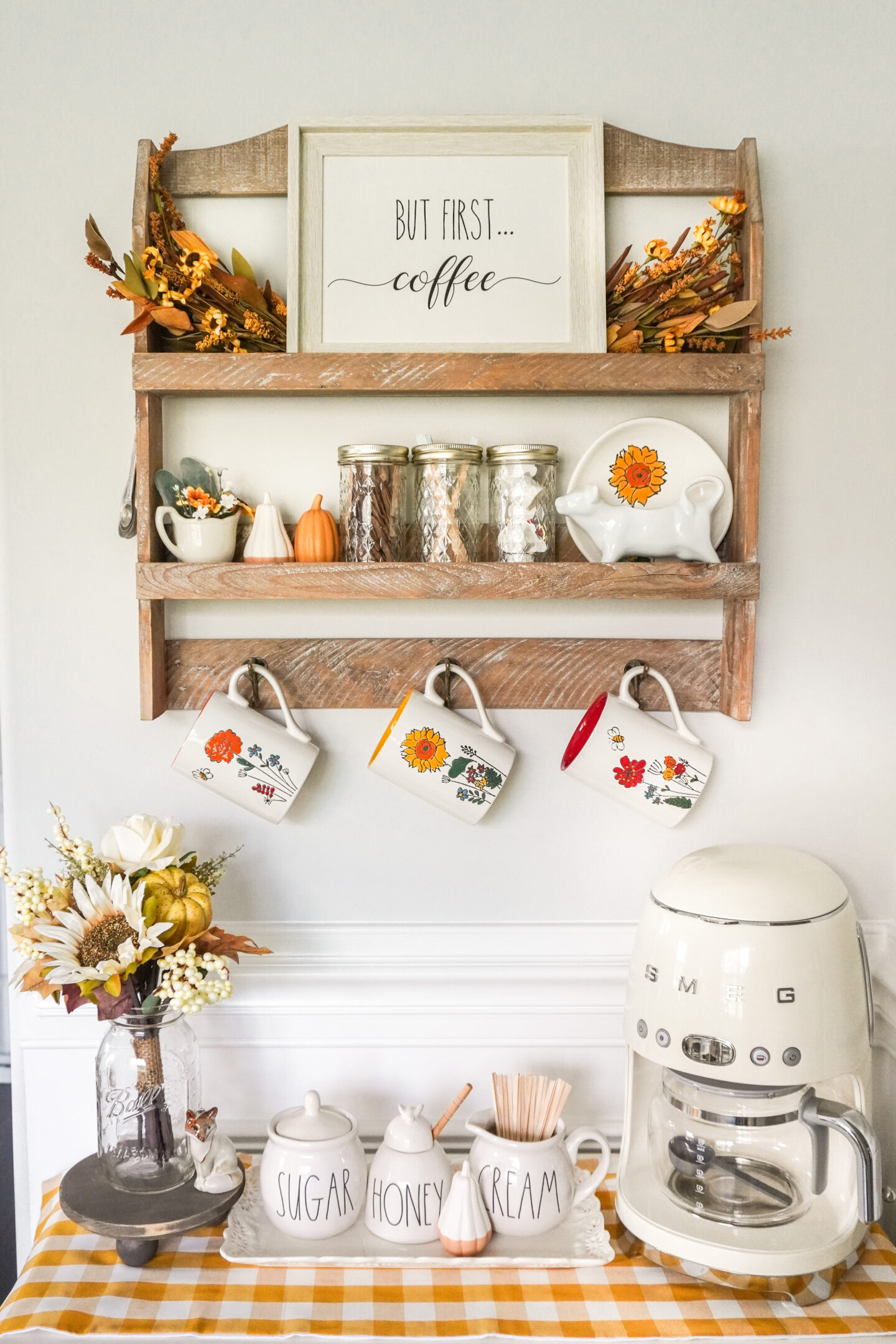 As many of you may know, I decorate my home with touches of a gorgeous Ice Blue Aqua. The Fall color that looks the most fabulous with Aqua is actually Yellow, so for me, it was a no-brainer to use Mustard Yellow for my Fall decor. This way it ties in perfectly with the other colors in my home, no added expense! That's a Minimalist WIN.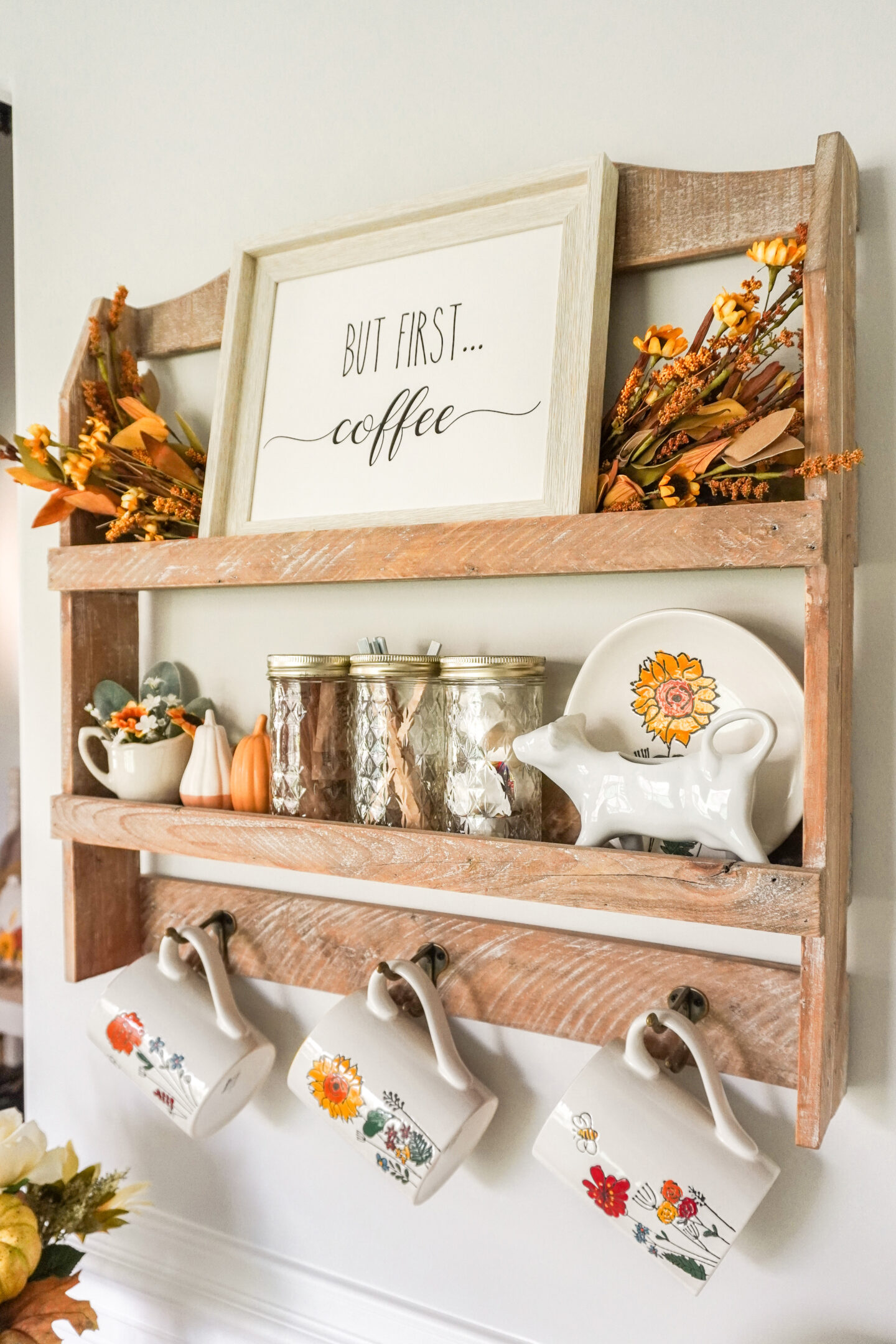 Taking Away and Replacing Pieces
As I mentioned above, I replaced the top greenery from Summer with this beautiful Fall colored greenery, which was a super-easy way to instantly get that Fall vibe going. The Coffee Sign on the top shelf stayed as-is for this transformation. I also snagged a couple of yellow flowers from one of the bouquets in my Kitchen and added them to the small Ironstone pitcher on the second shelf for a little bit more color. I love that little detail!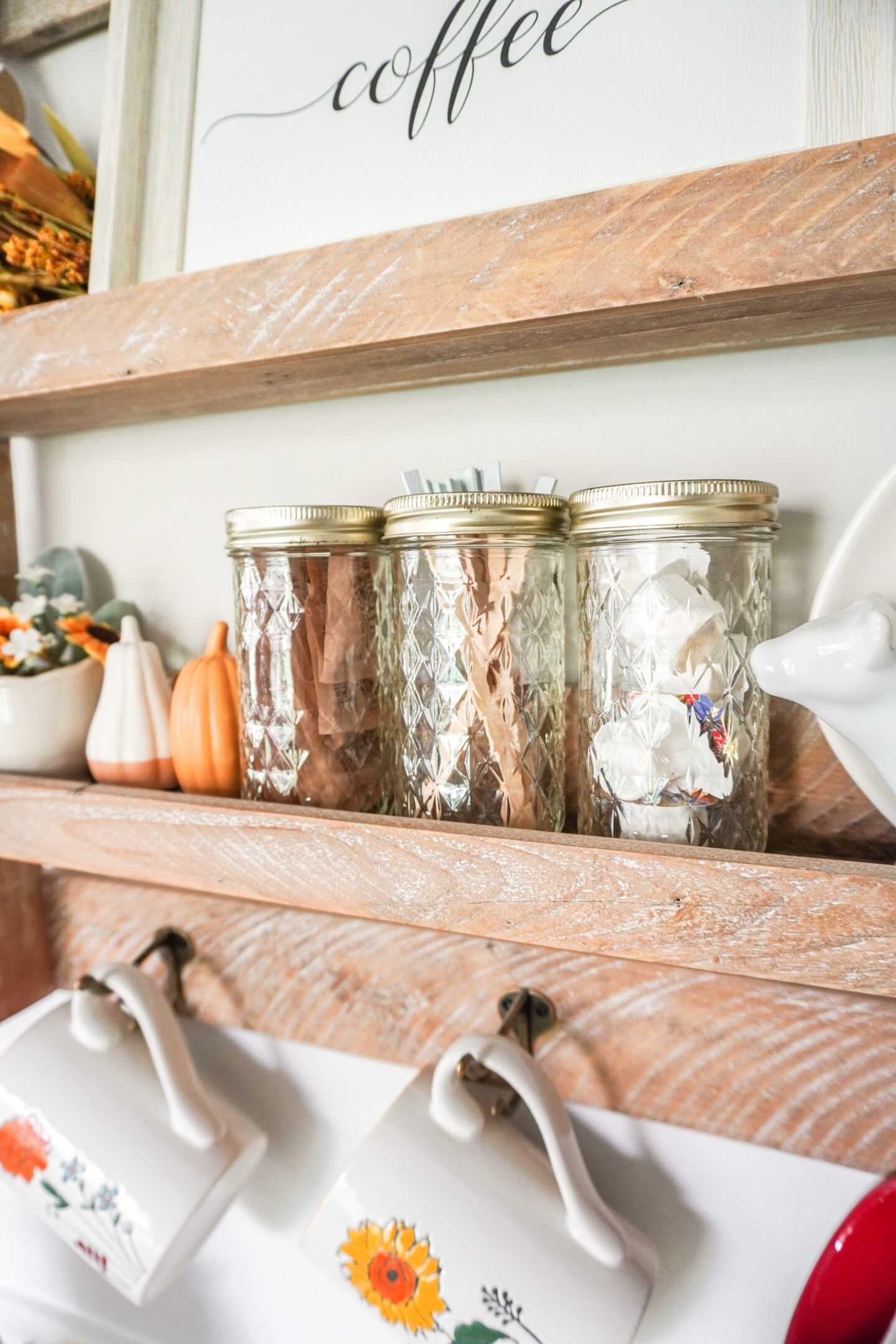 The little Pumpkins I added into this space are from the Target Dollar Spot! That just goes to show that even something that costs $1 can help transform a space to get the look you're after. The Vintage Ball jars stayed put for this transformation as well. They are filled with Raw Sugar packets, Stir Sticks, and Creamer pods. I love finding vintage and Antique pieces to decorate with! I really enjoy mixing old and new decor together.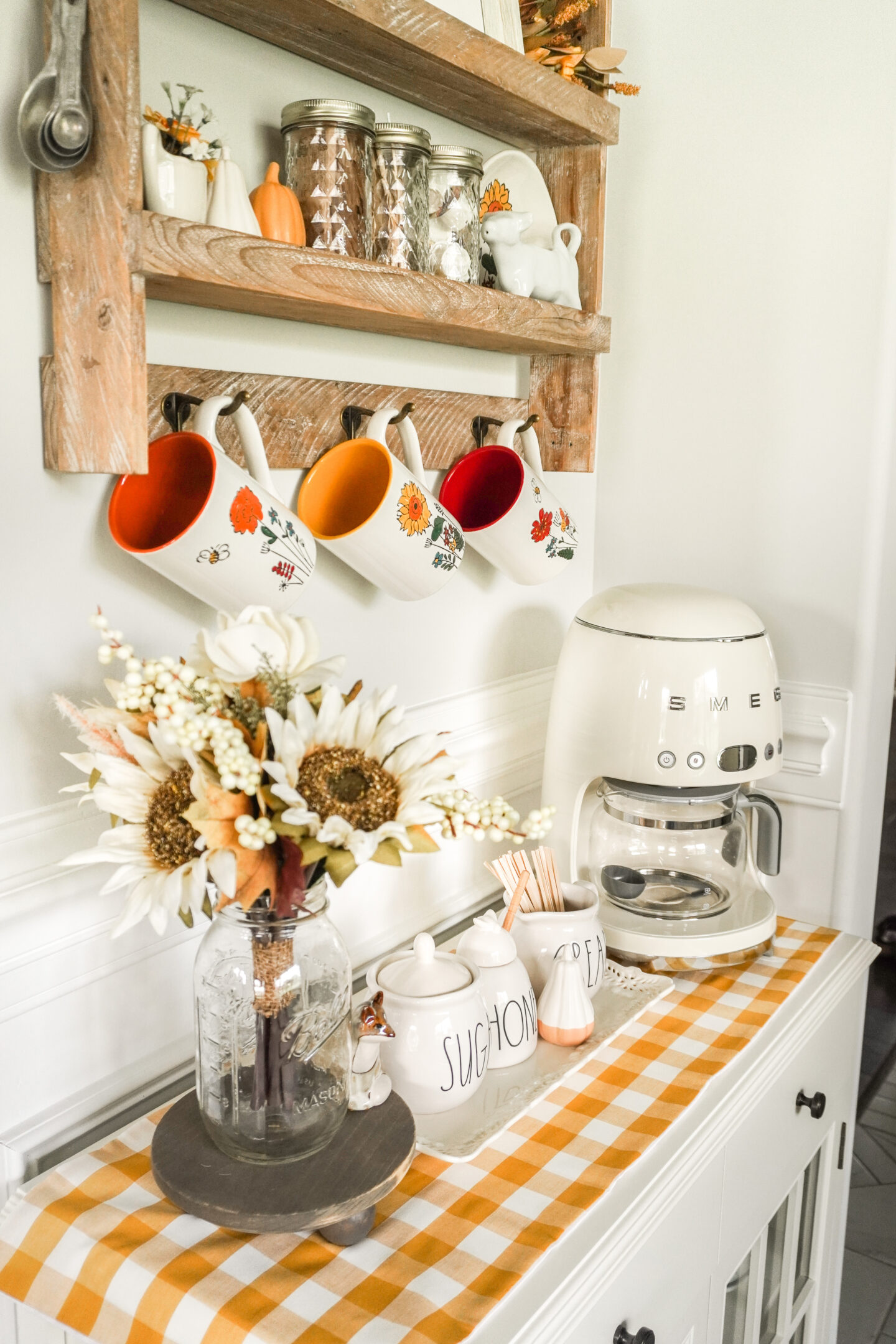 My Favorite Touches on my Fall Coffee Bar
My favorite things to decorate with on my Coffee Bar are actually the coffee mugs! I search high and low to find just the right pieces and usually end up spending a pretty penny on my mugs. However, this time around I spent very little! I found these adorable Fall mugs at TJ Maxx for about $4.99 apiece. To me, that's a total steal! Especially when they give just the look I was after for Fall. Not only did I find the perfect mugs for this space, but I also found a matching plate for the second shelf! I looove Sunflowers for Fall decor, so I was super excited to find this piece.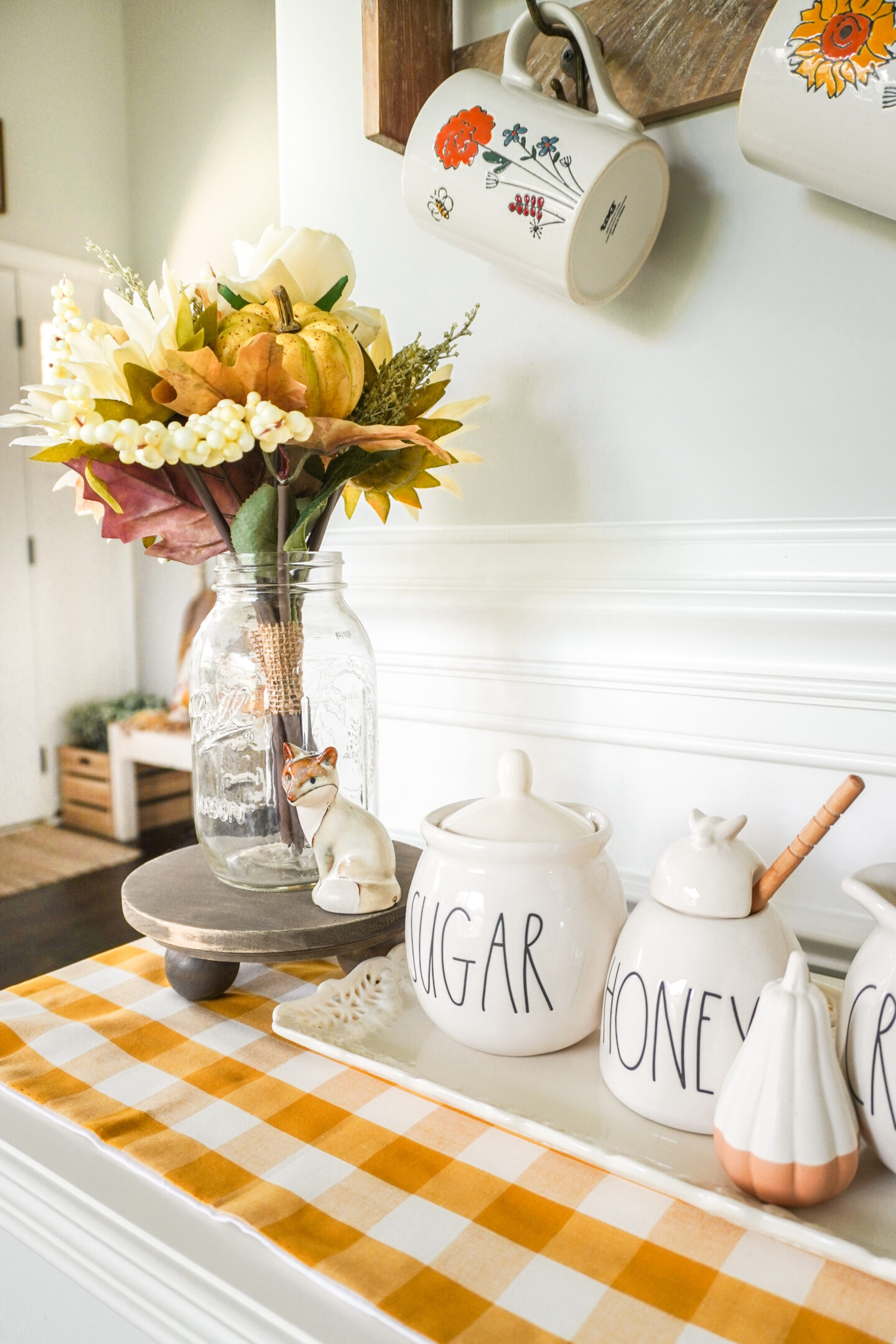 The top of the cabinet is also a really fun place to decorate! Just changing out my table runner to this pretty mustard plaid immediately added cozy Fall vibes to this space. I traded out my little bluebird on the wood pedestal for this ceramic Fox, and changed out my Summer bouquet in the Mason jar for this Fall Sunflower and Pumpkin bouquet.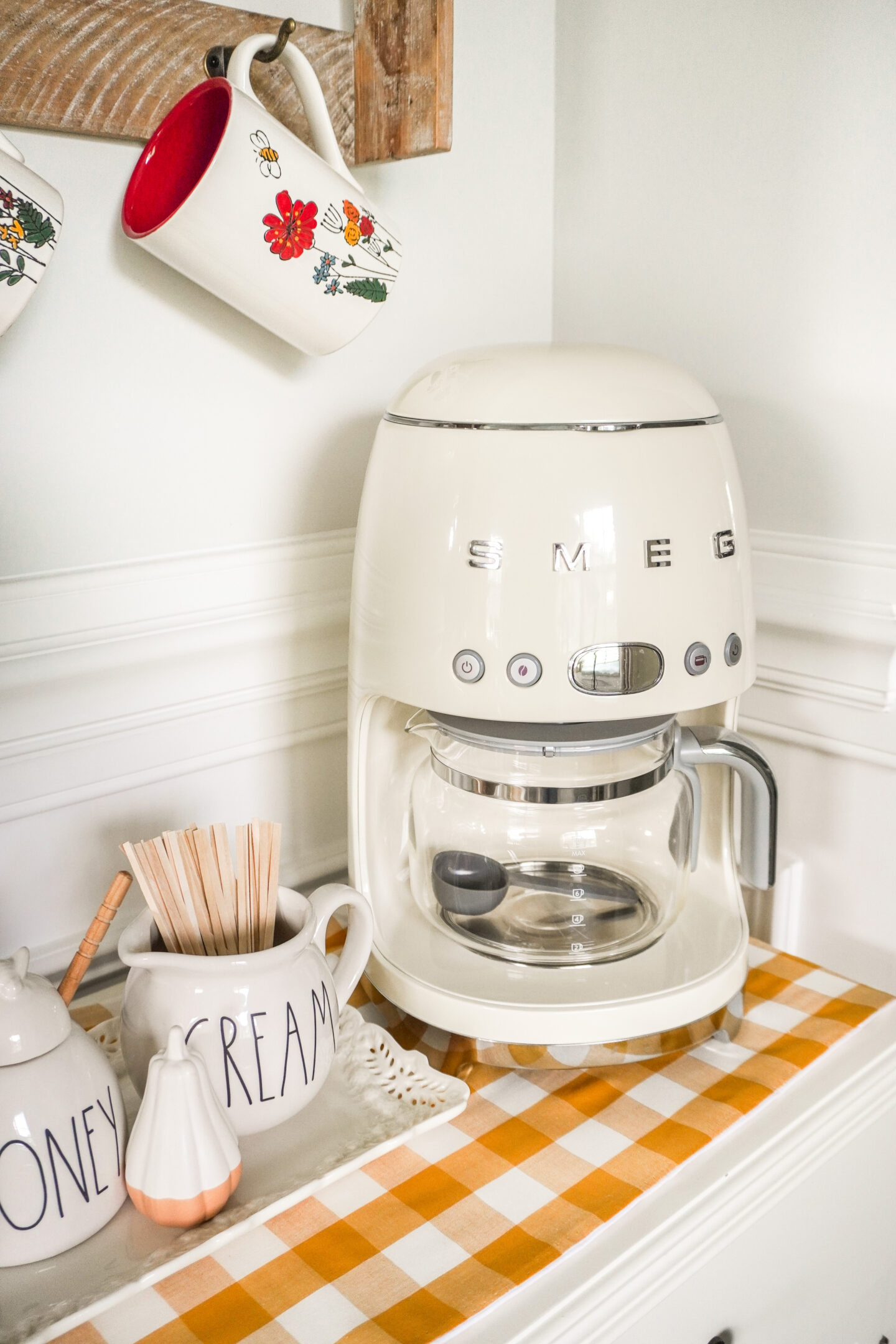 My Rae Dunn Sugar, Cream, and Honey pots and my ceramic lace tray stayed the same, but I did add on another little Pumpkin for fun! My very favorite thing in this whole space is no secret: it's definitely my Smeg Coffee Maker! I'm just in love with it you guys. It's perfect for every season at my house; It just goes with everything…not to mention it's adorable and functional too!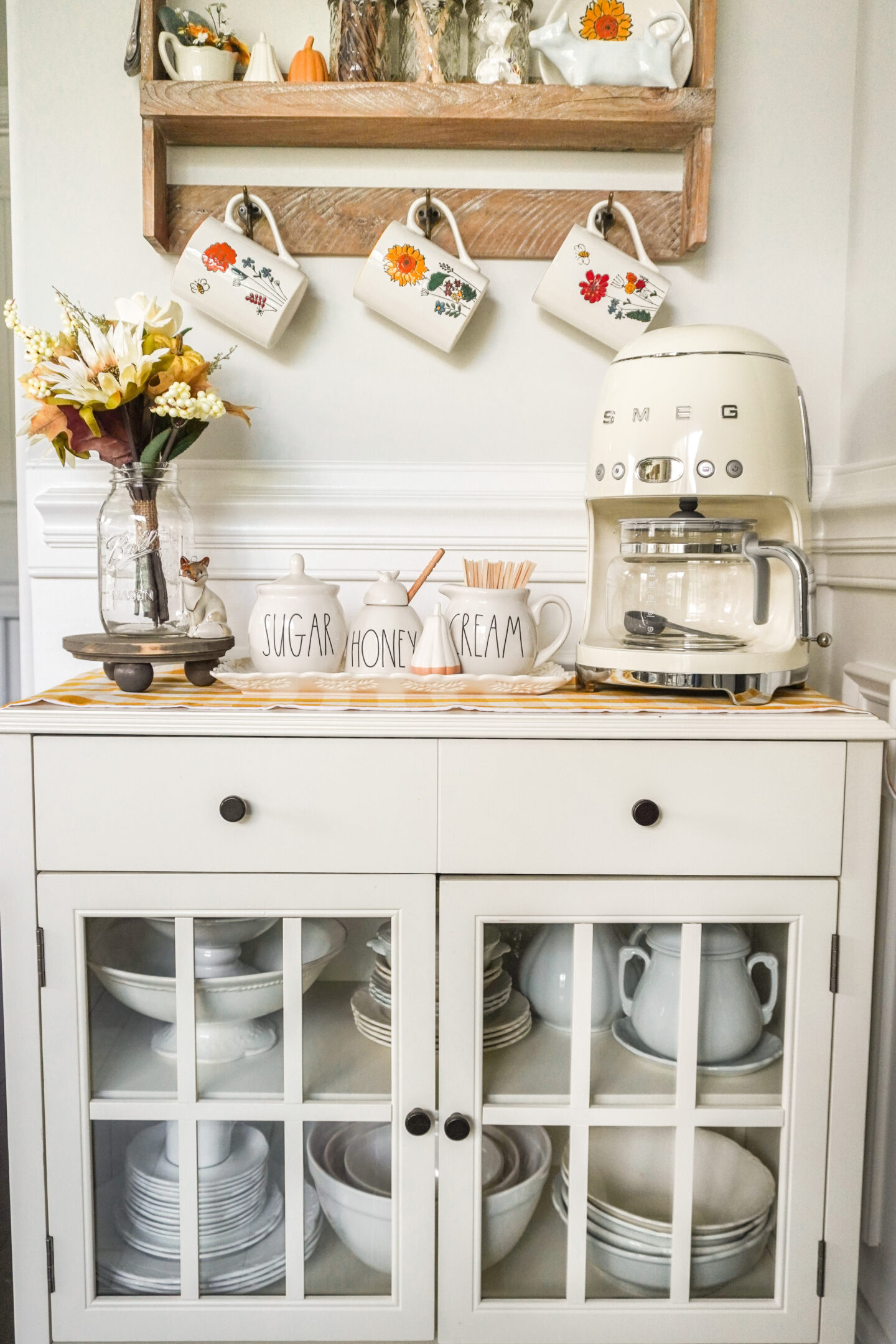 The Cabinet in this space stayed the same! I do move around and change out what is inside of my windowed cabinet occasionally, but for this transformation, I left it as is. I also often get asked, "Where do you keep the coffee though?" The answer is: In the top drawer! It is just the perfect place to keep coffee grinds, filters, extra sugar, etc. This space is not just cute, it is also very functional!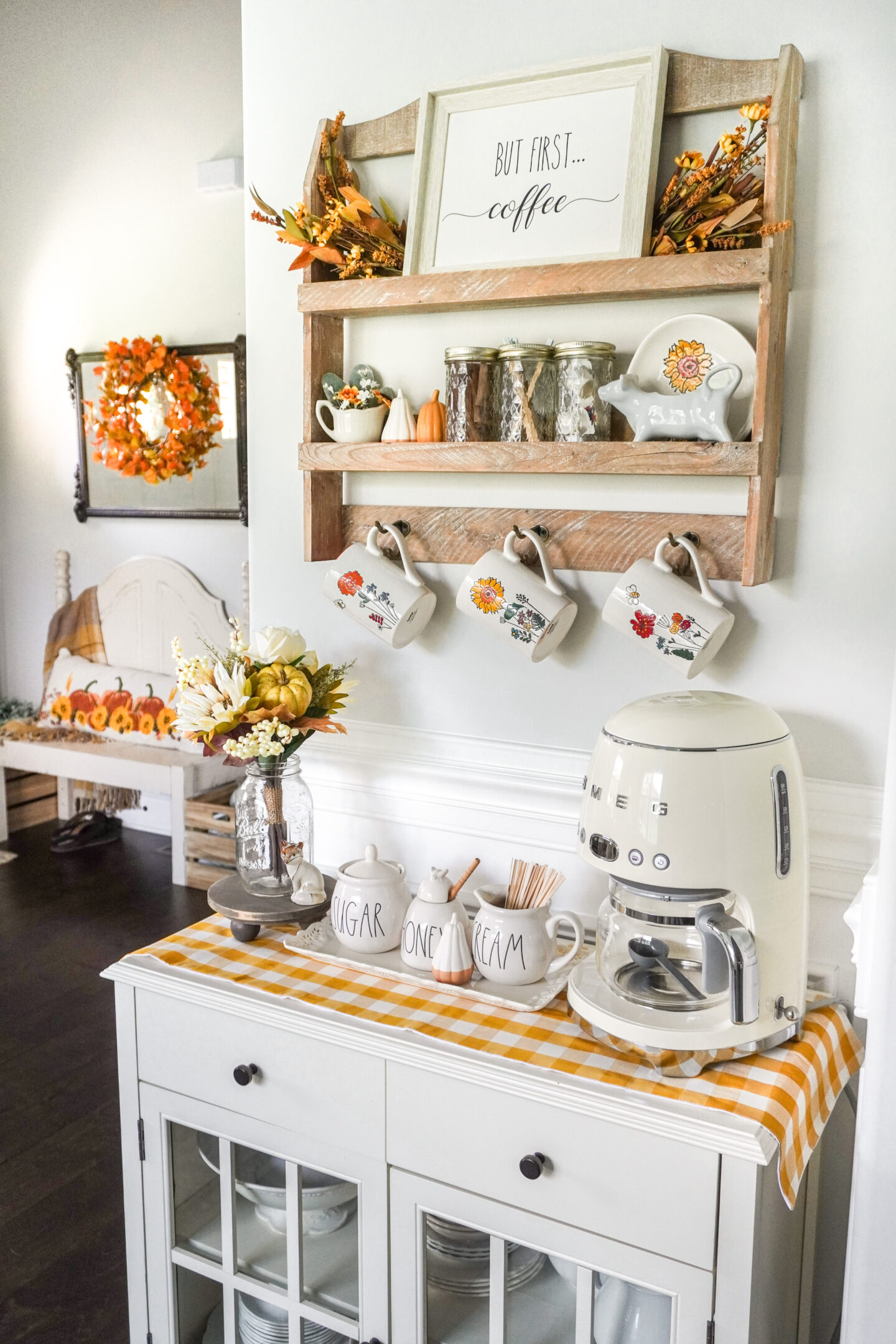 You may have noticed that this is actually a very small wall in my dining room! When I first showed you How To Create a Coffee Bar in a Small Space, I never thought I'd be making more than one video or Blog Post for it lol! But here I am now doing Seasonal decor videos and blog posts for it and I love it! It is so much fun decorating this small space. It is definitely one of my favorite little spots in my home.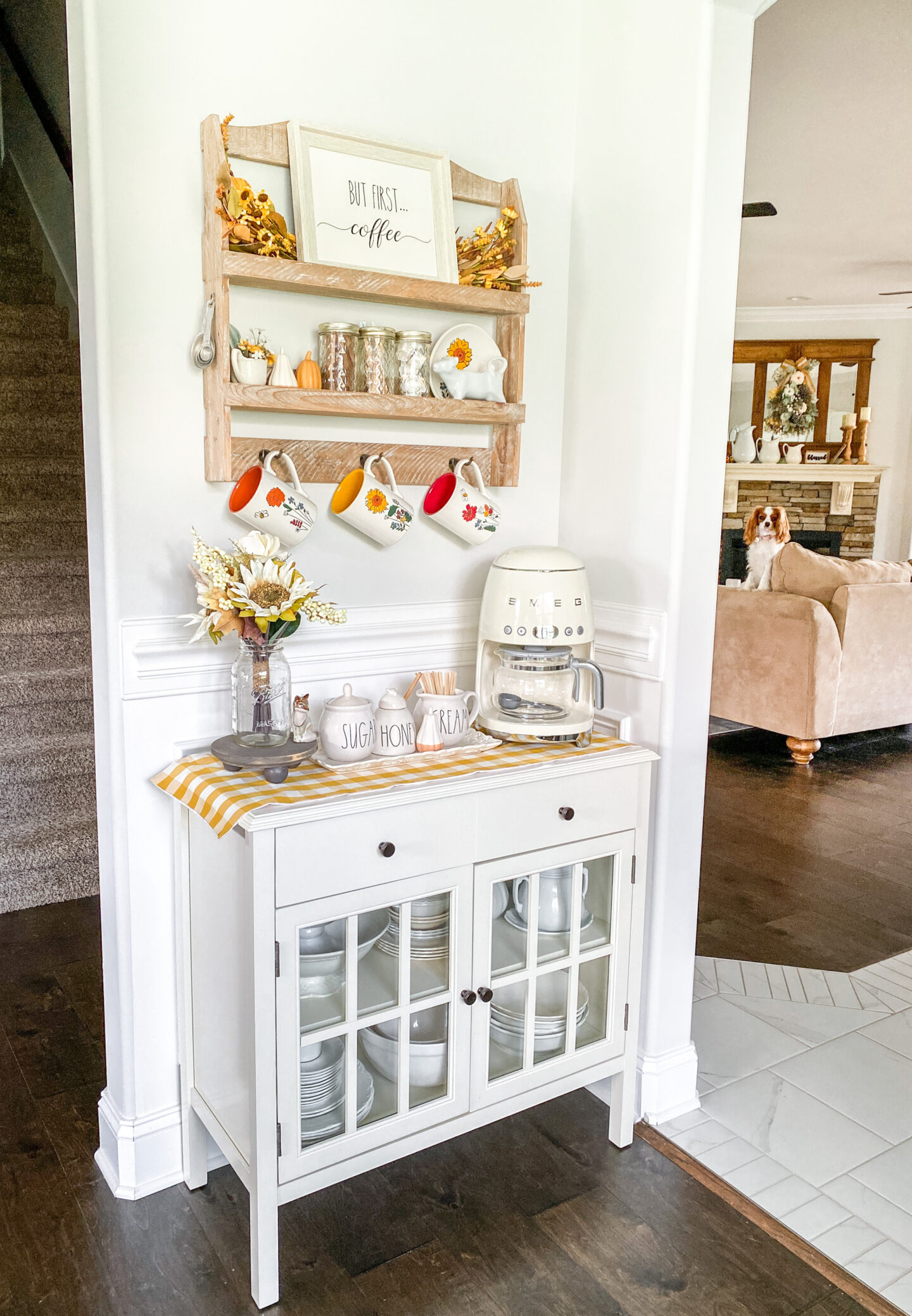 What do you think of this transformation? Comment below and let me know!
Don't forget to check out how I decorate this space in real-time in my YouTube video How To Decorate a Seasonal Coffee Bar | Fall | Decorate With Me!
Love this Blogpost? Make sure to Pin it to Pinterest by using the image below!