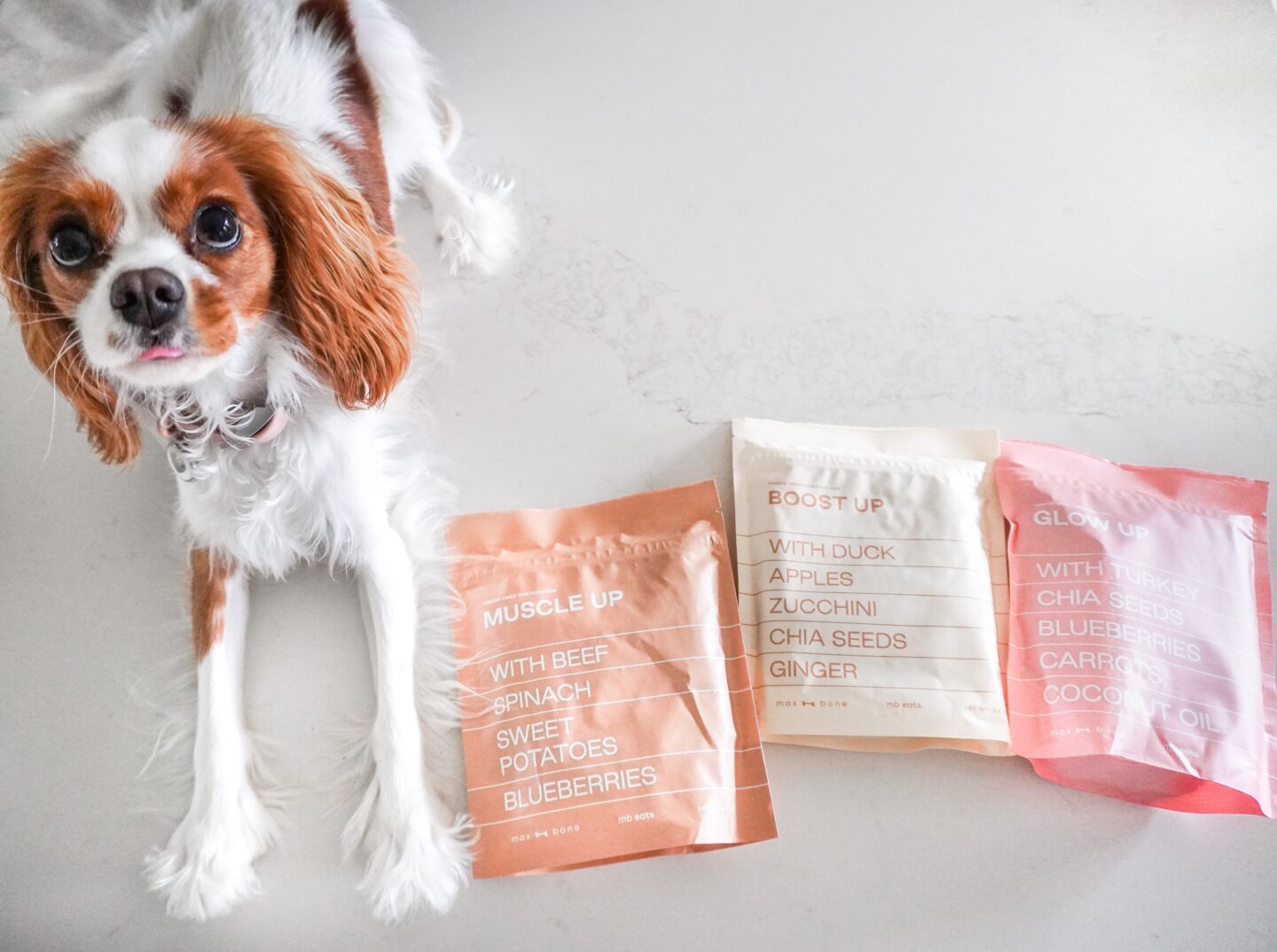 The dog food in this Review is provided by Maxbone. All Maxbone links are Affiliate links and when you shop through these links I receive a small monetary kickback. Thank you for shopping with me! Use code KATE15 for 15% off at Maxbone.
Hello friends! Today I am so excited to be sharing my very first Blog Post featuring my sweet Emma and one of our favorite doggy brands, Maxbone! Maxbone sent over their Freeze-Dried Food and I can't wait to tell you guys all about it!
You may ask yourself "Why do I even want/need Freeze-Dried Dog Food for my dog?" The answer is pretty simple! Most dry dog foods may sound healthy, but the truth is once all of the products in the food have been cooked and processed, they actually lose all of their nutrients! With Maxbone's Freeze-Dried food, all of those nutrients stay intact.
Maxbone Freeze-Dried Food Packaging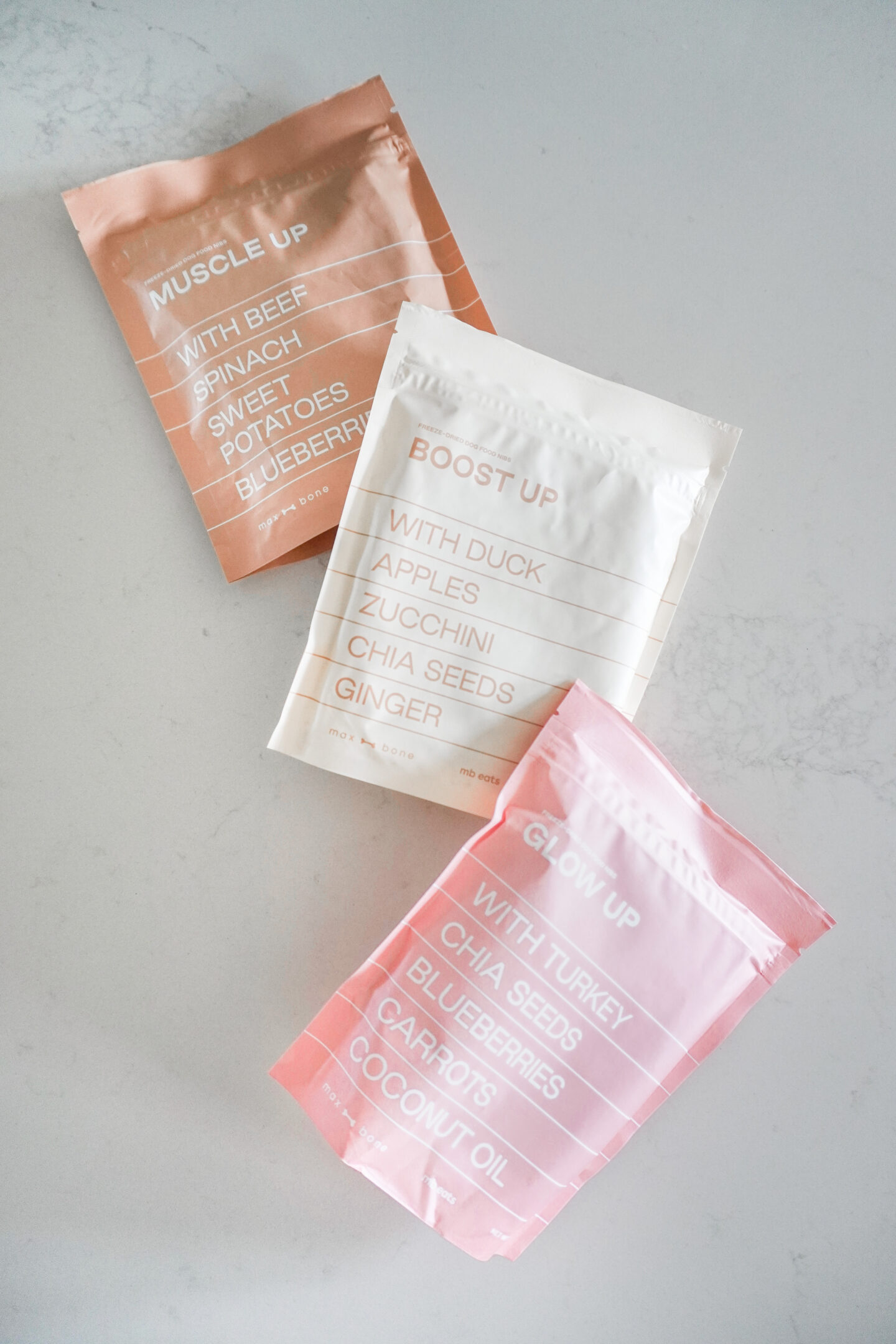 The packaging for Maxbone's Freeze-Dried food definitely has a wow factor and I just LOVE the simplicity and colors they chose. The bags of food you see above are actually sample packs! They can be purchased for $10 apiece on Maxbone's website, so if you are unsure which one your dog will like best, try a few sample packs!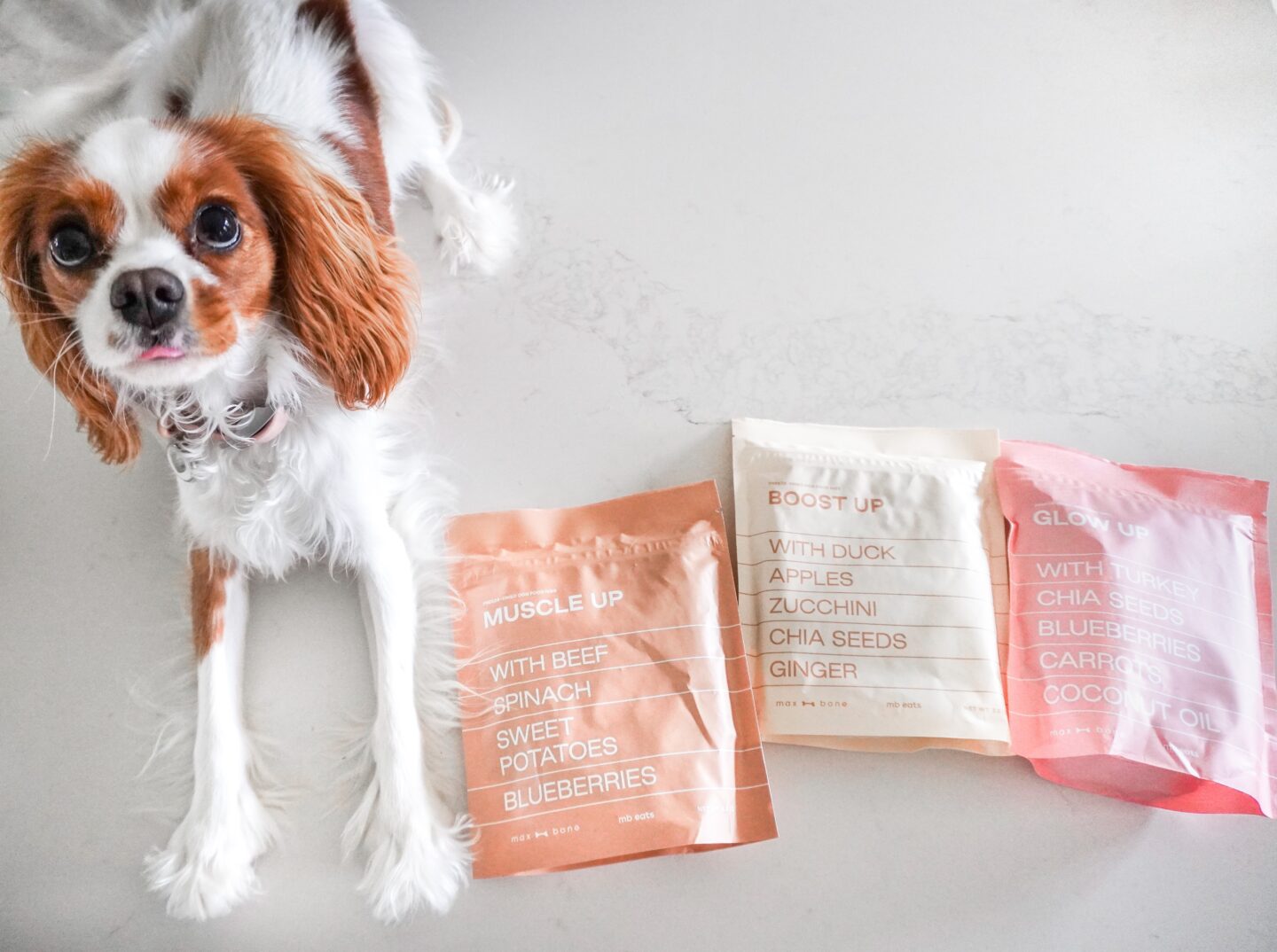 As you can see, Emma is very anxiously awaiting a trial of each bag! And for this review, I definitely wanted to see what her first impressions were and which flavors are her favorite. Maxbone sent over their Muscle Up, Boost Up, and Glow Up for us to try.
Which Food is right for your dog?
Straight from the Maxbone Website
Muscle Up
The Muscle Up Beef freeze-dried meal is made with whole meat & is packed with multi-tasking superfoods, including spinach, sweet potato, broccoli, blueberries, and seaweed. Grain-free, gluten-free, and nothing but quality. You'll love how it helps to reduce their Number Twos and they'll love the improved digestion, immunity, and energy that real food with great nutrition gives them.
Boost Up
The Boost Up Duck freeze-dried meal takes dog food high key with a grain-free, gluten-free formula, all freeze-dried to lock in freshness and goodness with minimal processing. With eight superfoods – including broccoli, apple, zucchini, sweet potato, chia seeds, blueberries, seaweed, and ginger – your dog will feel a boost of energy, improved digestion, and they may even get smarter on this brain boosting formula! This formula is nothing but duck and superfoods and comes ready to eat!
Glow Up
This formula is made to improve your dog's skin and coat from the inside out with Mb Eats Glow Up Turkey Formula. This grain-free, gluten-free formula is freeze-dried to lock in fresh-off-the-farm goodness. This food is minimally processed, meaning it's nothing but nutrients. That means your dog gets all the benefits of superfoods like spinach, sweet potato, chia seeds, cranberries, blueberries, seaweed, and coconut oil. You'll love how gorgeous their coat is and the fresher breath. They'll love the smooth skin, boosted heart health, added immunity, and more energy. With nothing but superfoods and turkey, you might be jealous at mealtime. Plus, there's no meal-prep hassle!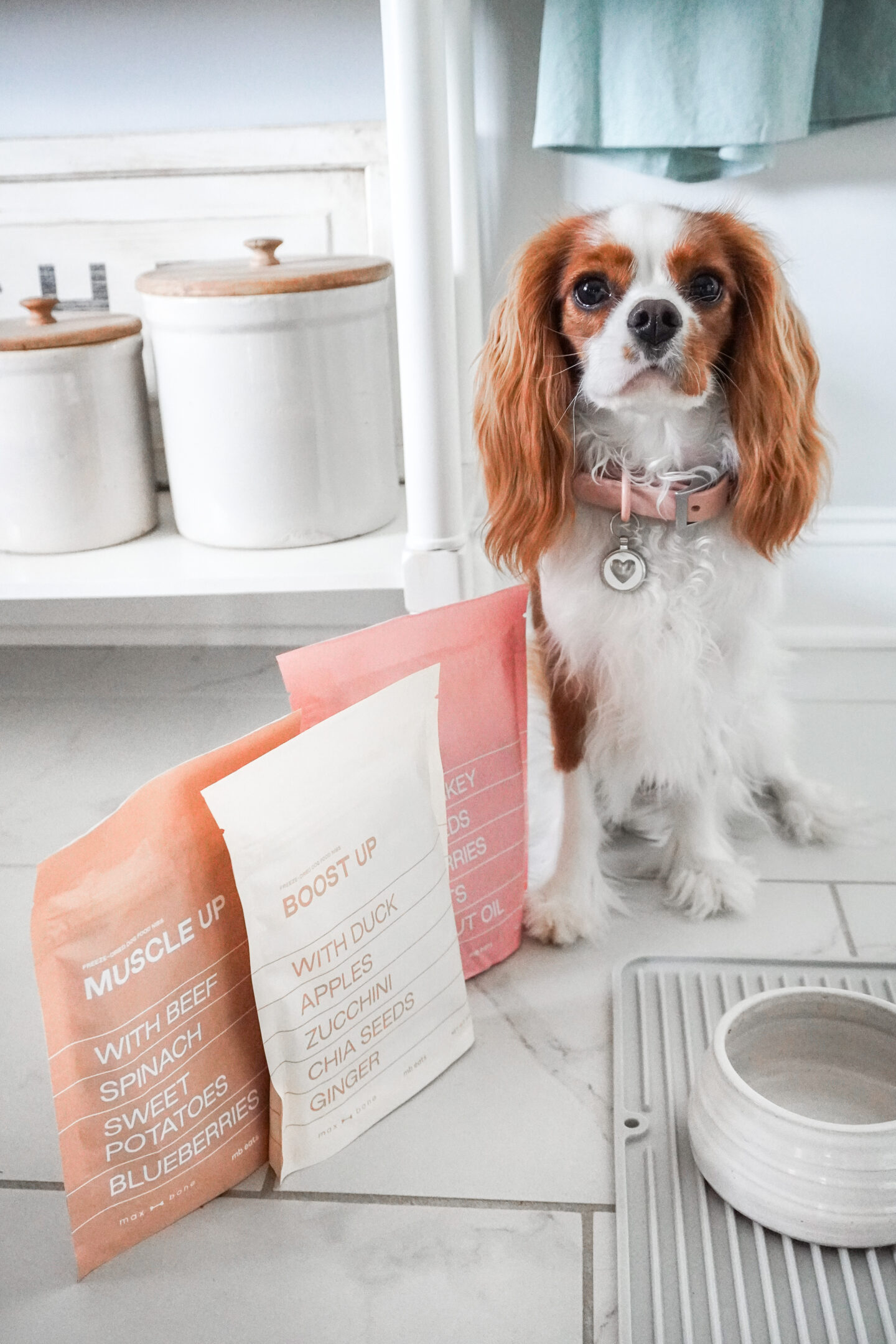 I bet you're all wondering which sample pack Emma liked best! And she is very patiently waiting to try them all, so let's give it a go! Naturally, because I love pink, we tried the Glow Up first. Emma is a Cavalier King Charles Spaniel, so the Glow Up will be just perfect for her to have a silkier coat and even help keep her breath fresh!
Which Flavor did Emma like best?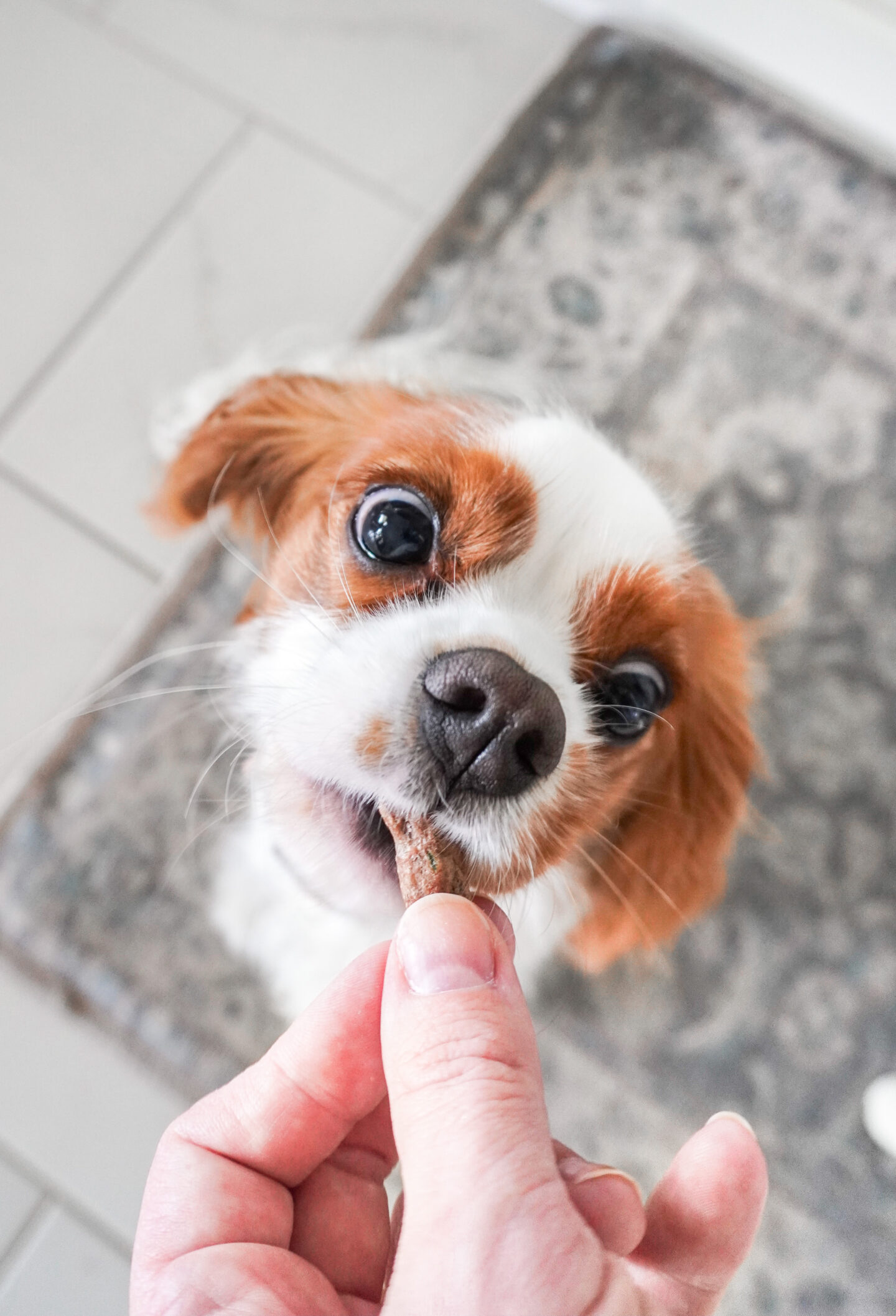 Oh my goodness, this face! I can't even you guys lol! The intensity. I do love that even in this single piece of freeze-dried food you can actually SEE the ingredients, which is amazing.
I made a very small Favorite to Least Favorite list when she tried all three flavors, but in all honesty, she LOVED all of them! The list below is just Emma's preferences, so if you're unsure of which Maxbone freeze-dried food is right for your dog, please visit the website and look at all of the benefits and ingredients for each flavor.
Favorite Flavor: Glow Up Turkey Formula
Middle Favorite: Muscle Up Beef Formula
Least Favorite: Boost Up Duck Formula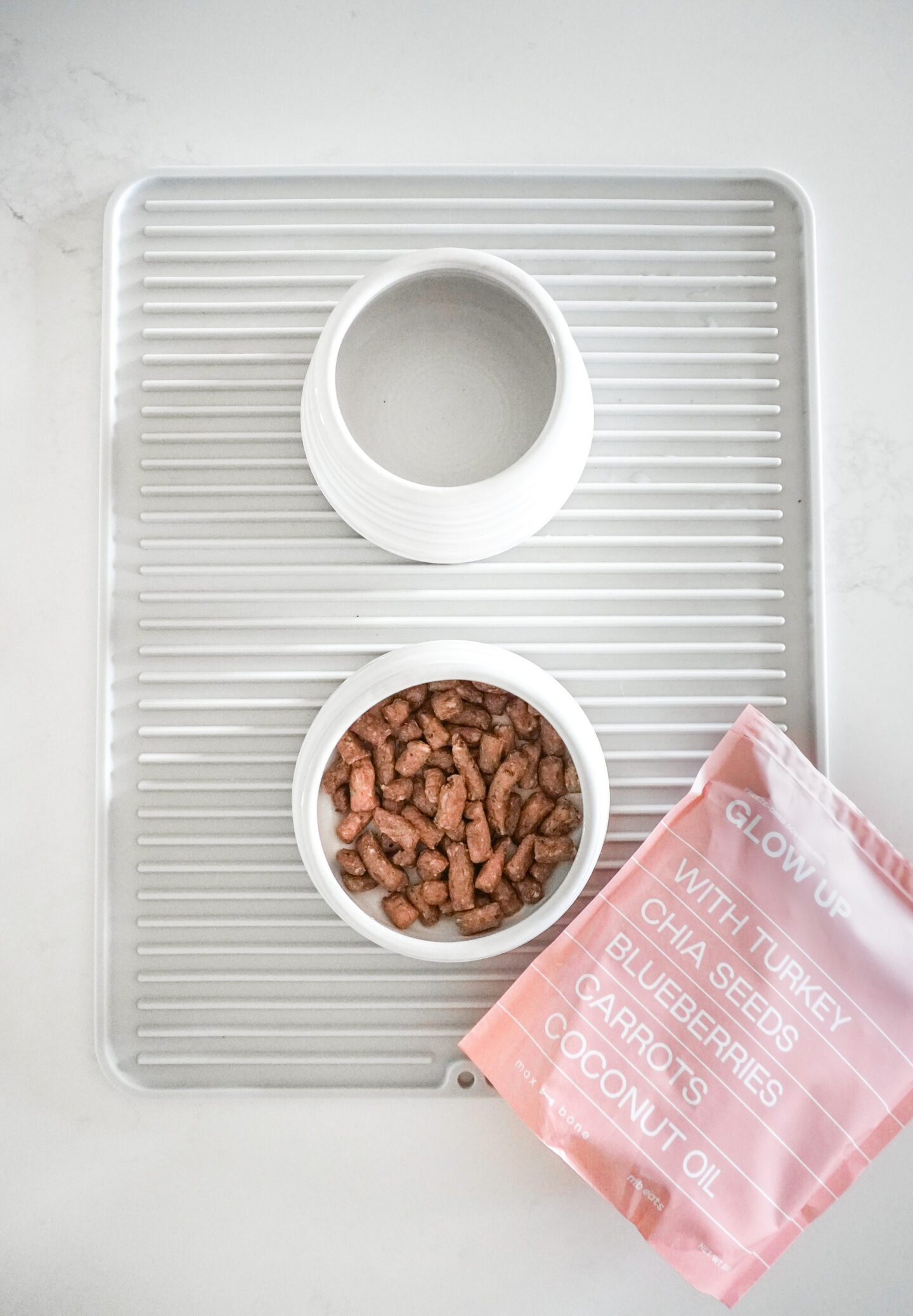 To reward Emma for being so patient while we tried all of the flavors and took all the photos, she got to have a bowl of Glow Up! I have never seen her eat anything so fast before lol! With her usual dog food, it takes her all day to get through it, but the Maxbone Freeze-Dried food is definitely more to her liking.
What do we think after 3 weeks?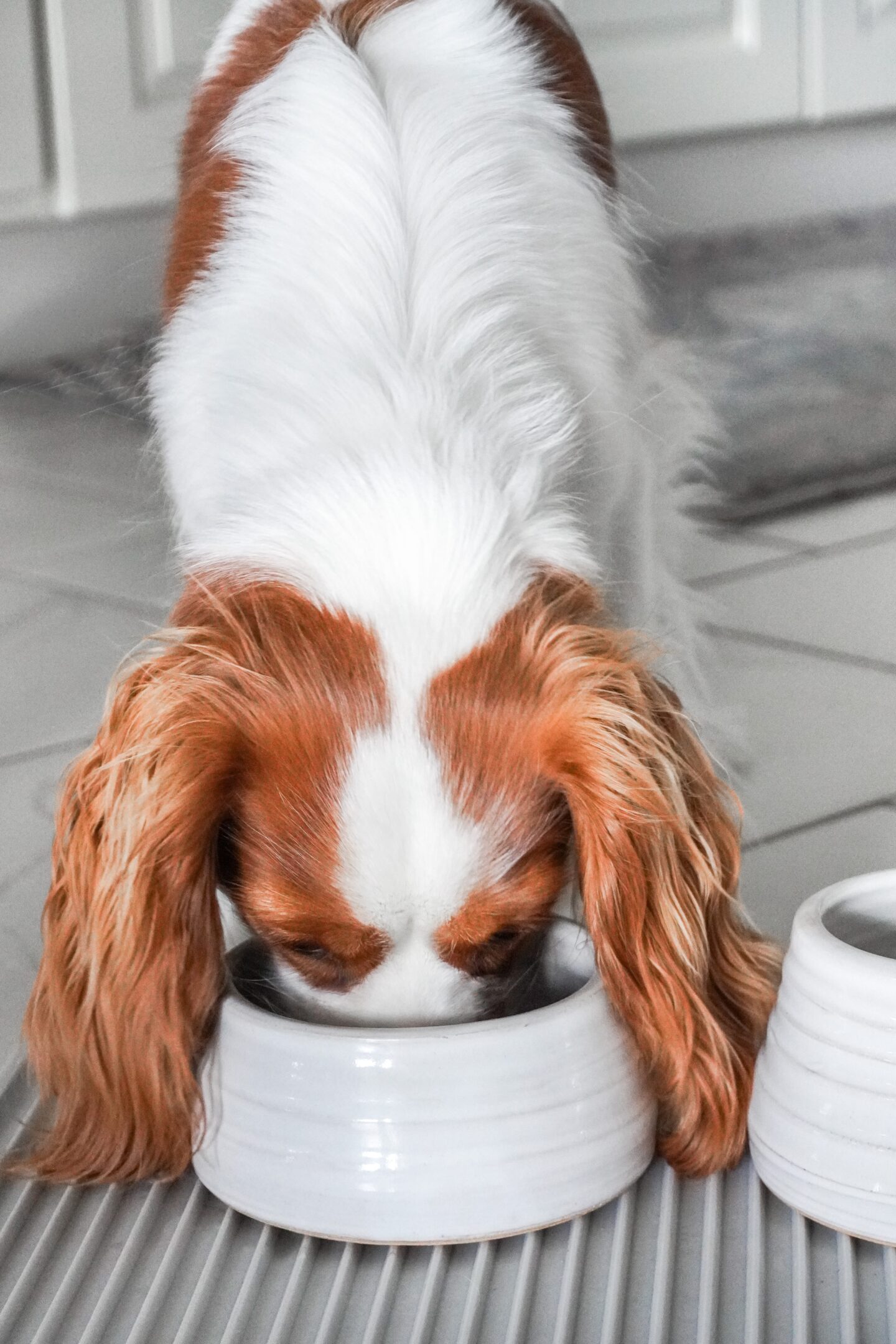 It's been 3 weeks since we first received all three bags of Maxbone Freeze-Dried Food. We have been mixing it with Emma's regular dog food just to make sure she doesn't have any issues. I have noticed her breath is fresher, her poops are softer and easier to pass, and they look healthier too!
I recommend switching to Maxbone Freeze-Dried dog food if you are looking for a healthier alternative to dry kibble or an easier alternative to freshly cooked meals. Emma has shown me that she definitely prefers the Maxbone food to her current dry food. I love how excited she gets for meal time now!
Want to try Maxbone Freeze-Dried food for your dog? Shop with me at http://bit.ly/shopmaxbone and use code HEALTHYAF to save 25% on your first order of food! You can also use code KATE15 to save 15% off on every Maxbone purchase.
Want more Pet-related Reviews? Make sure to visit the Pet Gear button in my Review Tab!