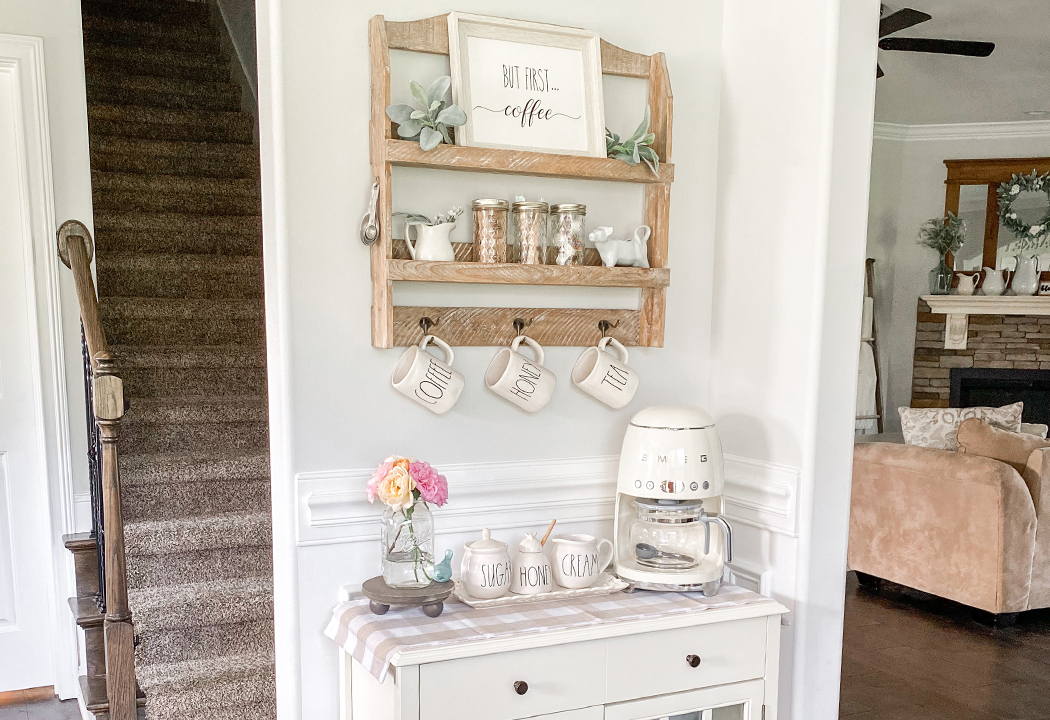 This post contains affiliate links. When you shop through these links I earn a small portion of the sale. Thank you for shopping with me!
Hi, friends! And welcome back to my Blog for another fun How To project! Today, I am going to show you How To Create a Coffee Bar in a Small Space. Often, it seems like there are a lot of small, and odd, alcoves in our homes that just stay empty and unused because we don't know what to do with them, but it doesn't have to stay that way! Read along to see how I transformed this small space from empty and unused to functional and cute!
Before we get started, you may also want to check out my Decorate With Me video for this space on Youtube!
How To Create a Coffee Bar in a Small Space
There was a small, odd wall in my dining room (pictured below) that remained an empty space for 3 1/2 years. It stayed that way because I just didn't know what to do with it! I kept thinking, " hmmm…maybe a small table with a picture or a mirror above it?" But it wasn't until my Mom gave me a little cabinet that a lightbulb finally came on!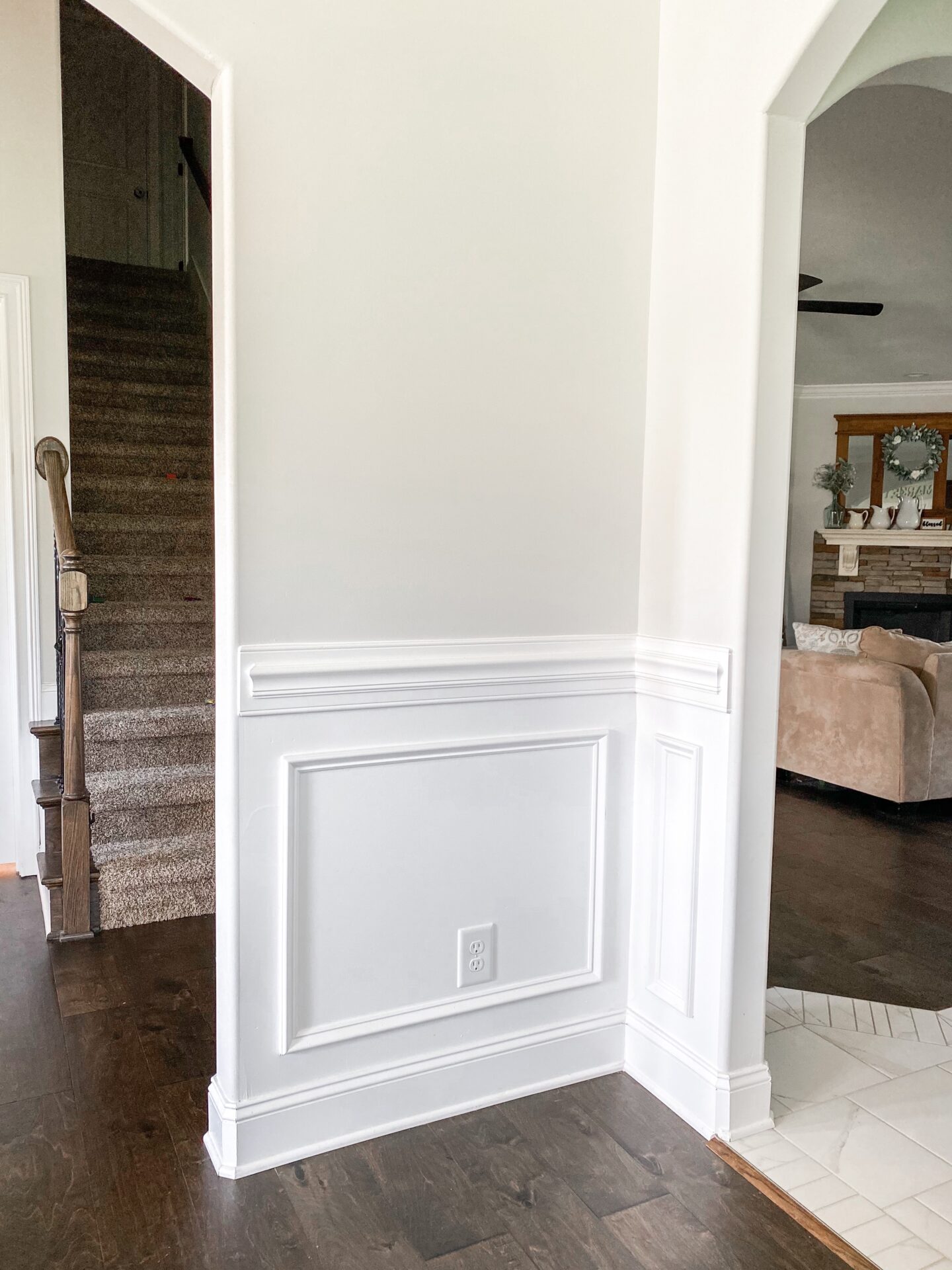 The Coffee Cabinet
The cabinet my Mom gave me was something she used as a little TV stand in her living room, but she no longer needed it. Lucky for me, I had just the place to put it! I was planning to use it on the wall where my antique hutch now is, and you can read about that project HERE, but it was too small for that wall. When I placed it in this alcove it was pretty clear to me that it needed to become a coffee corner! And that's what it all started with lol! Sometimes one piece of furniture can spark a full transformation. So, let's get started and see How To Create a Coffee Bar in a Small Space!
You can find the Cabinet I used for this space here!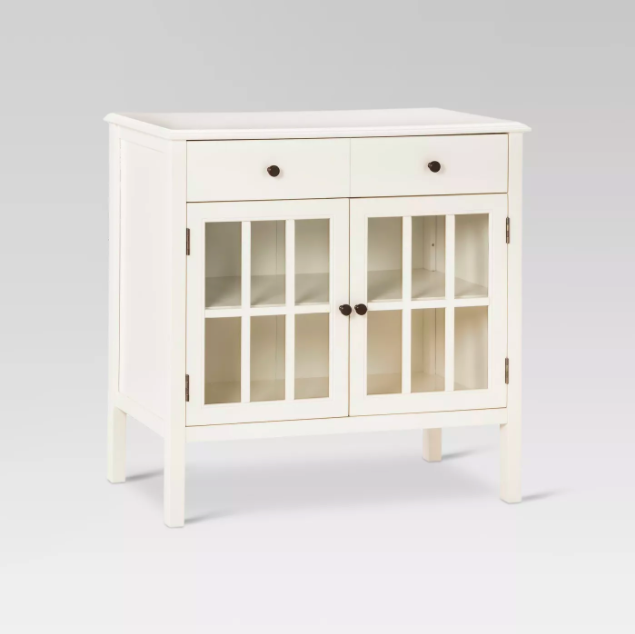 The next piece I found for this wall was actually another piece I got from my Mom! She had an extra shelf she didn't know what to do with, but it was JUST what this space needed to become the perfect little coffee bar. We found this shelf on the Kirklands website, and it is currently sold out, but you can find similar shelves at other home decor stores!
The Cup Rack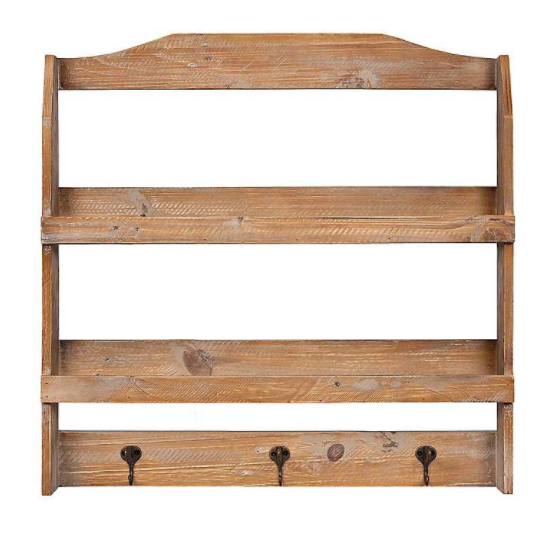 Making A Coffee Sign
With my shelf and my cabinet all decided on, now the fun began! Finding the perfect little details to fill my shelf was my next step. I started with this Coffee Sign I made. This was a SUPER easy DIY project. I had an old Dollar Store picture frame I found in my attic, I removed the glass and printed out the design I created in Photoshop. You can download the FREE PRINTABLE below to make my sign!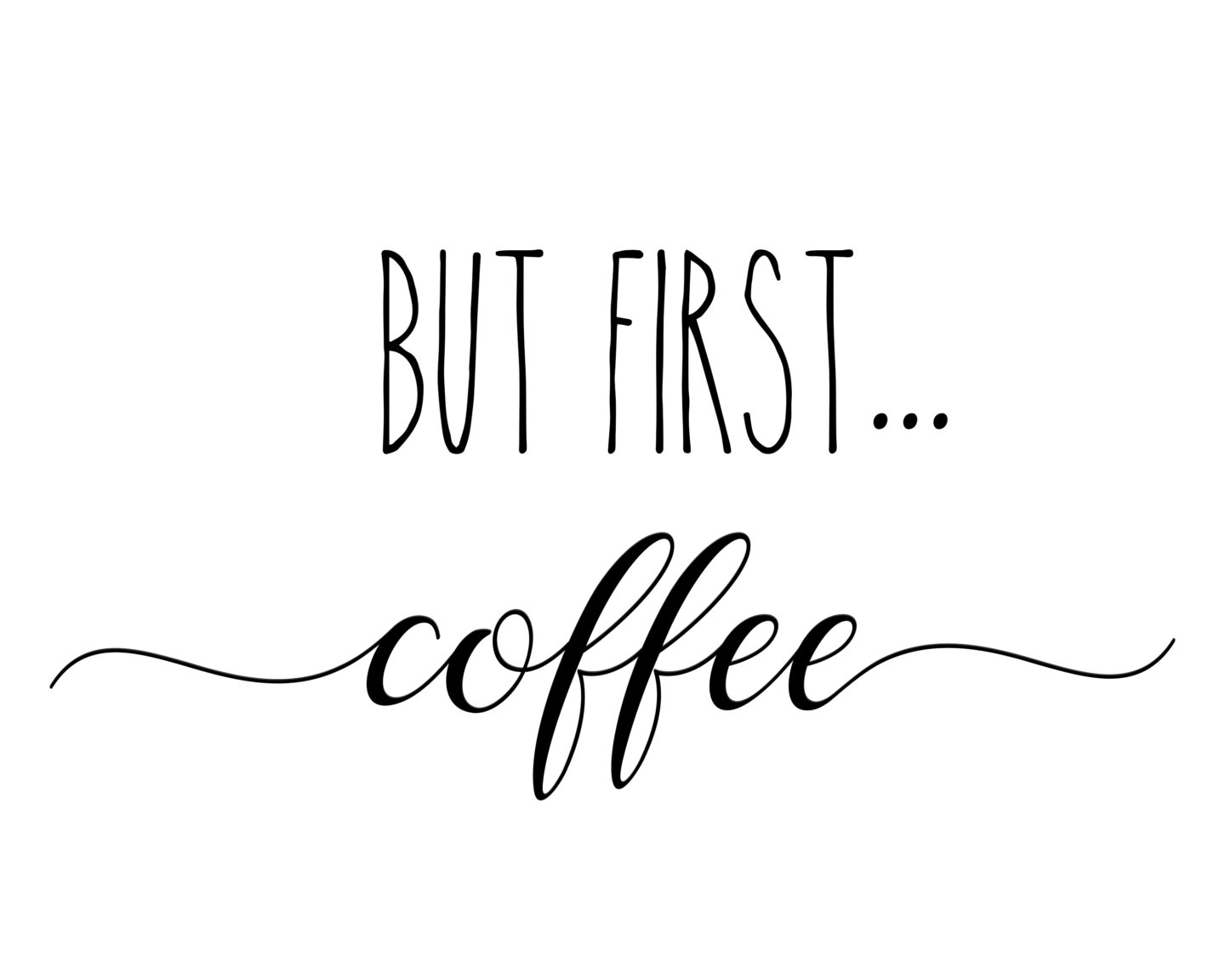 I printed my sign out onto textured card stock paper and it really looks amazing and high quality in person, but I didn't spend a penny on it! That's a total DIY win.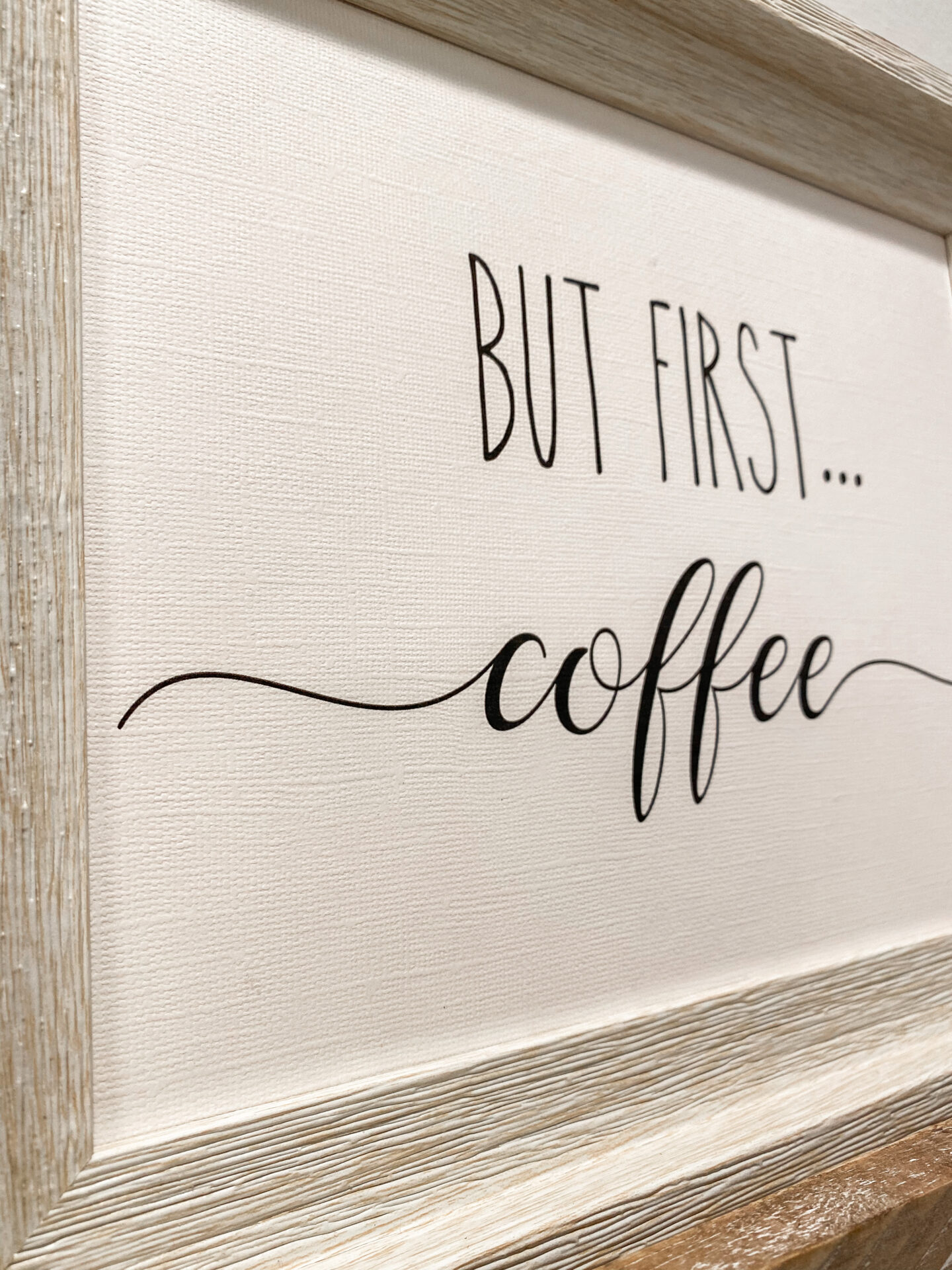 It's All In The Details
Next, I started focusing on the narrow shelves that are on this rack. These shelves were so tricky, y'all! Nothing could be wider than about 2.5 inches in order to fit, so it really limited me on what I could add on, but I made it work. One of the first things I added to my shelf were these Vintage Ball Jars I purchased at a local antique shop. I loved the diamond print glass, but more importantly, they were narrow enough for the shelves!
I filled each jar with coffee making essentials. The first jar I filled with Raw Sugar packets, the second jar holds chalk paint dipped stir sticks for just a touch of aqua, and the third jar is filled with mini creamer cups! I really love that the jars have an open lid on top, which makes things easier to reach for.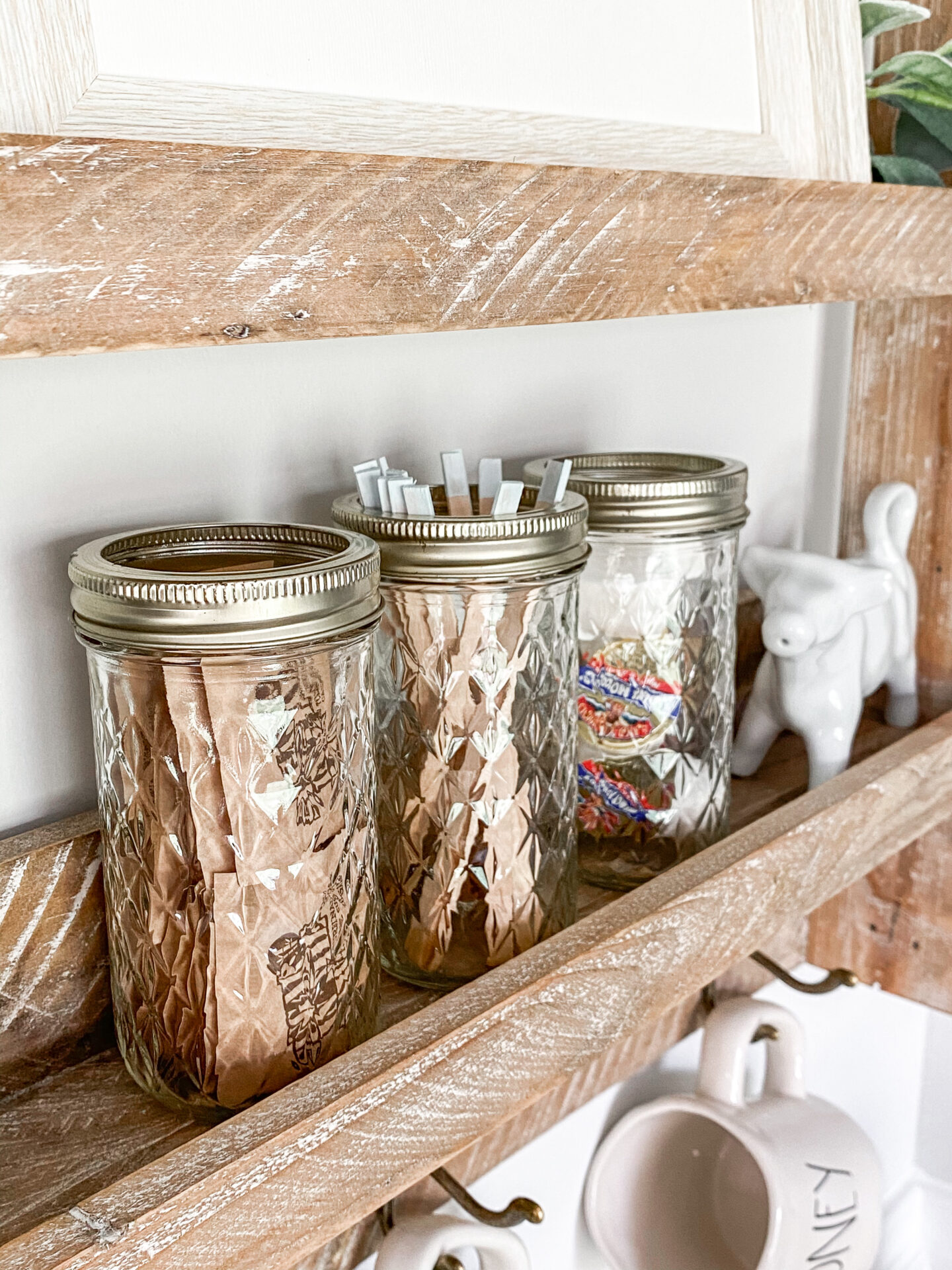 I added some cute little nicknacks like my vintage McCoy creamer pitcher, a vintage milk cow pitcher, some Lamb's Ear to bring in some greenery, and a few small flowers and Lamb's Ear in one of the pitchers. Those touches of green make a world of difference! On the side of the shelf, I hammered in a little nail and hung my Grandmothers aluminum measuring spoons, which makes this space feel a little extra special. I also added on a few of my favorite Rae Dunn Mugs: Coffee, Honey, and Tea to finish off the shelf. It really came together so nicely!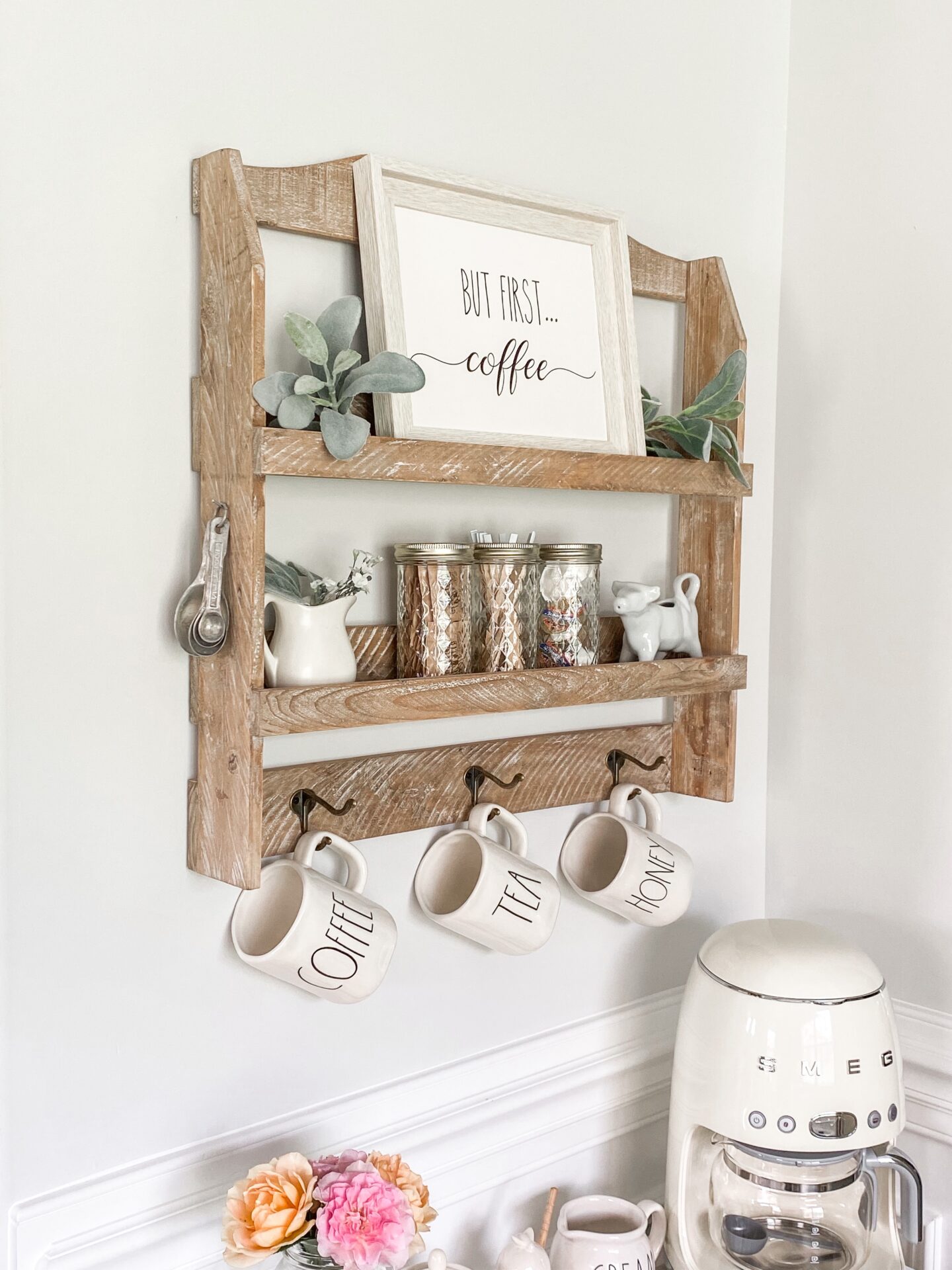 The Coffee Maker
One of the most important parts of a Coffee Bar is definitely the coffee maker! I wanted a coffee maker that was both aesthetically pleasing as well as functional, so I opted for the Smeg coffee maker in Cream. I honestly couldn't be happier with the look! It really is a beautiful piece and adds a lot to this space. The reason I wanted to have a ground coffee type of maker for this Coffee Bar is that this is my formal dining room where we normally entertain quite a few guests, so I wanted a coffee maker that could produce enough coffee for everyone at once.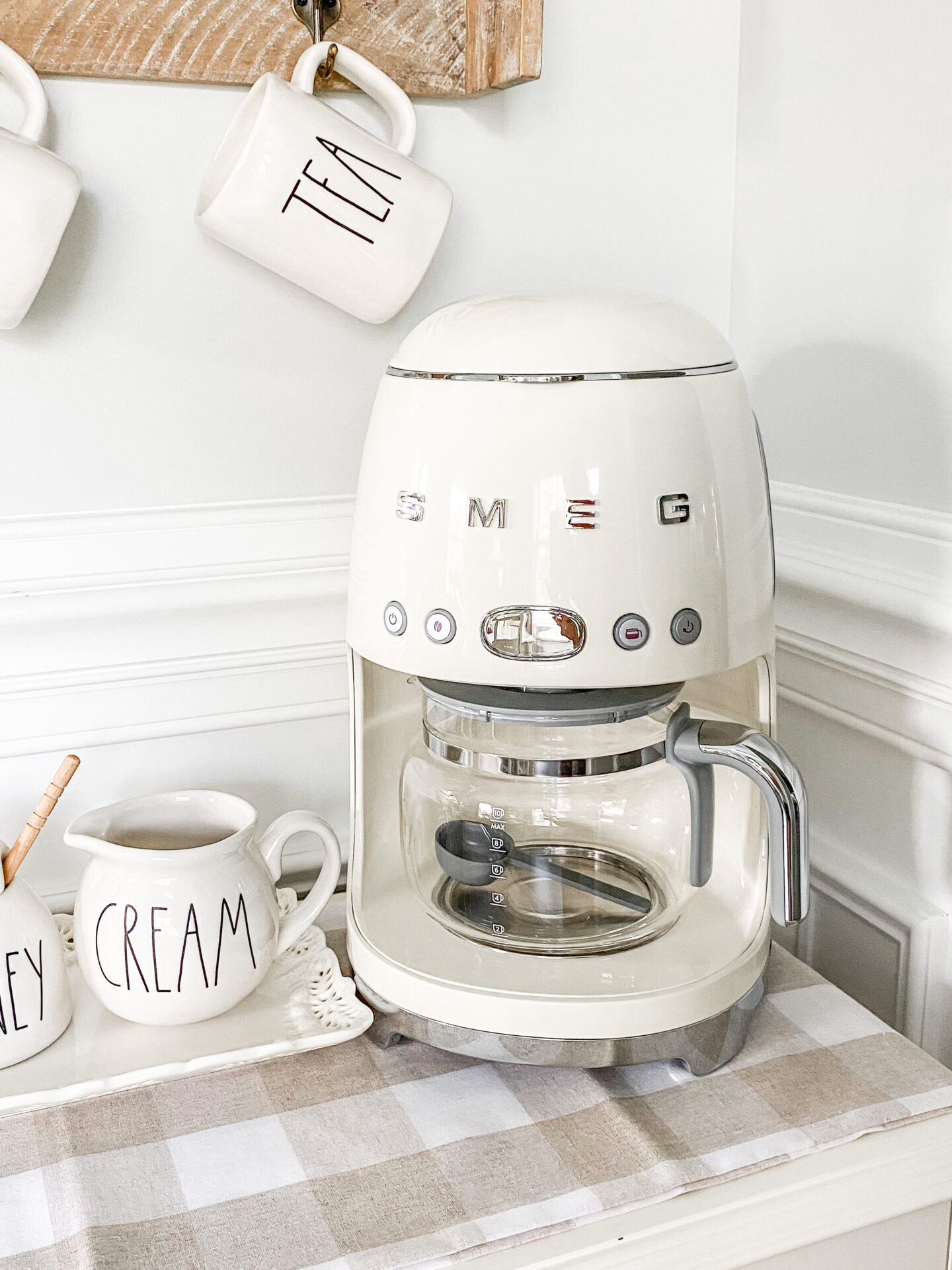 I covered the top of this table with a small Buffalo Check table runner I found on Amazon, which I love! It adds loads of charm to this space and I only paid around $7 for it. Totally worth it!
I also added my vintage loaf tray, to use as a tea tray, and added on a few more Rae Dunn pieces for decoration. The tray holds a sugar jar, honey pot, and cream pitcher.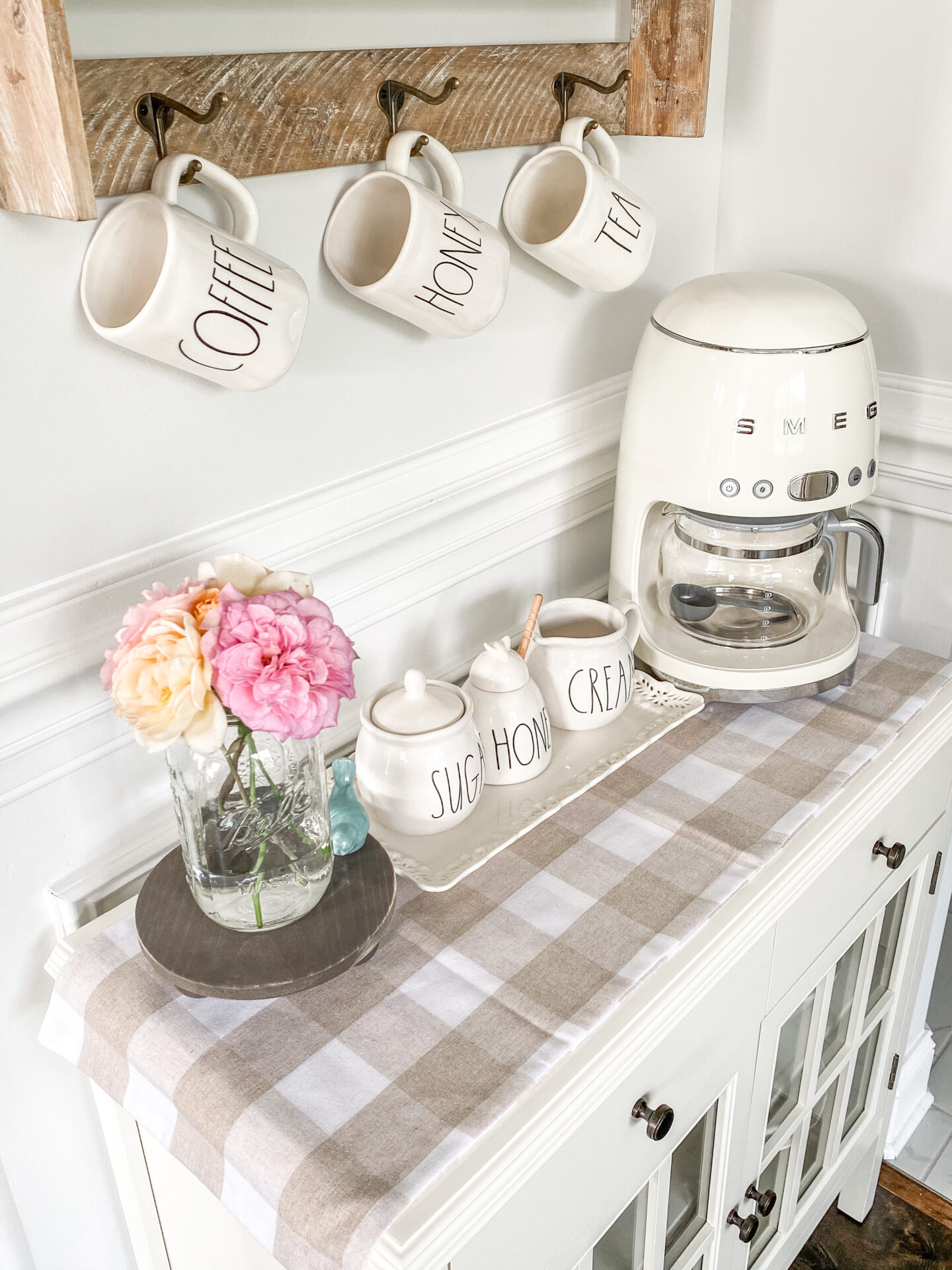 To finish off the tabletop, I added a small round pedestal, a tiny bluebird figurine, a vintage 32oz Ball jar, and some fresh cut roses from my garden. Now this space is not only looking more and more beautiful, it also smells amazing!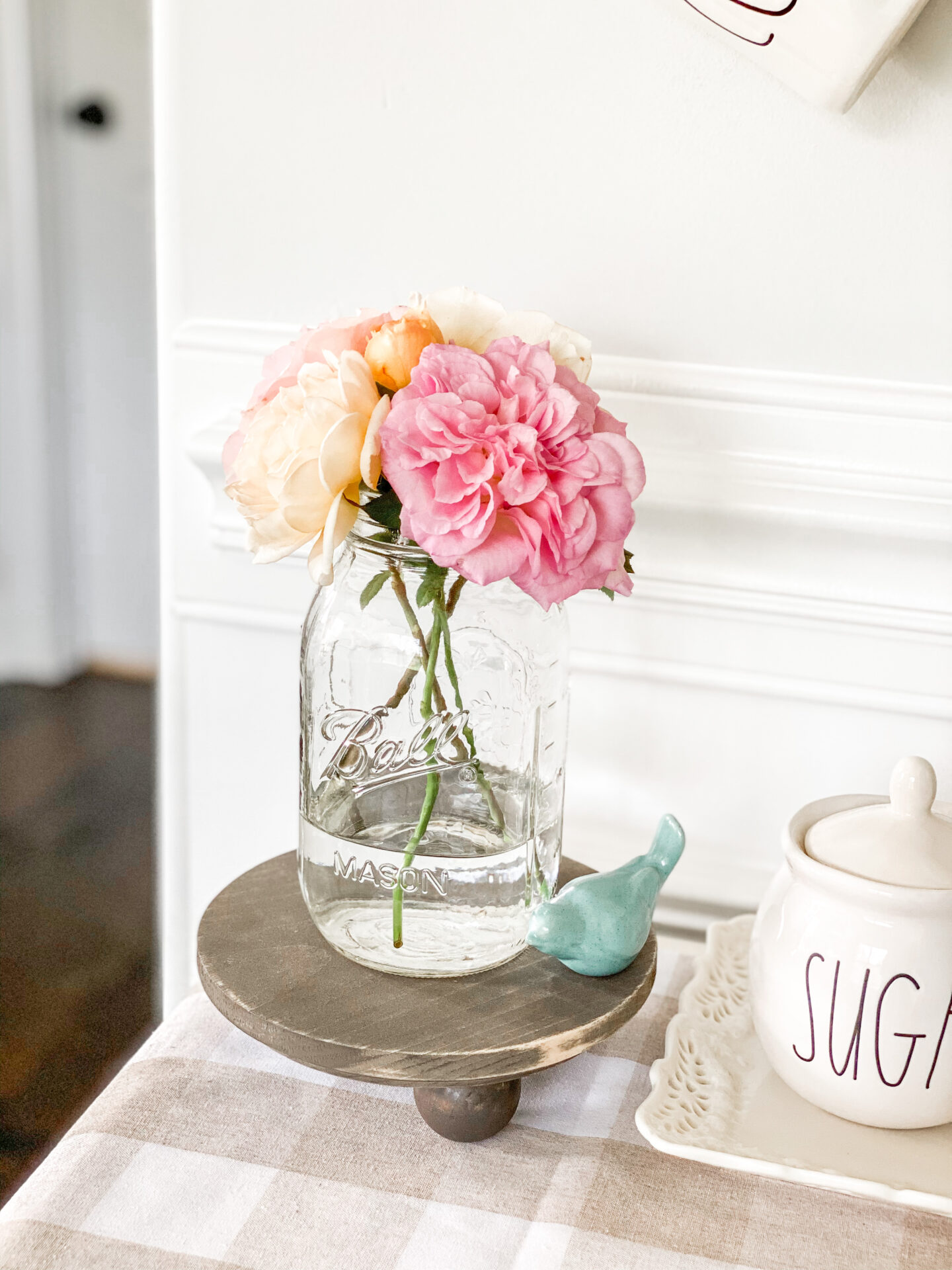 Window Appeal
Now that the coffee bar is set up and fully functional, it's time to fill up the drawers and shelves! The top drawer holds extras like stir sticks, coffee filters, and coffee grounds. The bottom half of the cabinet showcases some of my favorite vintage Ironstone pieces! I have a passion for Ironstone, and being able to see them on display like this makes my heart happy!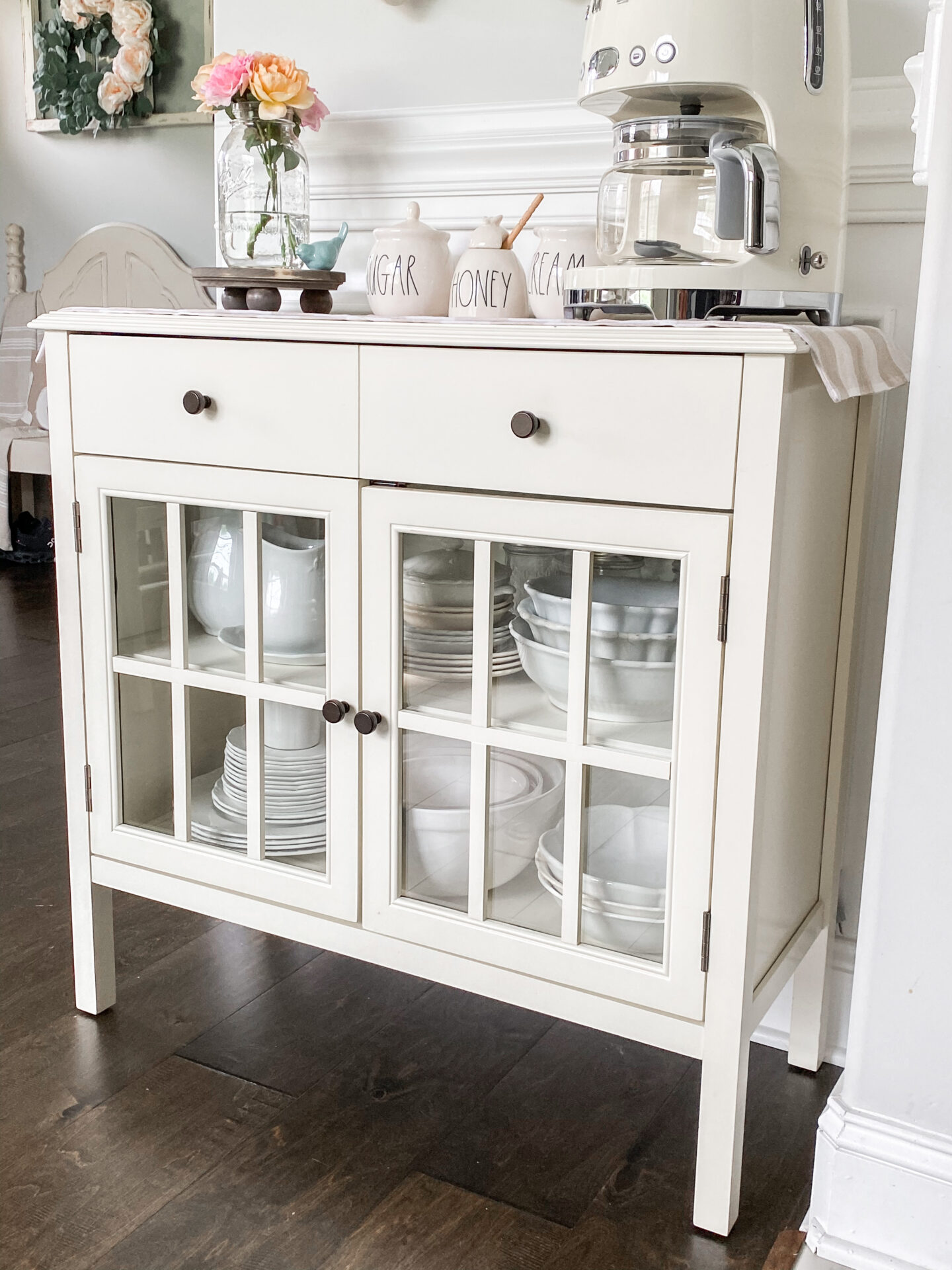 The bottom half of this cabinet is the perfect place to display your favorite dishware! I really love the glass windows on this cabinet because you can clearly see what's behind the doors. And when the doors are open, it's just as beautiful!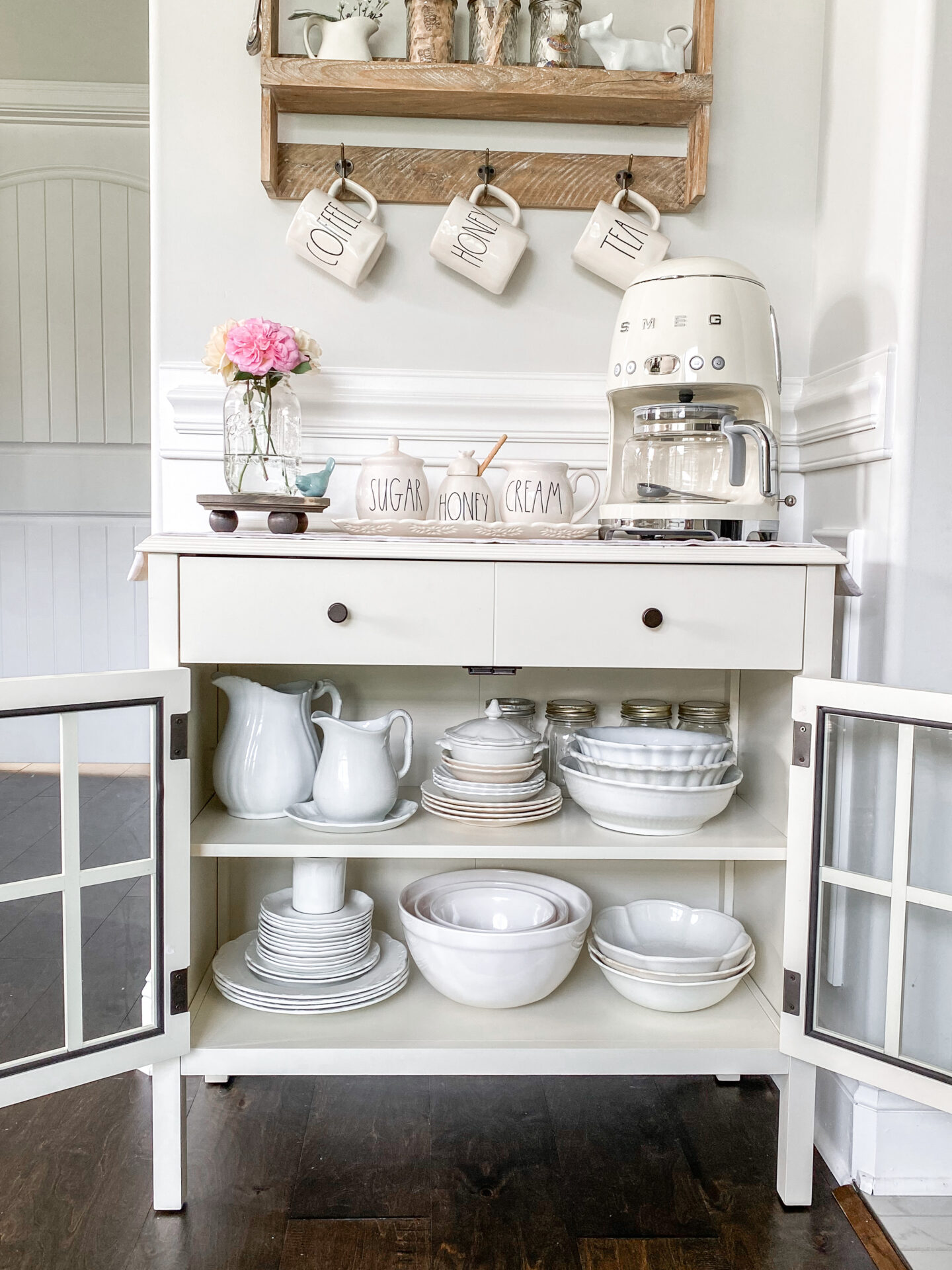 The Finished Look
Now, let's see the finished look! Get ready for lots of pictures, because I just love how this little space turned out. Please COMMENT on this Blog post below and let me know what you think of this transformation. I hope you enjoyed this post! Thank you so much for stopping by and now you know How To Create a Coffee Bar in a Small Space!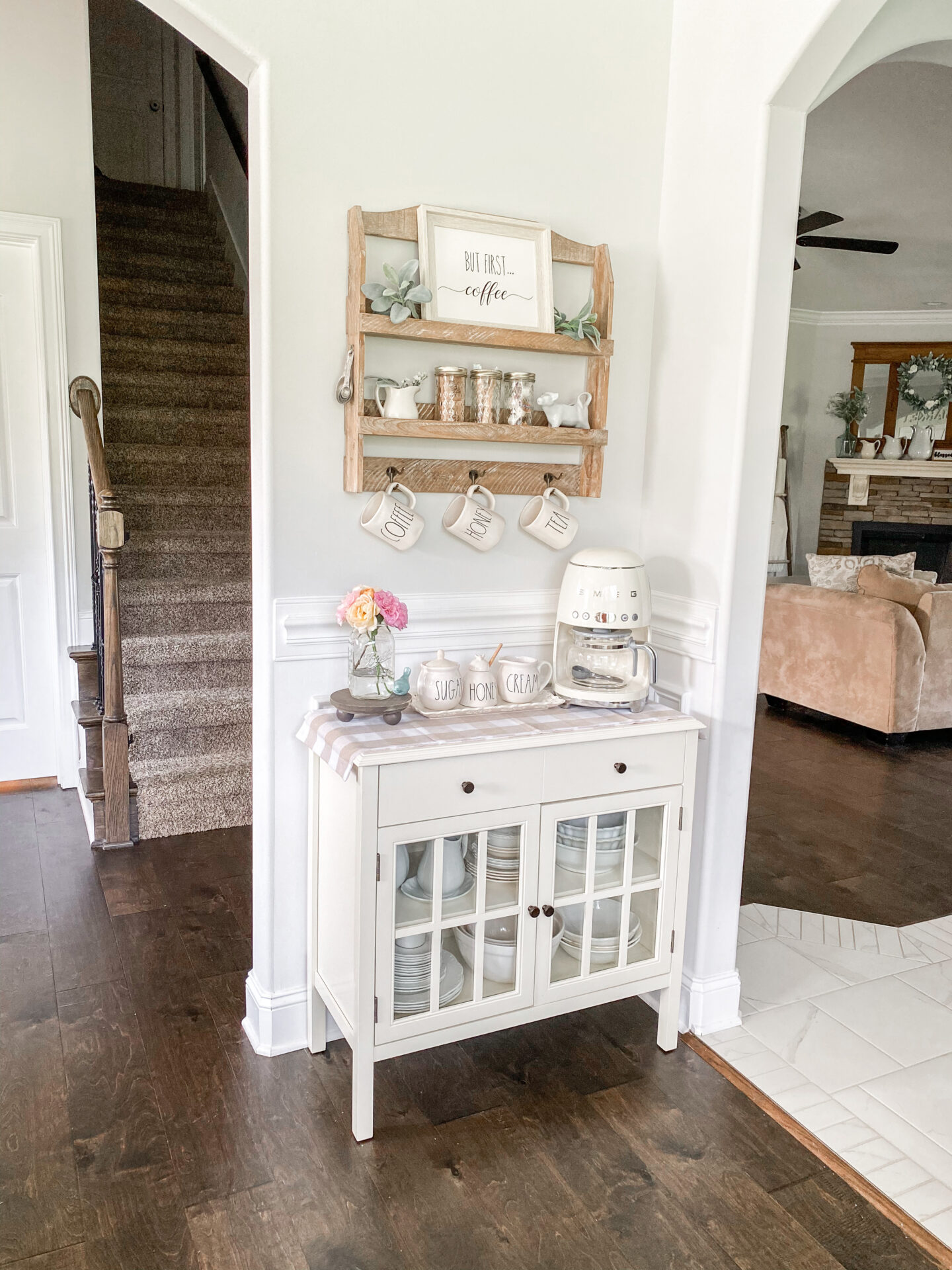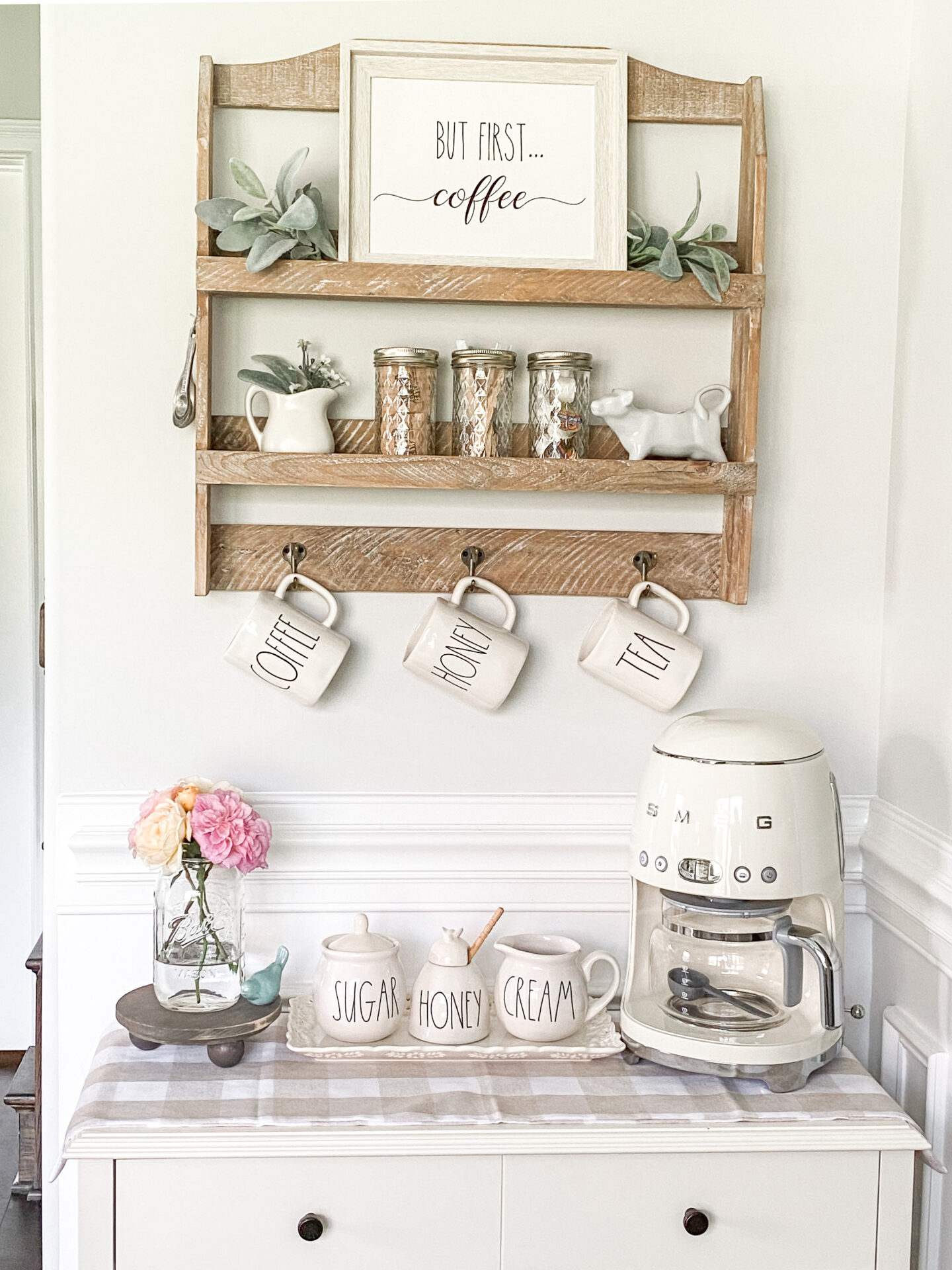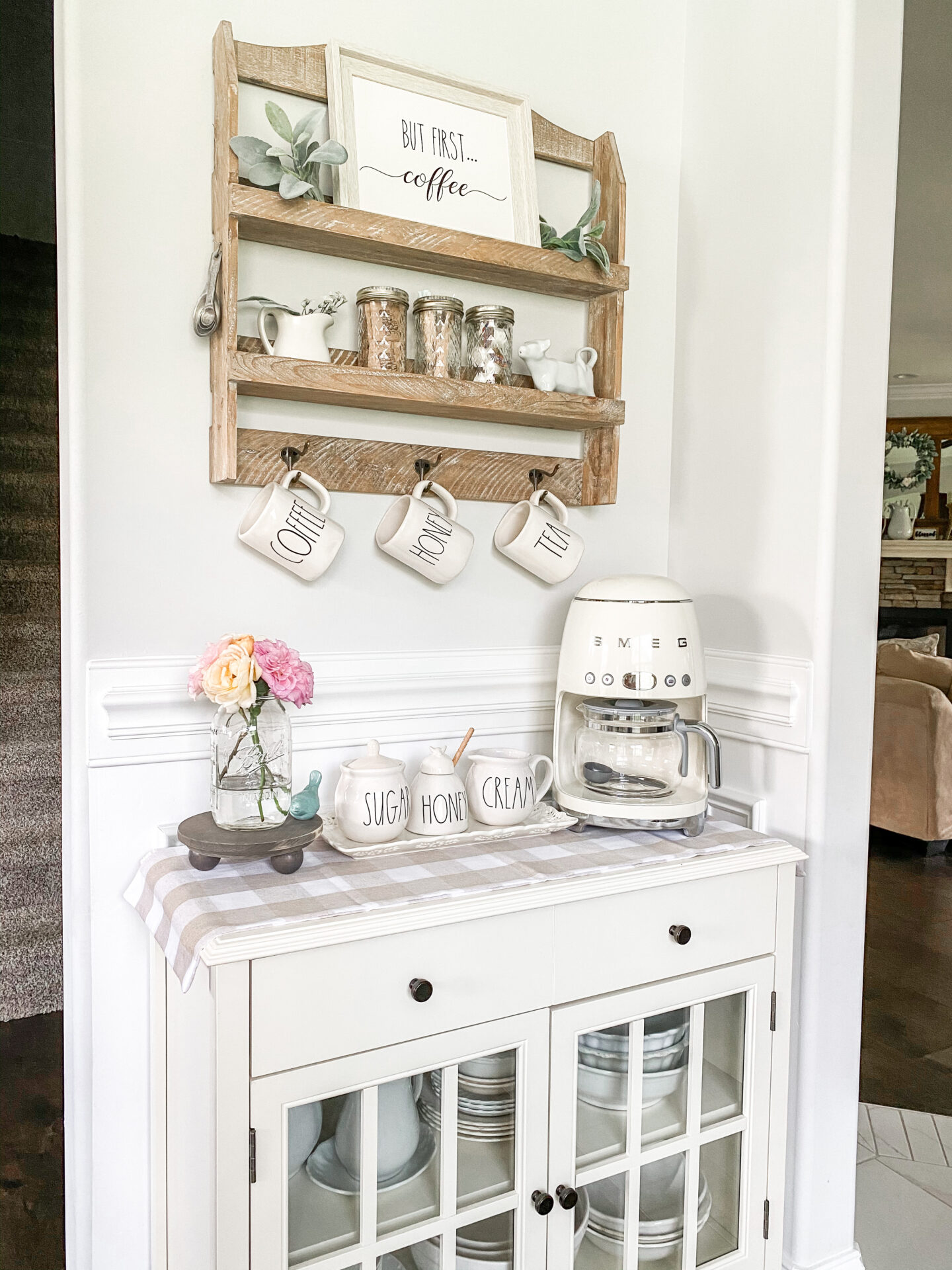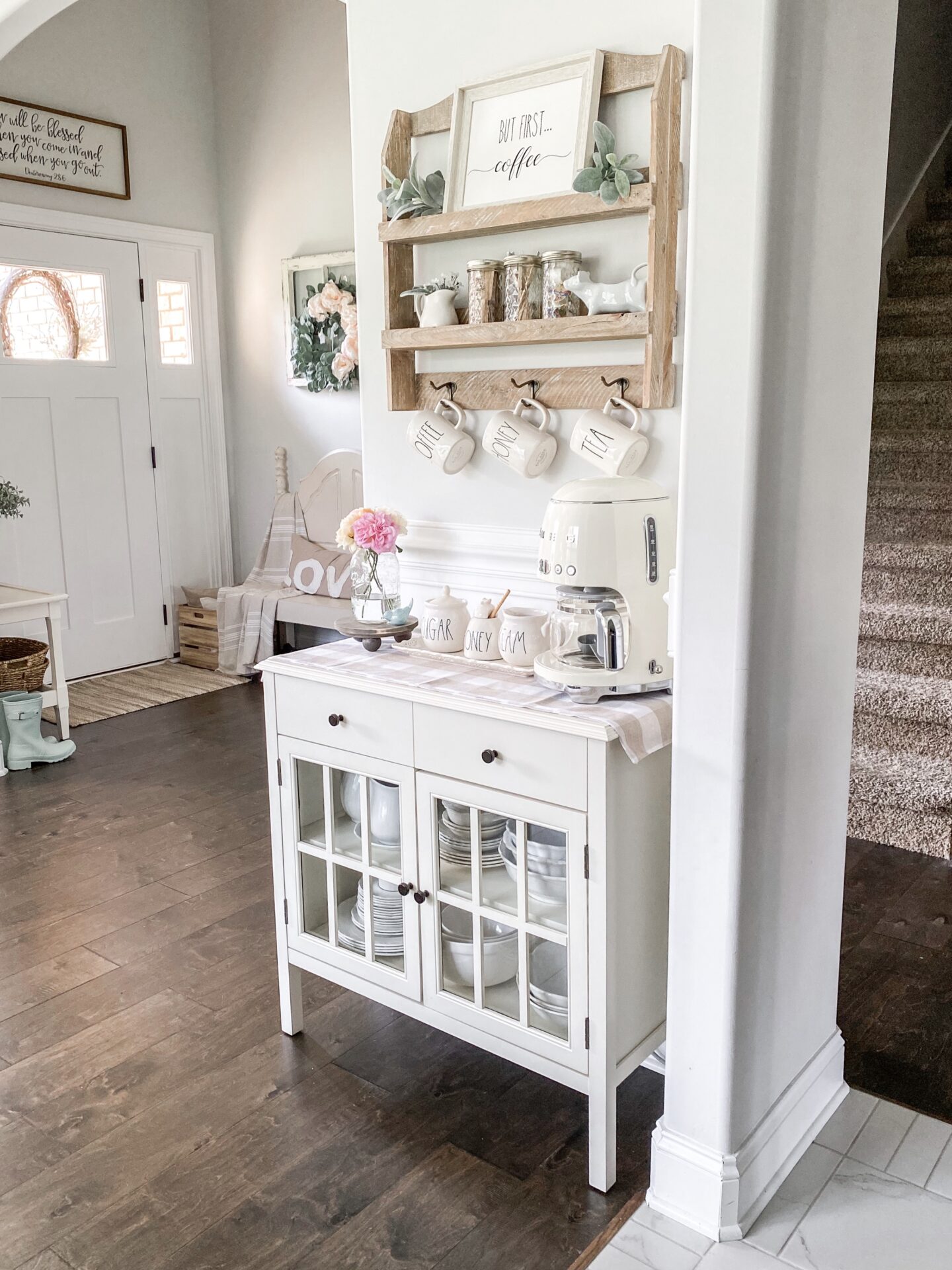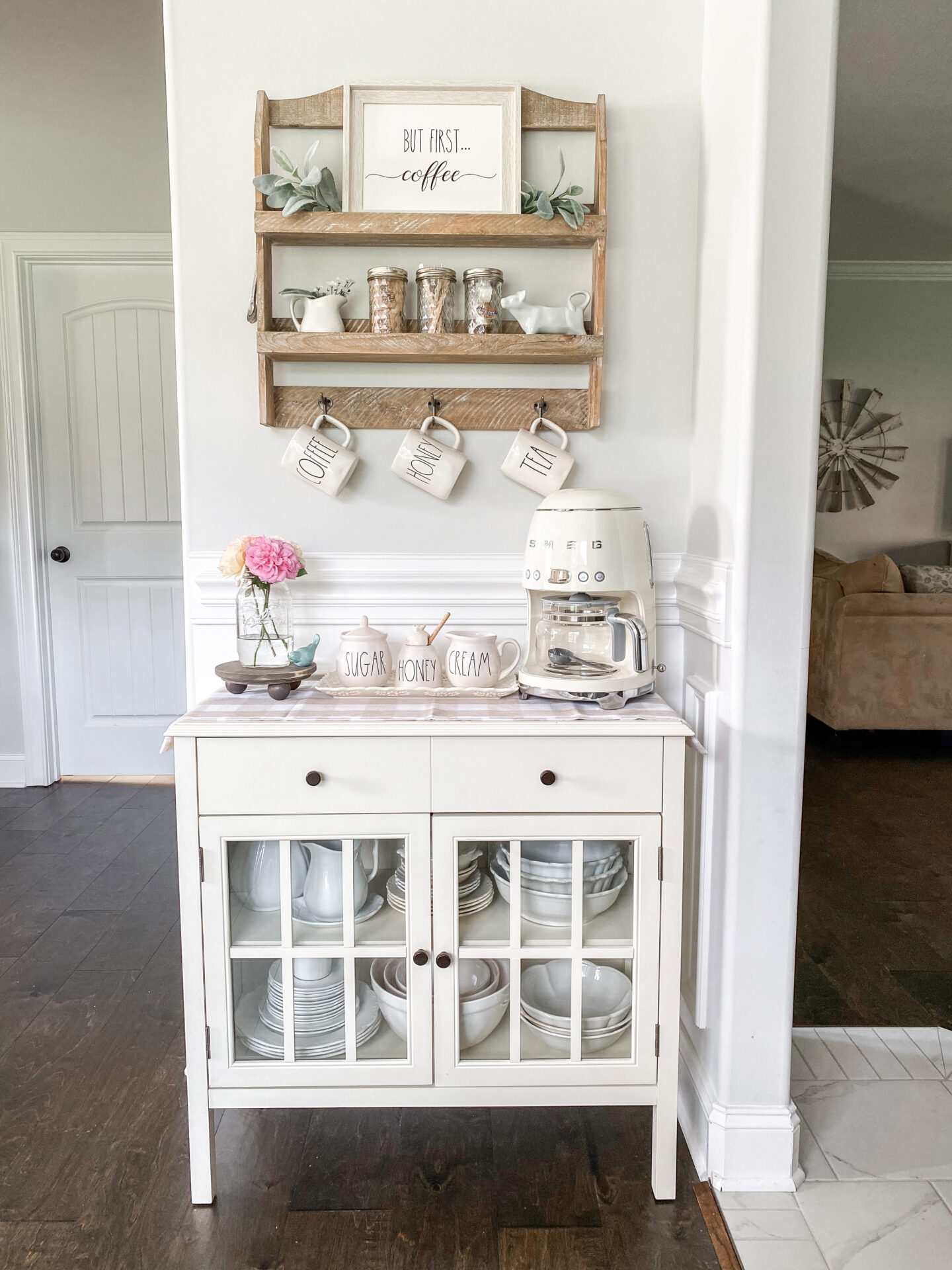 Love this How To? Share this Blog Post to Pinterest using the photo below!