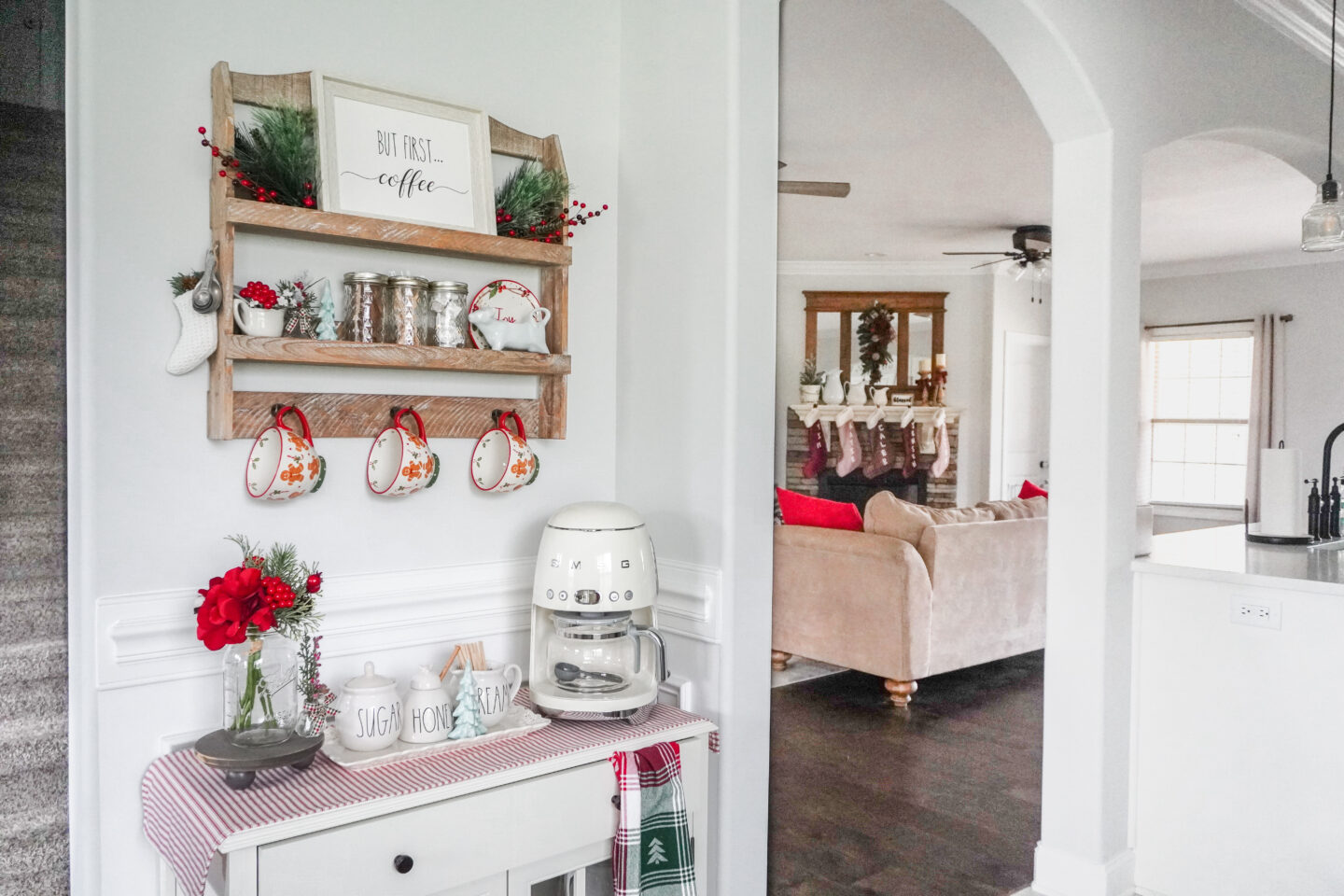 This post contains affiliate links. When you shop through these links I earn a small portion of the sale. Thank you for shopping with me!
Hi friends! It's that time of year when I do a Seasonal refresh on my Coffee Bar! One of my very favorite places to decorate my home is my Coffee Bar. I have had so much fun sharing my Spring Coffee Bar, Fall Coffee Bar, and now my Christmas Coffee Bar with you guys! I hope you love it as much as I do because this space brings me so much joy! If you missed my previous Seasonal Decor Blog Posts for this space, make sure to check them out for some inspo.
Christmas is very special to me. There's just this little bit of magic in the air it seems. Everything seems cozier, brighter, and more cheerful! And that is exactly how I wanted my Christmas Coffee Bar to make me feel every time I look at it. I took a trip to Hobby Lobby when they were at their peak for stocking Christmas decor, and I had a blast picking out everything for this space! As you know, I tend to keep certain things on my coffee bar year-round and I decorate around them. As a minimalist, it makes it super easy to decorate this way. So, let's get started! I can't wait to show you everything!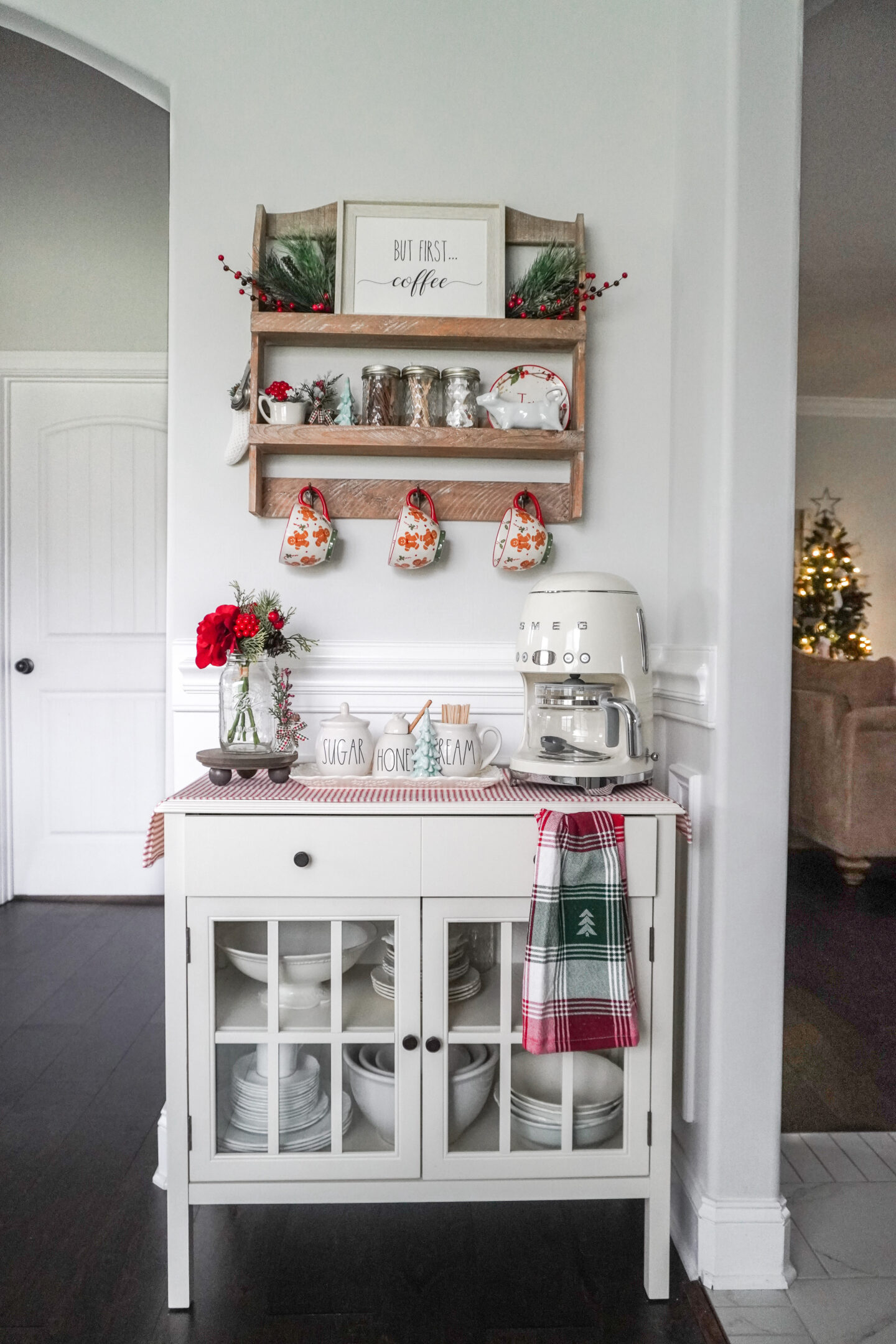 For my Christmas Coffee Bar, I really wanted to use reds and greens to accent this space. You will even find a hint of mint here and there, which you all know I LOVE!
My Coffee Bar cabinet is from Target! I love that it has a drawer where I can keep coffee grounds, filters, extra cream, sugar, and mugs. It also has a ton of space for some of my Ironstone collection. I just love being able to display some of my antique dishwares through the french windows. It holds so much for being a smaller cabinet, I highly recommend it!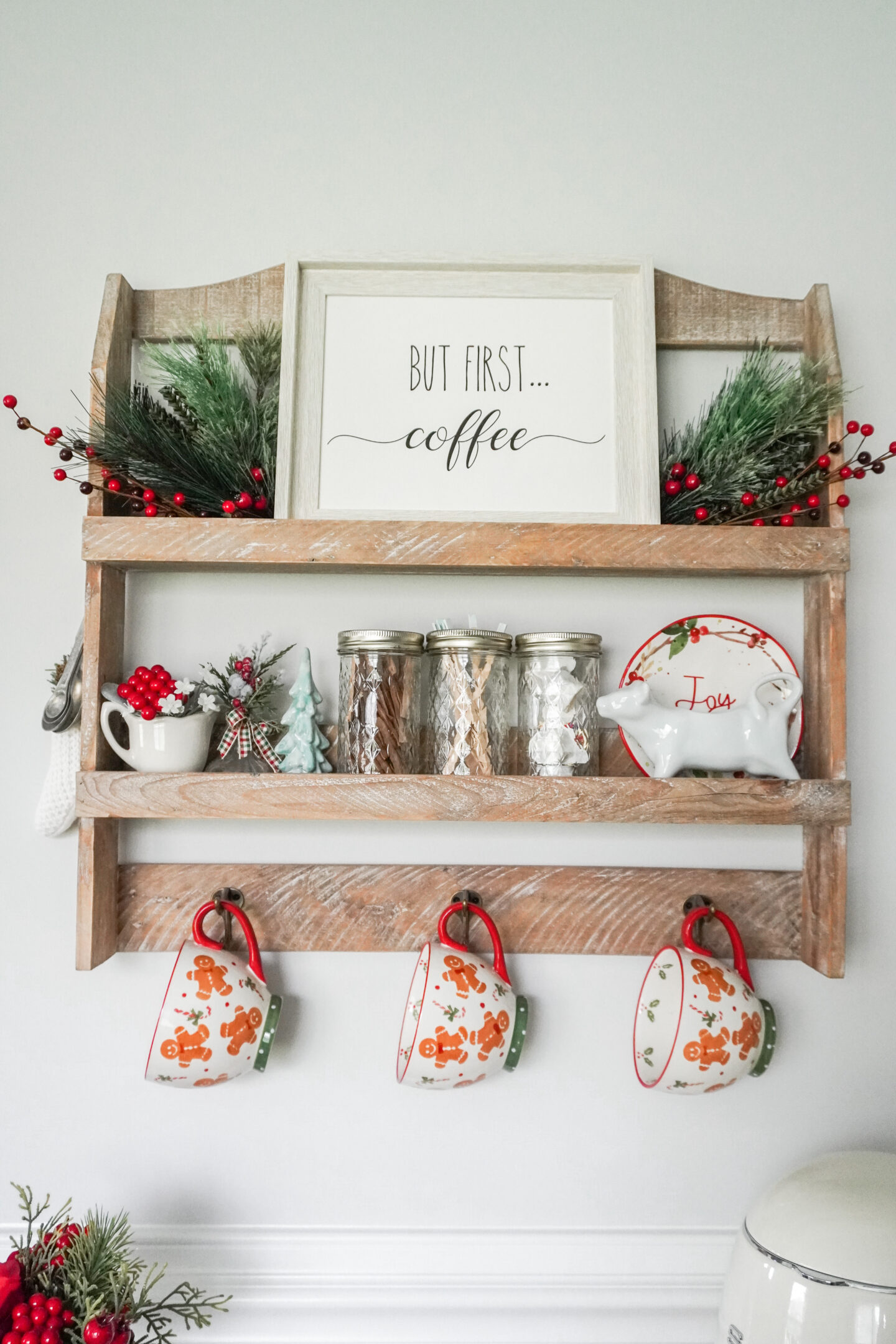 I get asked all the time about where I got my Coffee Bar shelf from! This shelf was a Kirkland's purchase, and they no longer carry it in stock, but I have found several close options online. I love the rustic, distressed wood tones, and the antique bronze hooks on this shelf. One thing to note is that the shelves are actually very narrow! So finding items small enough to fit in them can be a challenge…which I gladly accept!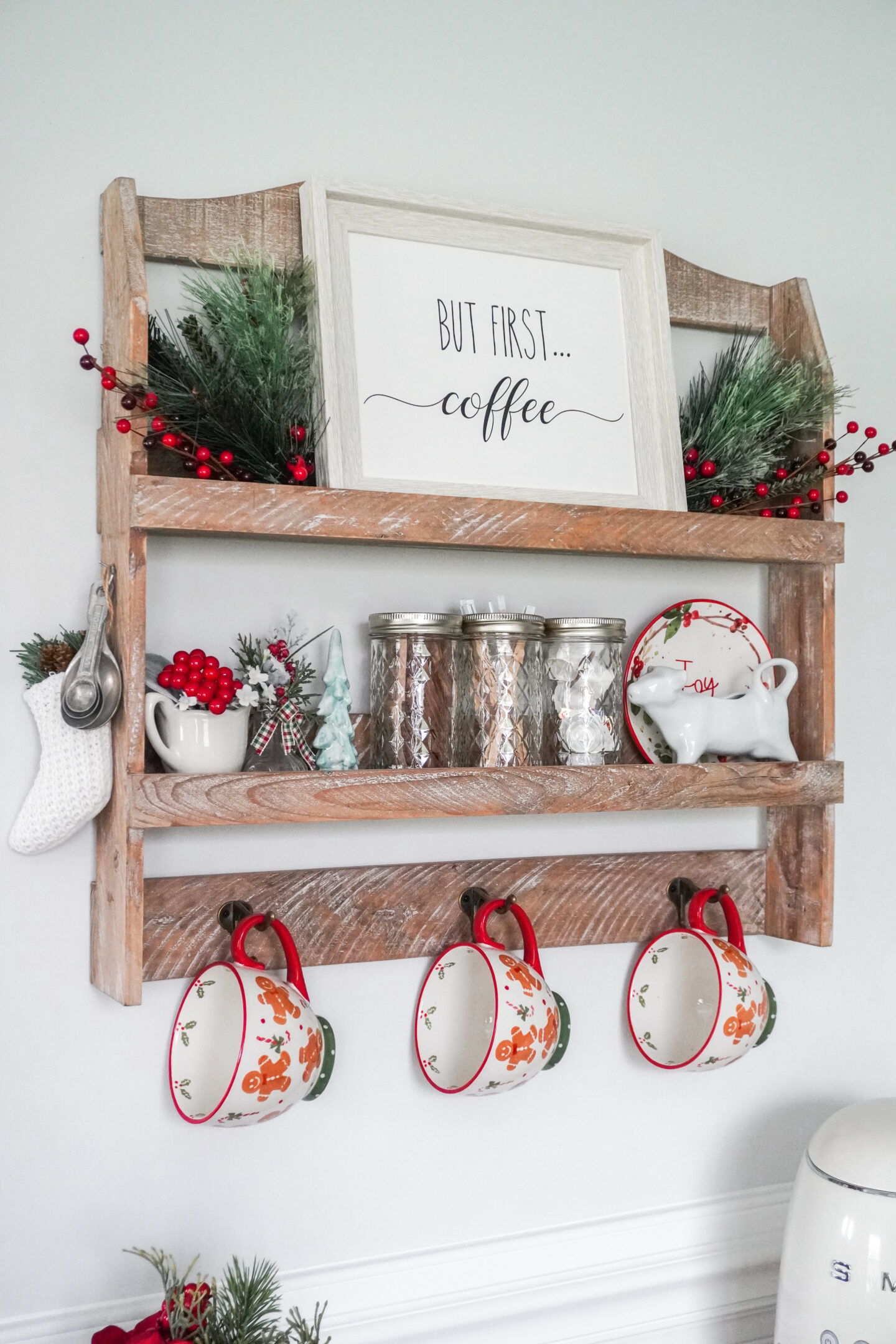 Some of my favorite new pieces for my Christmas Coffee Bar are these adorable Gingerbread Man mugs! I found these at Hobby Lobby and they were just perfect for my mug hooks. The Gingerbread Men add a little bit of Christmas whimsy, don't you think? And I love the holly berries around the inside of the rim, so cute!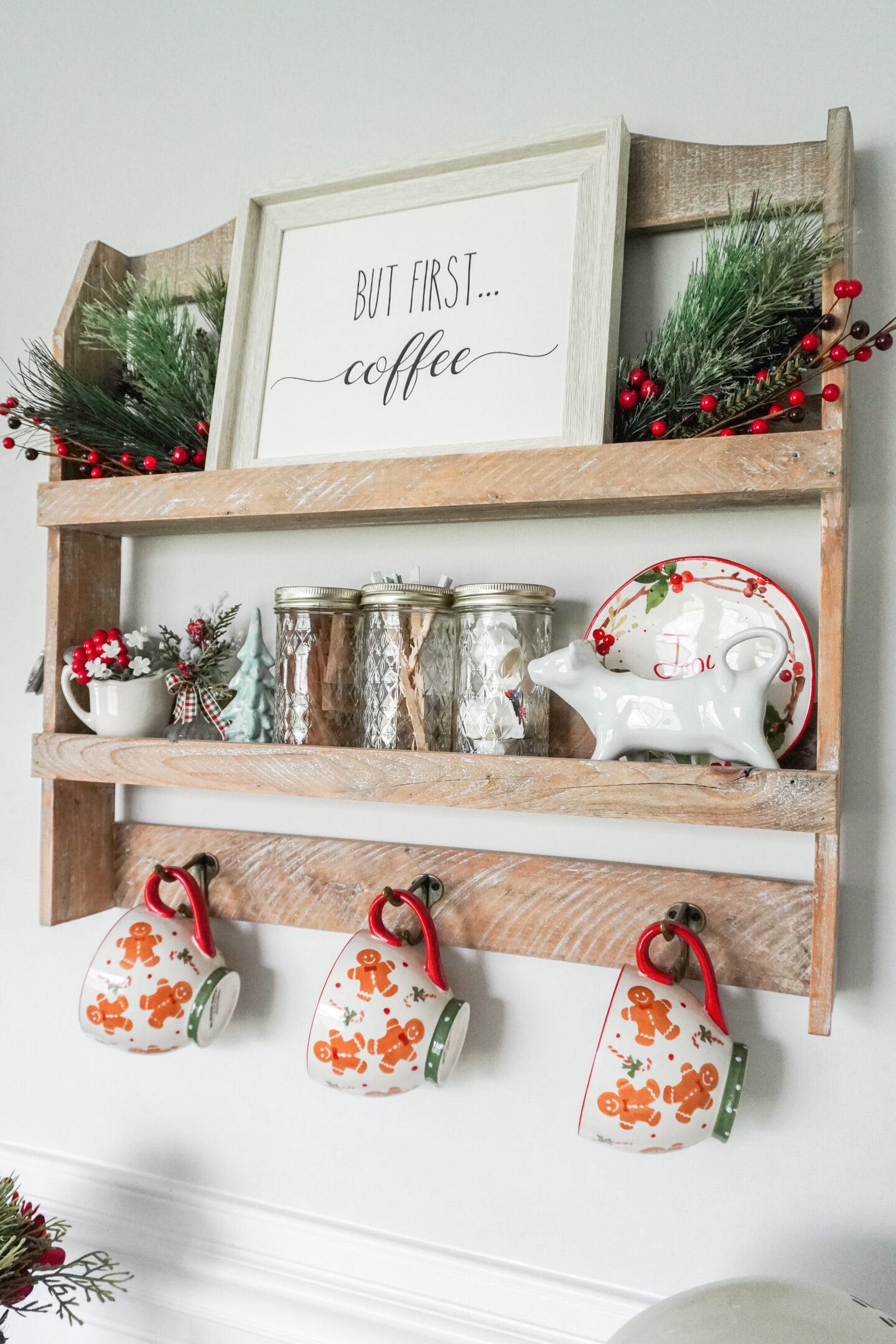 I also found the little mint-colored ceramic Christmas Trees, the 6-inch Joy plate, and the spritz of greenery, and berries from Hobby Lobby! It was super exciting to find the plate because I wanted a wreath design plate for behind my cow creamer, and this one was just the right size and style. The colors paired perfectly with my Gingerbread Man mugs too!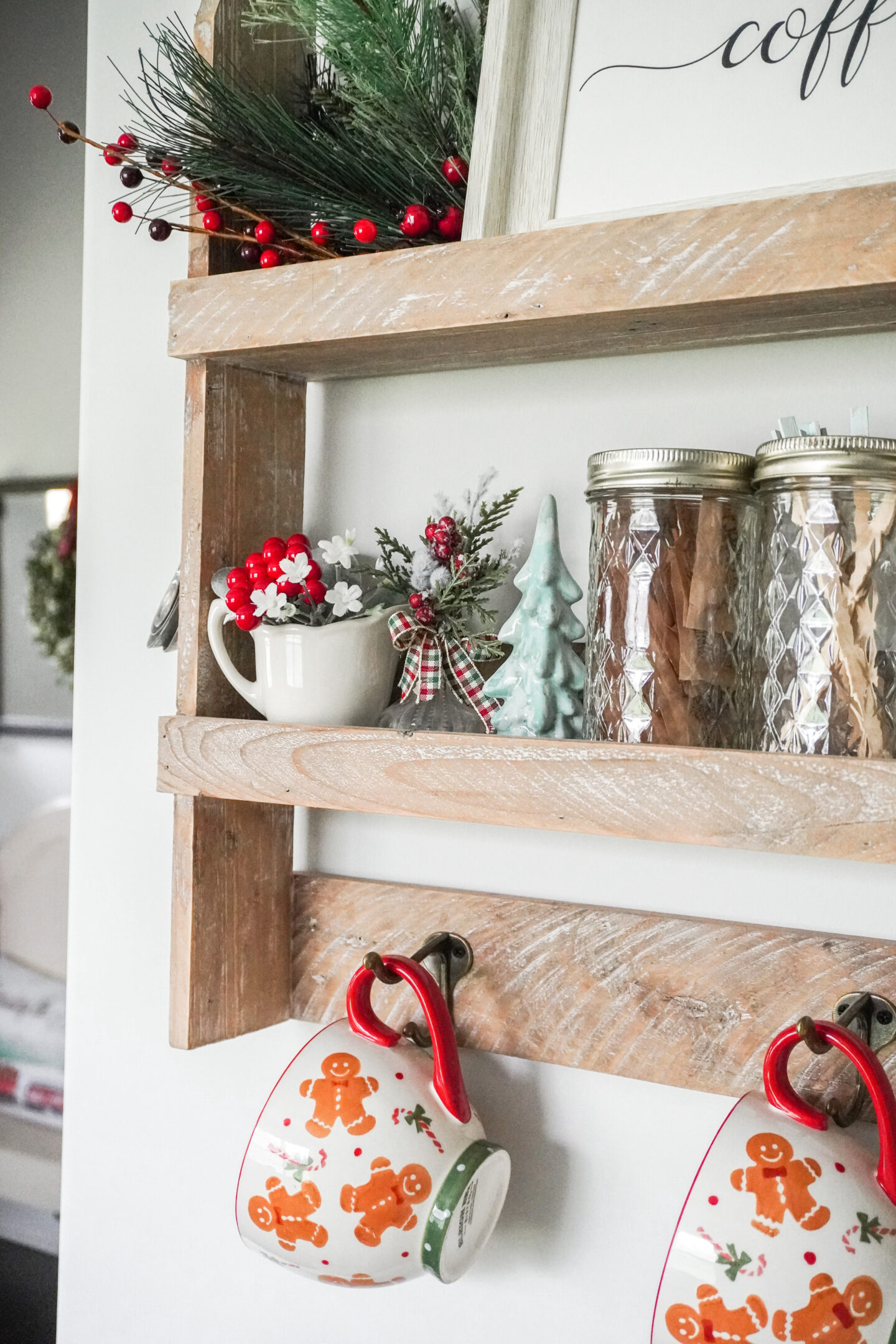 Another one of my favorite new pieces for my Christmas Coffee Bar is these adorable little vases with a spritz of greenery and berries I found at Miss Lucille's! Only one is shown here, but there are two on my Coffee Bar and they both have different vases, but they match perfectly. I just love them!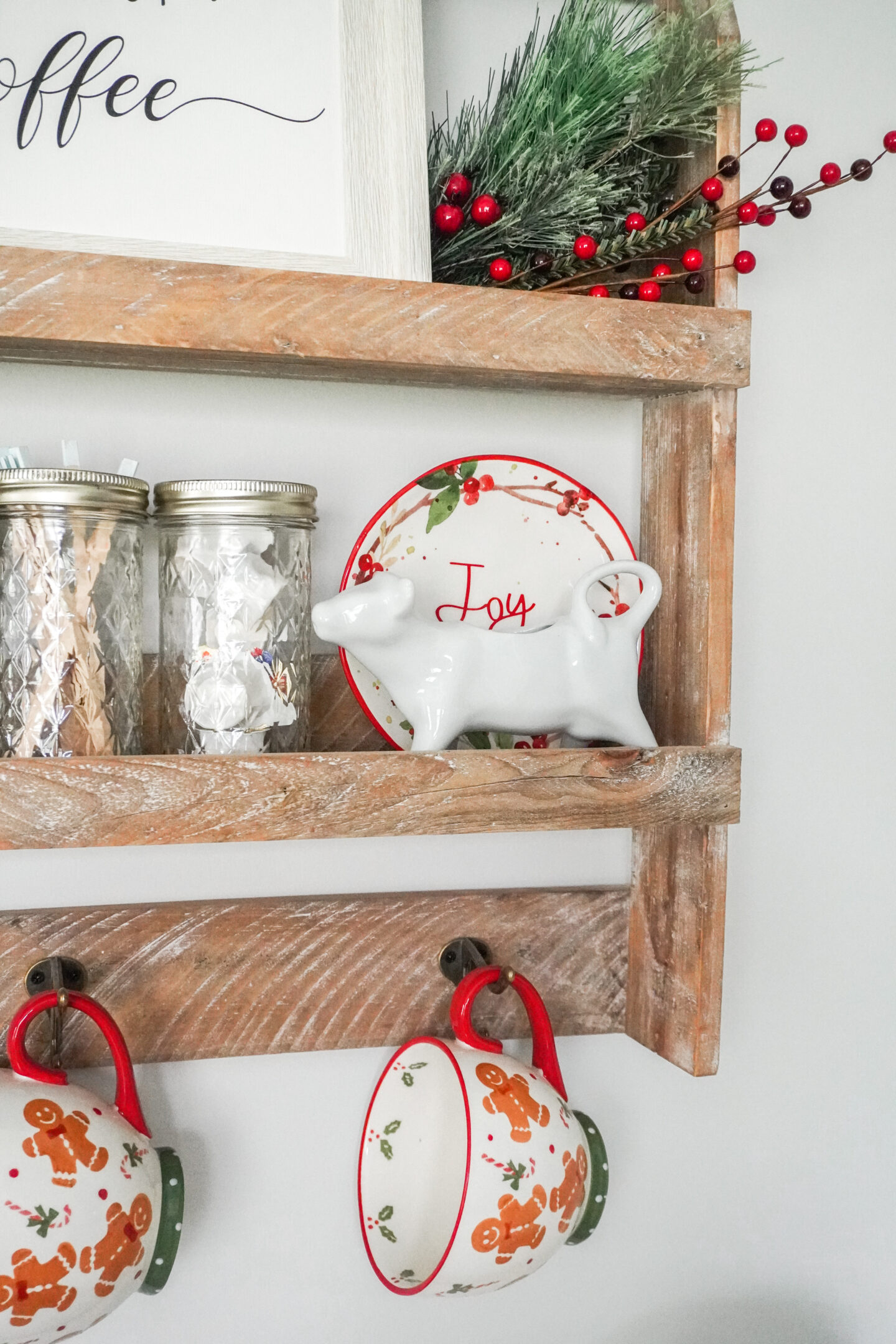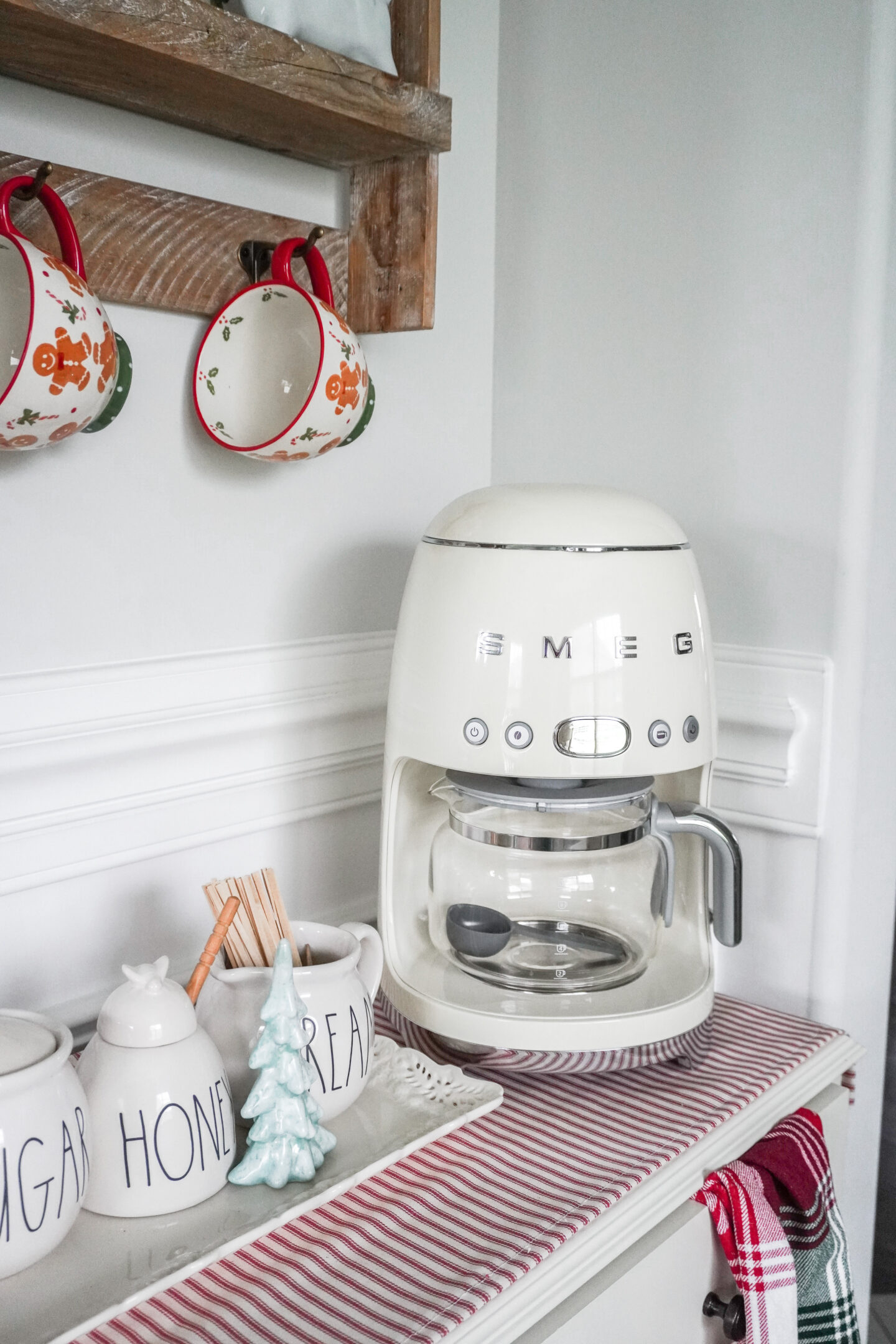 Who else loves a touch of vintage? My mom sewed this perfectly sized table runner for my Christmas Coffee bar! The pattern is a red ticking stripe, which is just perfect for creating that candy stripe look. Every time I look at it I think of Candy Canes! And there is my Smeg Coffee Maker, which is just the perfect shade of cream for year-round retro beauty! It is definitely one of the stars of this Coffee Bar.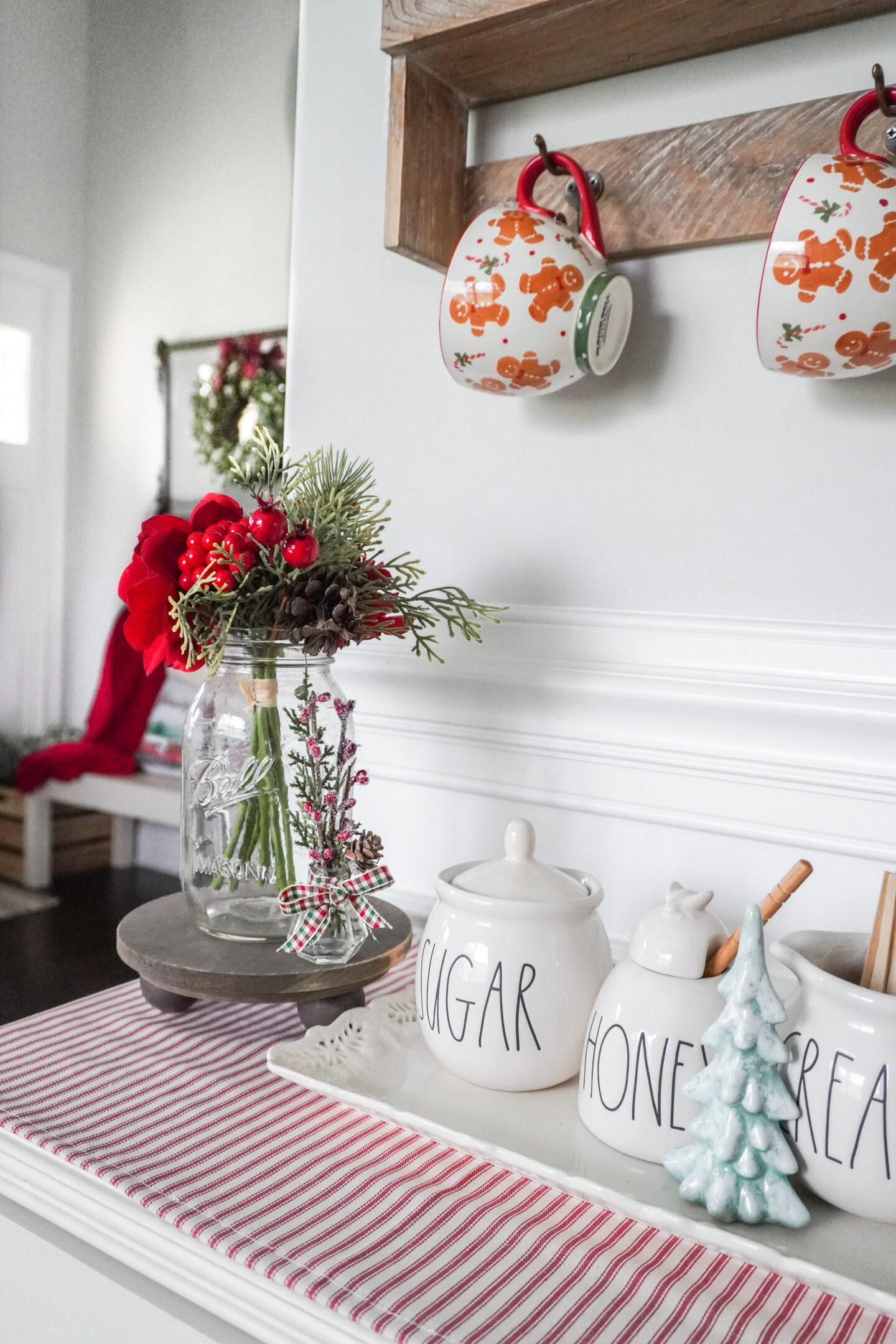 There is that second little vase I was telling you guys about! Isn't it just adorable? It even has a tiny pinecone, which I am just dying over! The greenery in the Mason jar I have had since last year, but I purchased it at Hobby Lobby as well. I actually found it difficult to find bunched Christmas greenery this time for some reason, so I was thankful I still had it!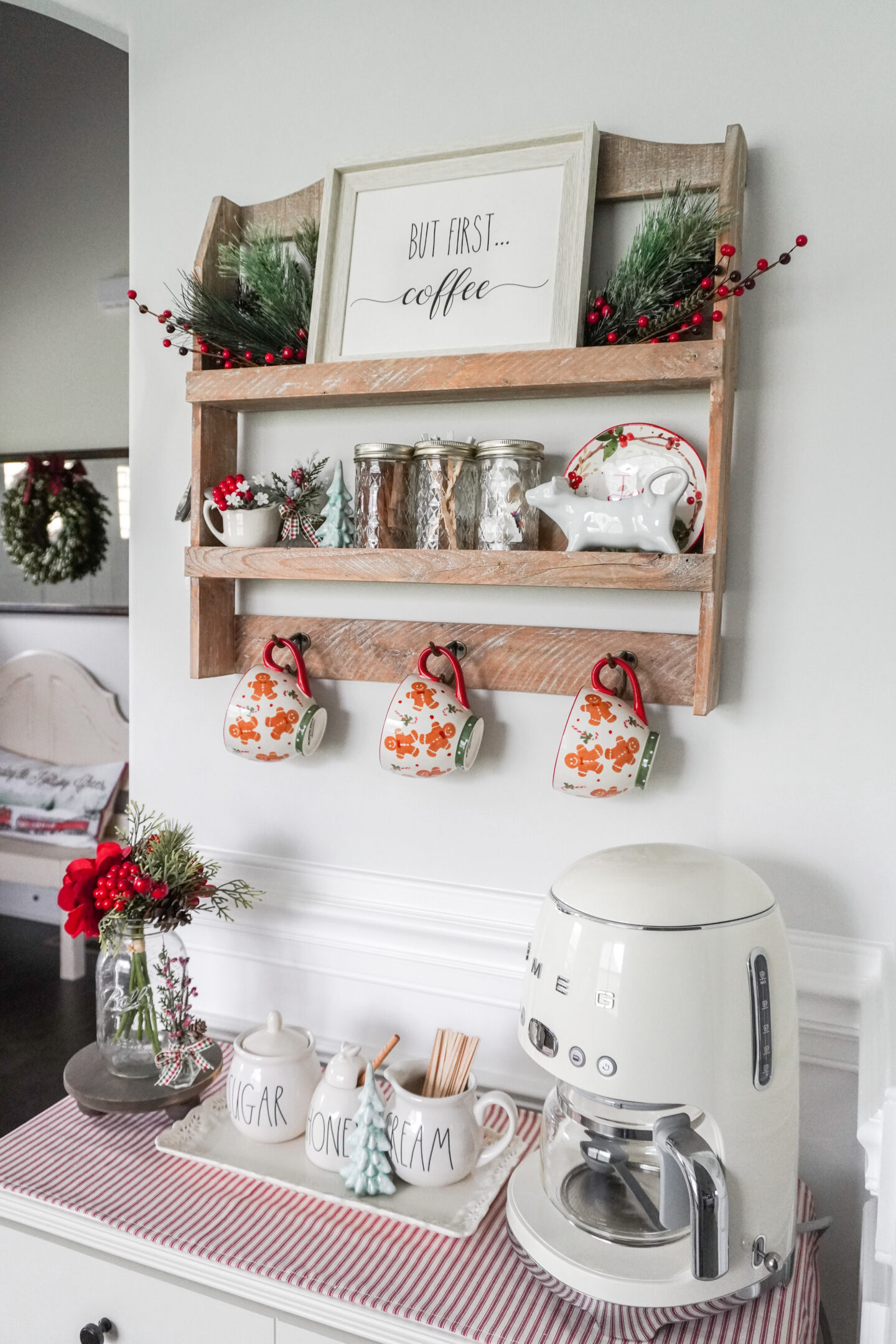 I'd love to know what your favorite part of this Christmas Coffee Bar decor is! Please leave a Comment down below!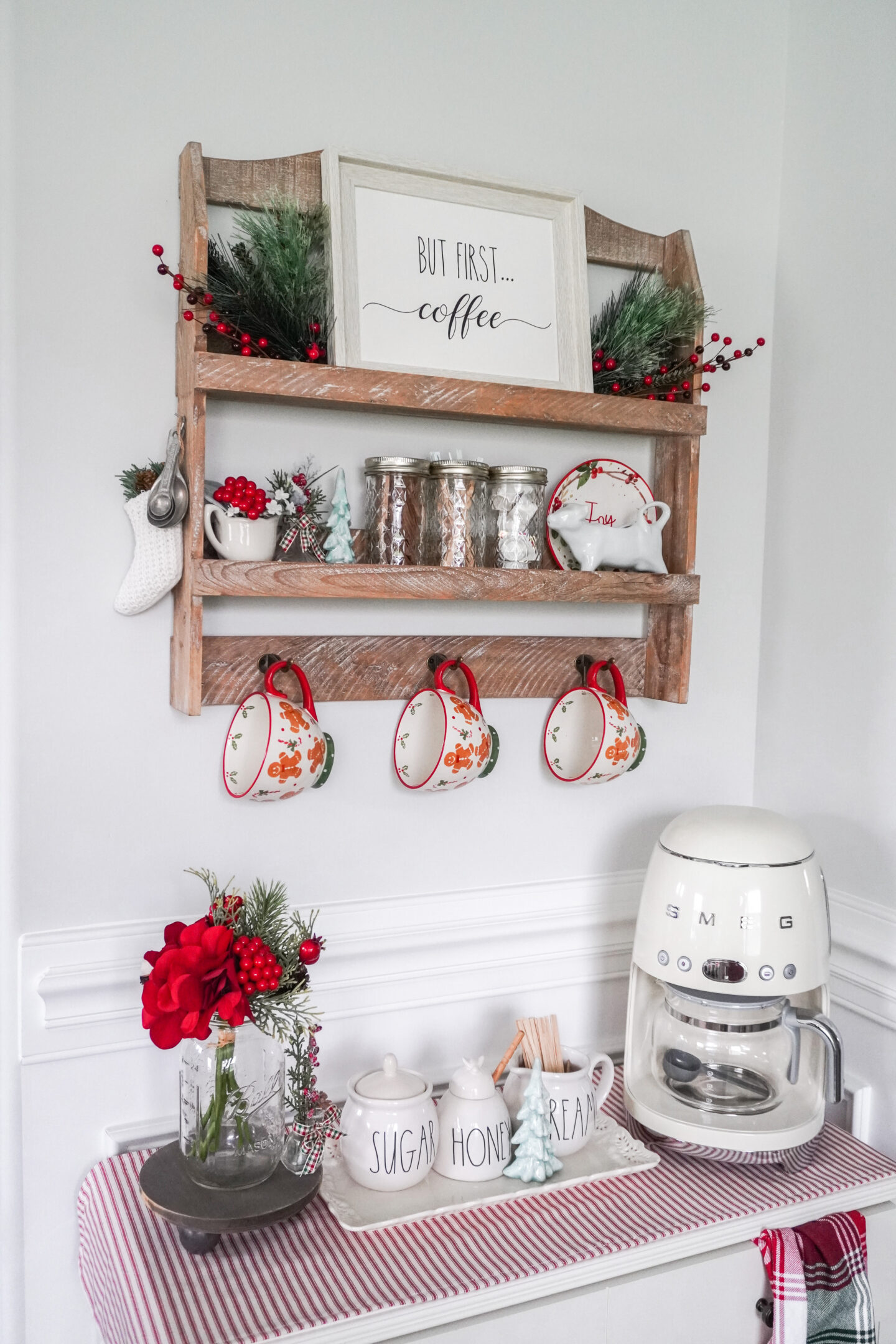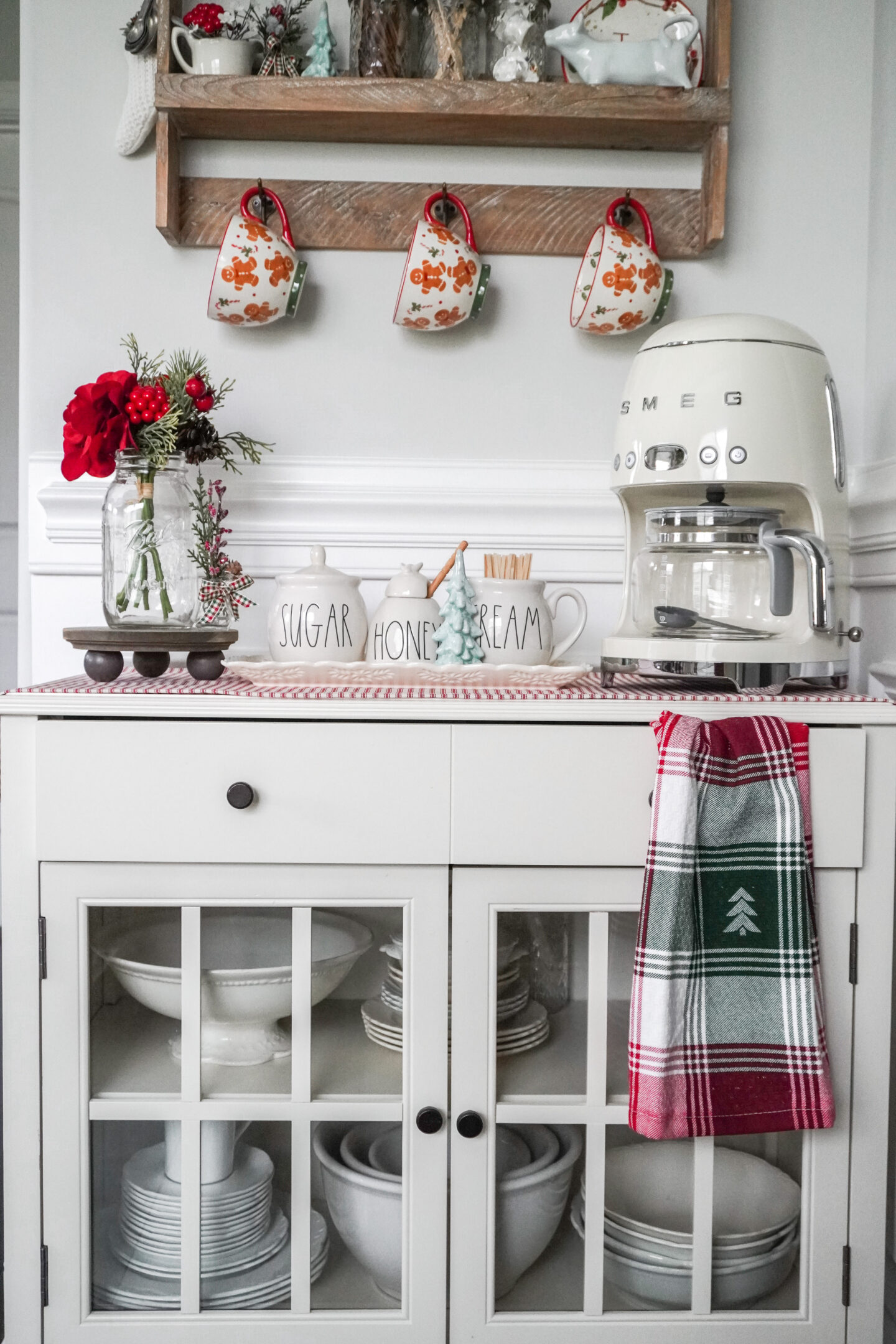 Another new find for this space was my Martha Stewart Hand Towels, which I found at TJ Maxx! Who else loves TJ Maxx? I sure do; I feel like I find the most unique things there! The colors and pattern of this hand towel are just perfect for my Christmas Coffee Bar.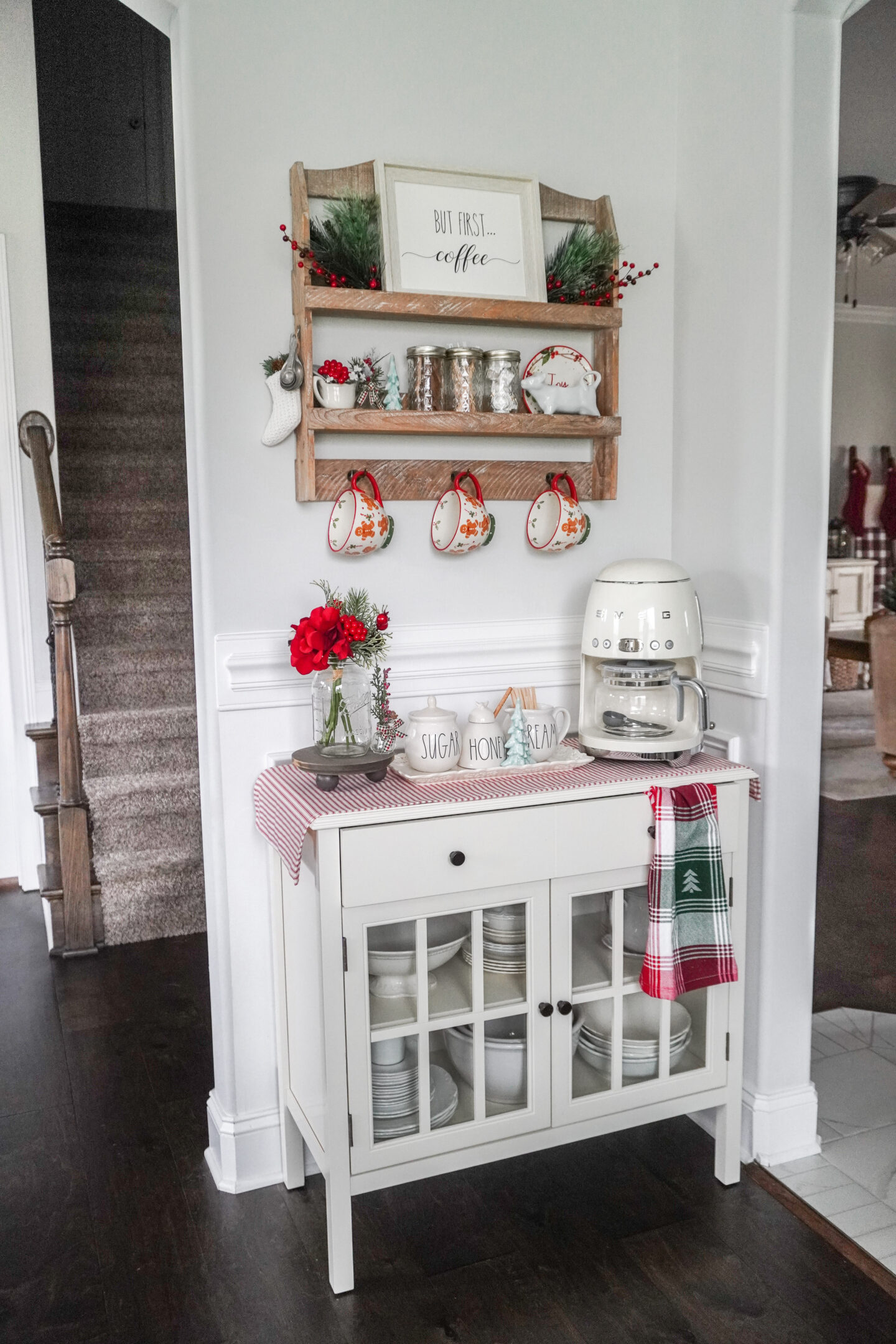 As many of you know from my previous decor posts about this space, this is actually a very small wall located in my dining room! When I first designed this space, I never imagined I'd be doing Seasonal decor here, but it's seriously so much fun to decorate! Especially finding all the little nicknacks for the shelf and the tabletop. Those are always hard to find, but worth the hunt!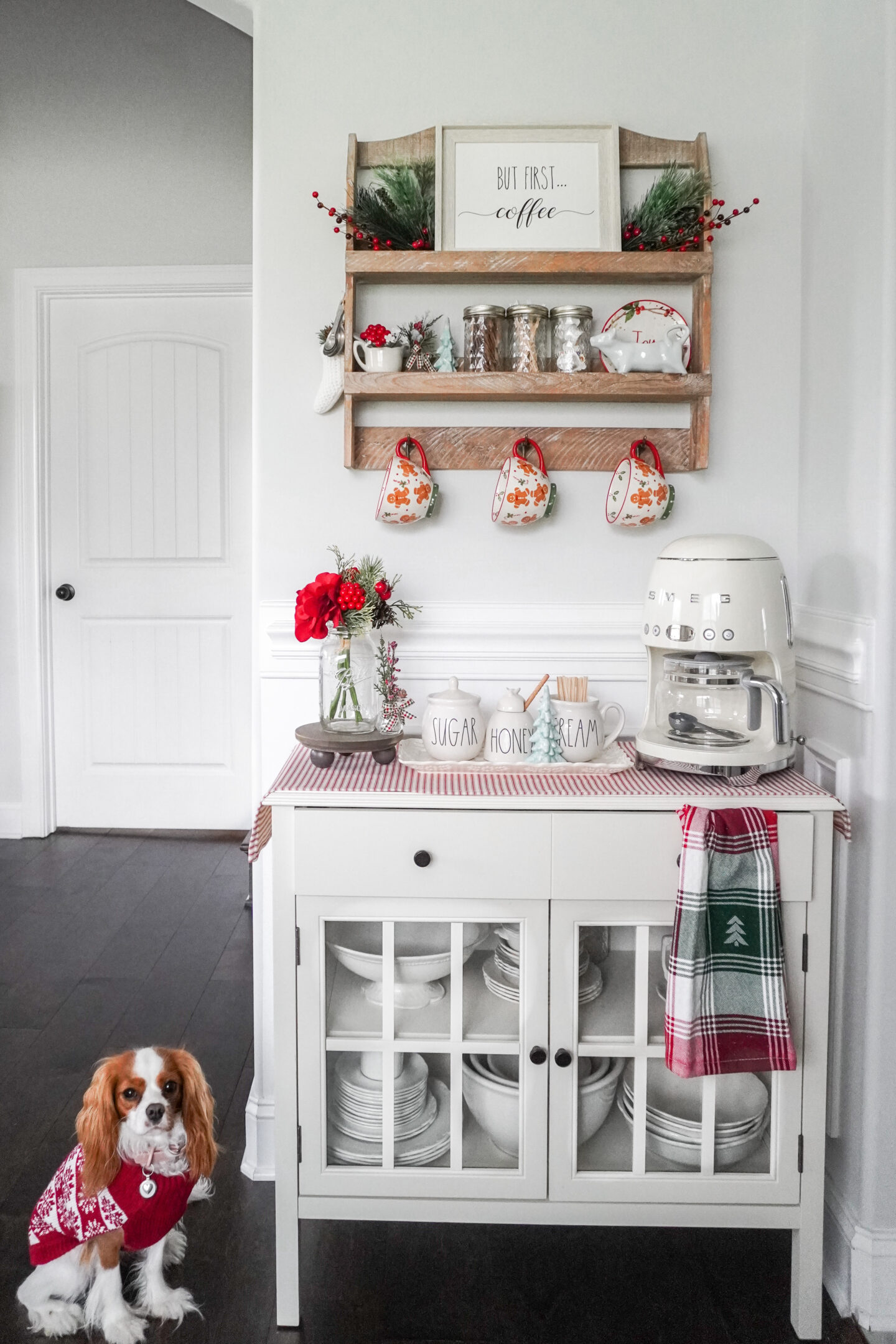 I'd love to know your thoughts on this coffee bar! What has been your favorite decor style for this space this year? Spring/Summer, Fall, or Christmas? Let me know in the Comments below!