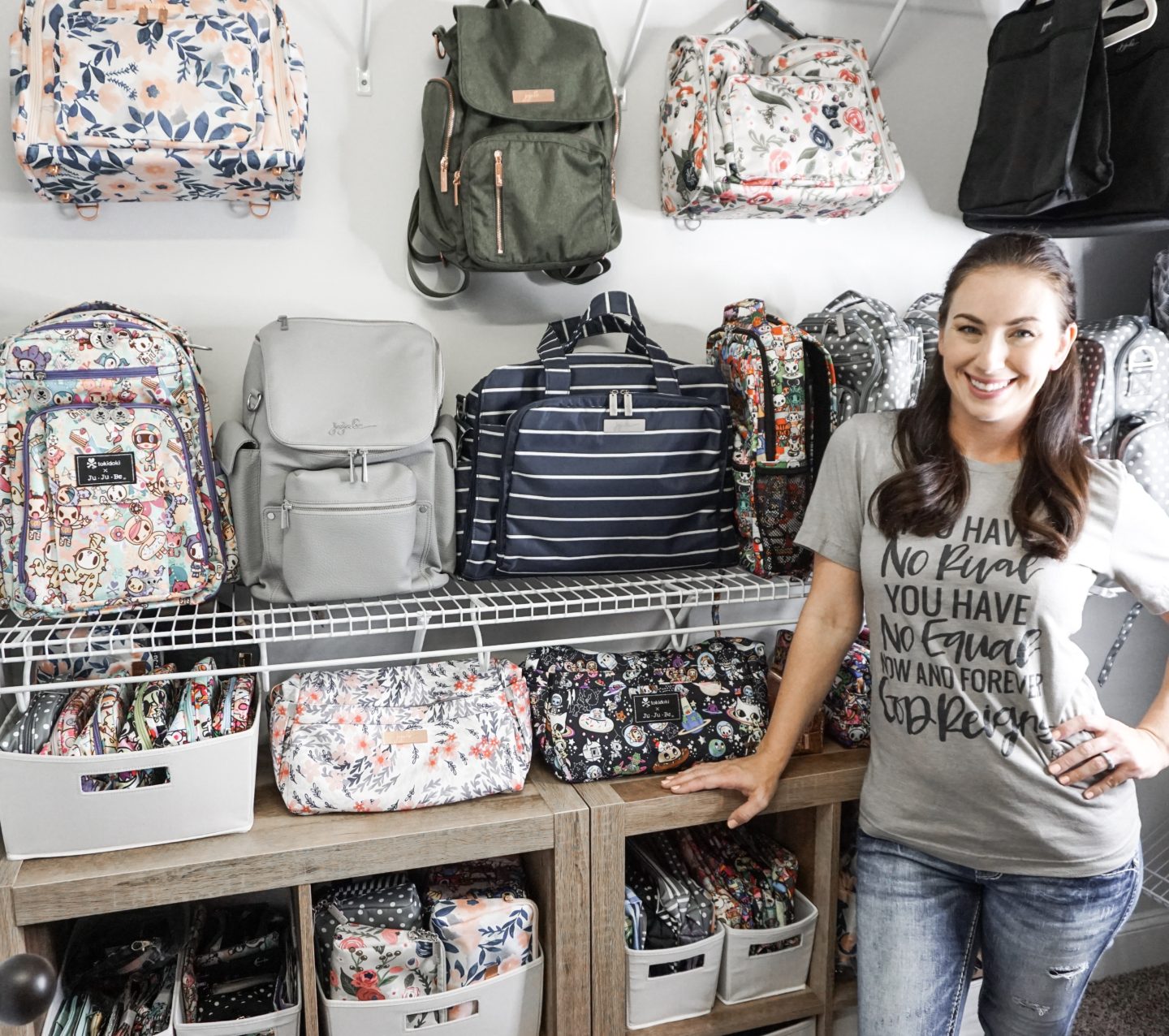 Well, guys. After a whole year of living in our new home, I finally did it. I organized my Ju-Ju-Be closet and FILMED it as requested by so many of you (this video will be located at the bottom of this page)! But, besides filming it, I wanted to talk about my collection here, on my Blog, as well!
How many of you keep a collection of some kind? I'd love to hear about what it is in the comments below! I keep small collections of things I really love, like Ironstone Pitchers, but I mean like a BIG collection. My one and only large collection is my Ju-Ju-Be Stash. I started collecting these bags back in 2013 when I was expecting my second baby. I DID NOT expect or plan to buy more than the top three bags I thought I would need: BFF, HoboBe and Be Prepared. I didn't know how quickly I could fall down the Ju-Ju-Be rabbit hole and become a collector, but within a few months, I had like 10 bags!
If you're new to Ju-Ju-Be bags, you might be asking yourself "What's so great about these bags that so many people would actually have a collection of them?" One of the big reasons I started collecting was because of the amazing community of women in the Ju-Ju-Be world known as Pink Ladies. They are also a large part of why I even started making Ju-Ju-Be videos on my YouTube Channel! Besides these wonderful women, Ju-Ju-Be on its own just has so much to offer! First off, my favorite feature EVER: these bags are machine washable! I don't know about you, but for me, that is a must-have when you have a baby…or even just children in general…heck, let's throw my husband in there too lol! Let's face it: messes happen. Just last week, we went out somewhere. The baby had a cup of milk, we put the cup (which was supposed to be closed) back in my Super Be…and it leaked…all down the front pocket of the bag and all over the trunk too. We didn't know about it until a few days later (sorry if that makes you sick just thinking about it!). Anyways, I didn't even freak out about it because I was like "No big. I'll just spray it off with my diaper sprayer and then put it in the wash." Voila, came out like new! P.S. If you need a great video for how to wash Ju-Ju-Be, click HERE.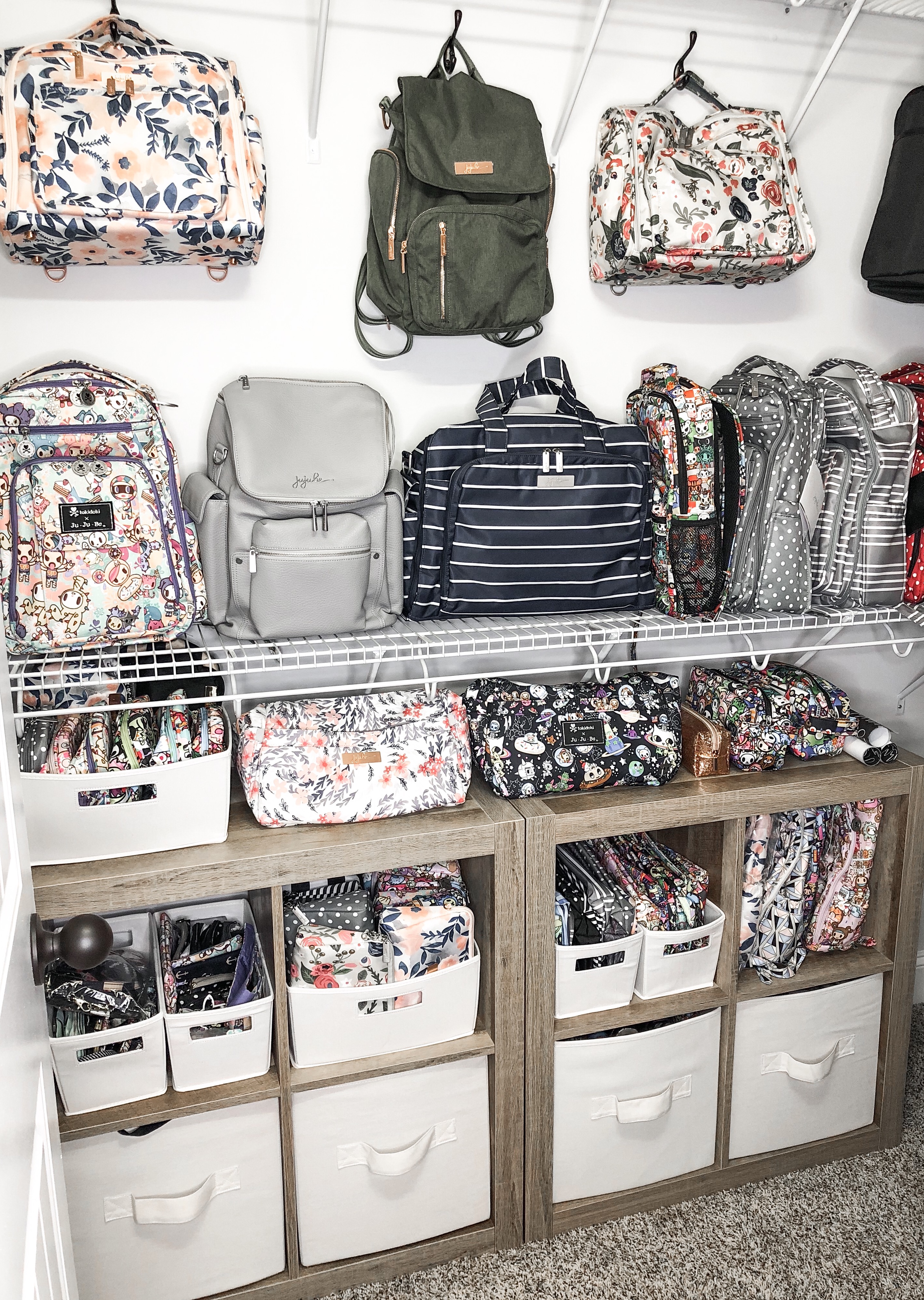 So, anyway, back to my stash. I quickly realized I had become addicted to Ju-Ju-Be, to the point where it was taking over my own closet, hall closet, and under the bed storage…Oh yes, it was everywhere! And it was all so unorganized that it was stressing me out, so I knew I had to do something. Luckily, when we moved to New York we had a spare closet that made sense to use as my Ju-Ju-Be collection closet. If you want to see my video for how I organized back then, click HERE. This was the first time I had a room solely for my Ju-Ju-Be collection, and it was amazing!
Now that we're back in Tennessee, and we've been in our new house for over a year, I finally have my new closet here just the way I want it and I am so excited to share how I organize and what I use to organize my Stash. Quite a few things have changed over the years!
As you can see in the photo above, I installed 3 hooks above the first row of bags where I hung three of my favorite Ju-Ju-Be bags. I placed these here so that they are the first thing I see when I walk into this room. Also, next to the hooks, I have my Be Moved and Be Switched inserts. Below the hooks is the first shelf of bags. This shelf is part of my in-closet installed organization that actually came with this closet when we moved in, but just look how perfectly it fits above the storage cubes I purchased! This particular shelf allows me to fit so many bags on it because of the length and width. As you can see in the photo, I have three larger bags facing out (so I can enjoy seeing them), but if I tuned them sideways like the other bags on that row, I could easily fit 8-10 more bags…IF I wanted to lol!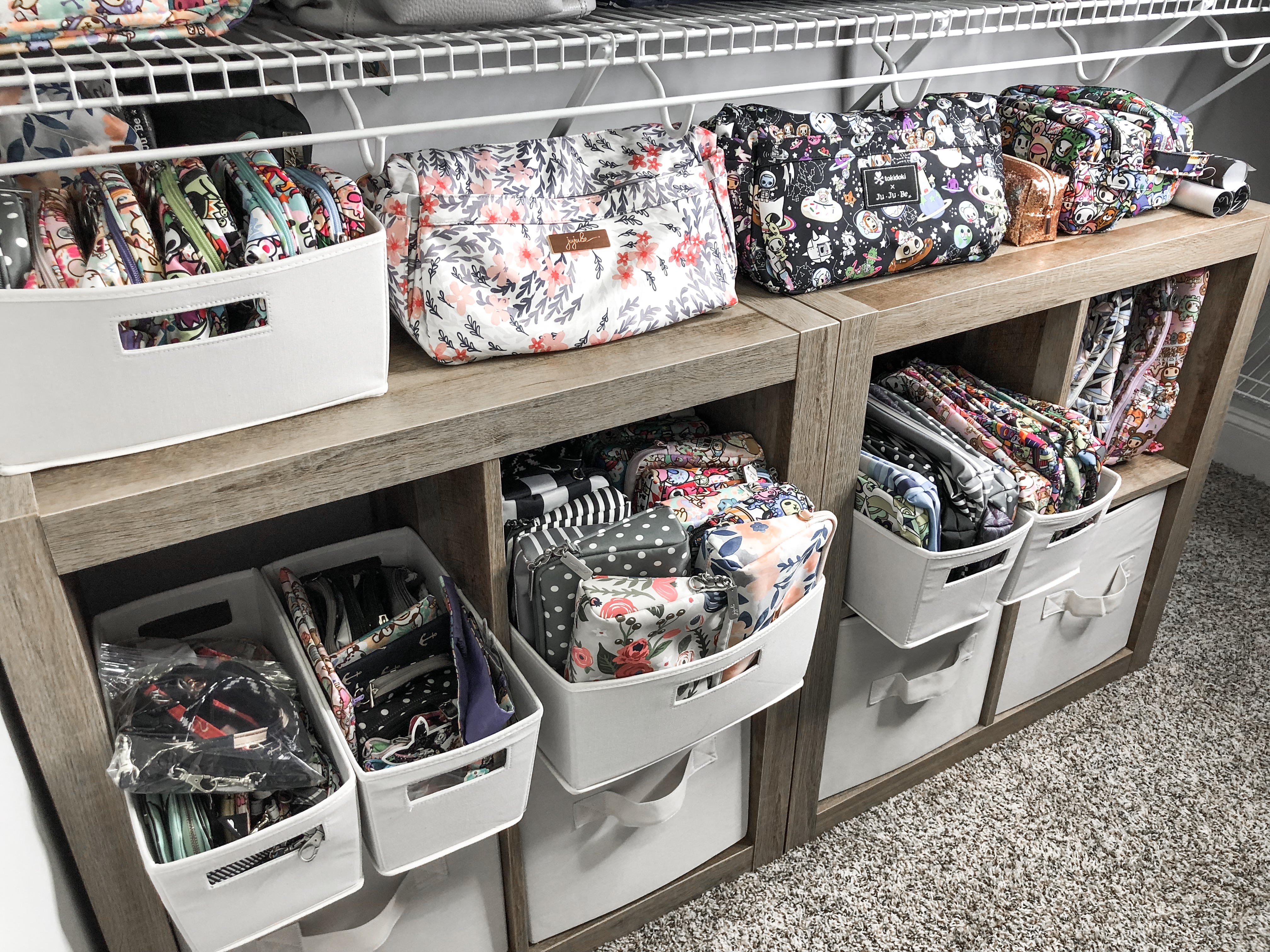 Under the rack, and on top of the storage cubes, I have a bin full of Ju-Ju-Be Fuel Cells, two of my HoboBe's next to that, and then a couple of Be Dapper bags. Under that section, in the first row of cubes, I have different sizes of bins. I originally purchased mine from Target, however, you can really find them in all kinds of places!
From left to right:
The first bin is my catch-all bin for Be Set straps. The bin next to it is full of custom pieces I have had made over the years. Next is my Be Set collection. To organize these, I put the Small and Medium set pieces inside of the Large and stagger (see the photo below). I only keep Be Sets in my very favorite prints! Unfortunately, I don't have some I would love to have in my stash, but I just have to track them down lol (Rose Gold…). Inside of the two bins next to that is my Be Set Collection! One bin has Legacy, Rose Gold, and Onyx etc. prints, the other bin is Tokidoki and Hello Kitty! I like to keep the prints separated so they're easier to find when I want to take one out. The very last cube on the top row is my Mini Be Collection! I currently only have on on this particular shelf…but Mini Be's are sprinkled throughout different rooms in my house lol! Our kids use them too, so they are everywhere!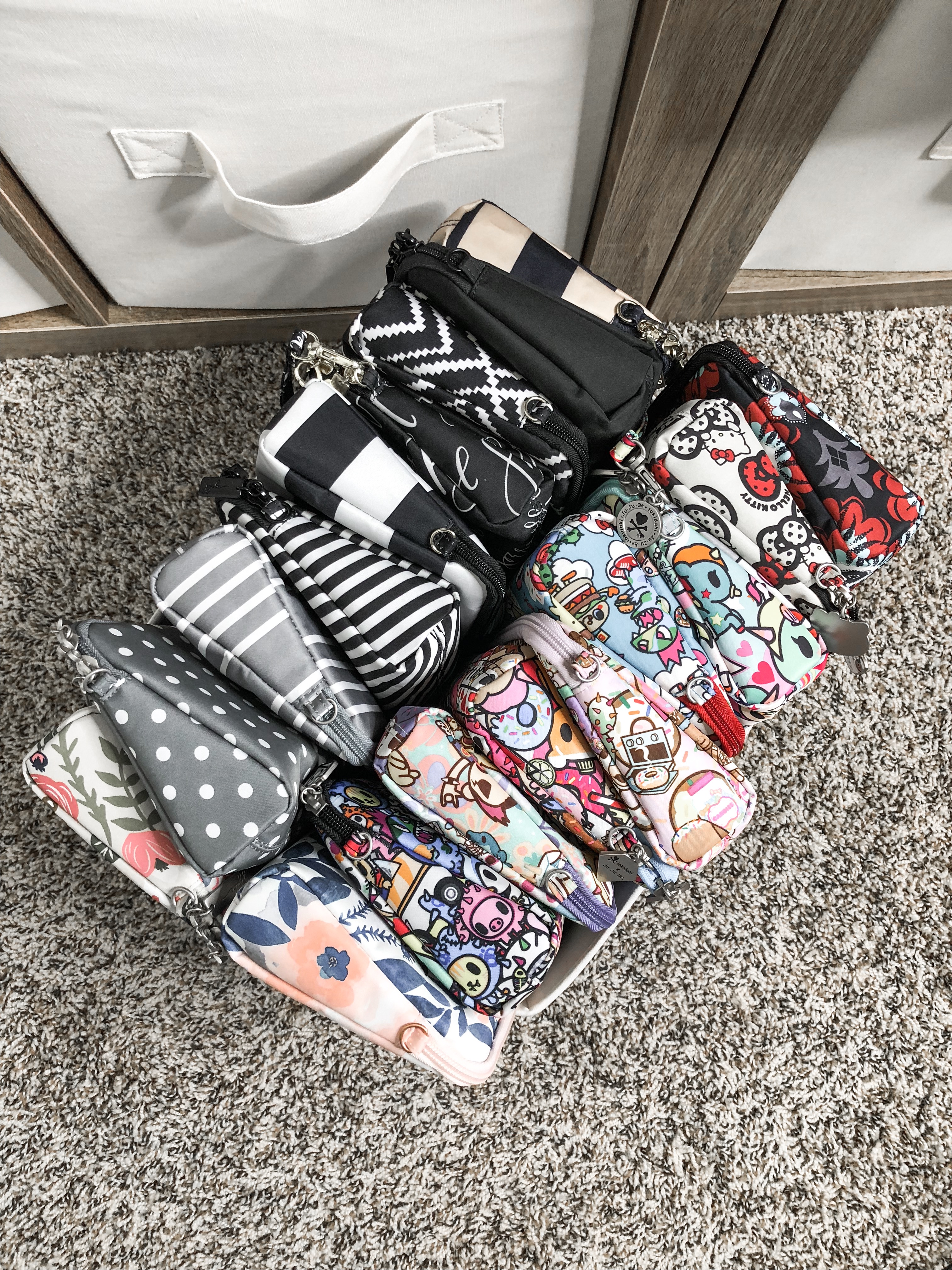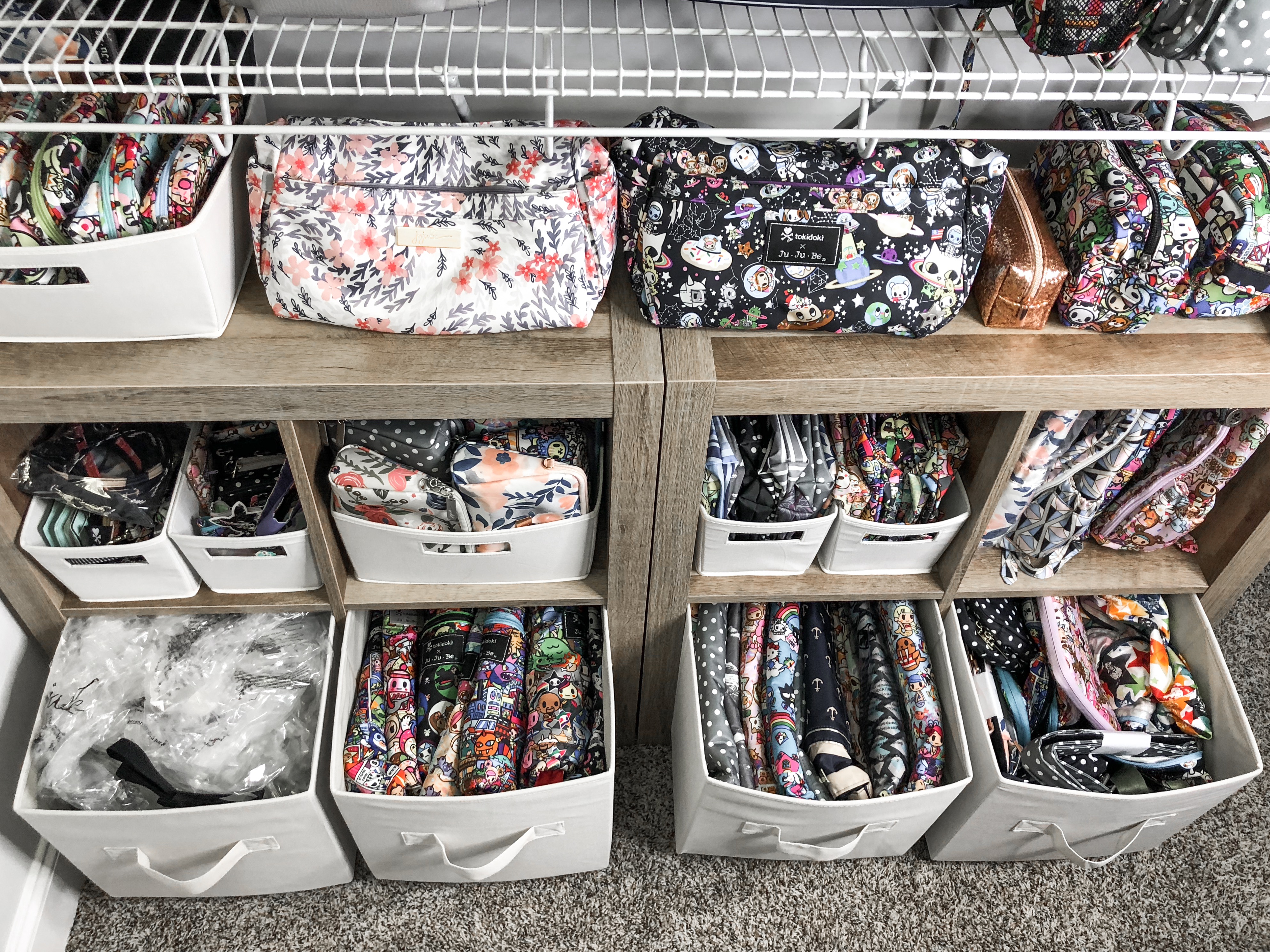 On to the bottom row of this great set-up! The bins on the bottom are some of my most used.
From left to right:
The first bin in literally JUST baggies. Like empty Ju-Ju-Be baggies lol! I keep them for when I decide to sell a bag so when I ship the package the bag will have a little extra protection. Underneath all that, is just a few different bag-in-bag type of organization (ex. Lily Jady and Insjö). The next bin has all of my Super Star and Starlet Ju-Ju-Be Duffles! These are the best duffles ever!! Moving on to the next bin, this one has all of my Super Be's and Be Lights. The very last bin is a bit crazy. Talk about a catch-all drawer! I have Ju-Ju-Be accessories galore in here (straps, change pads, Be Organized, Be Equipped, Paci Pods etc.) also Kanga Care Wetbags live in this drawer!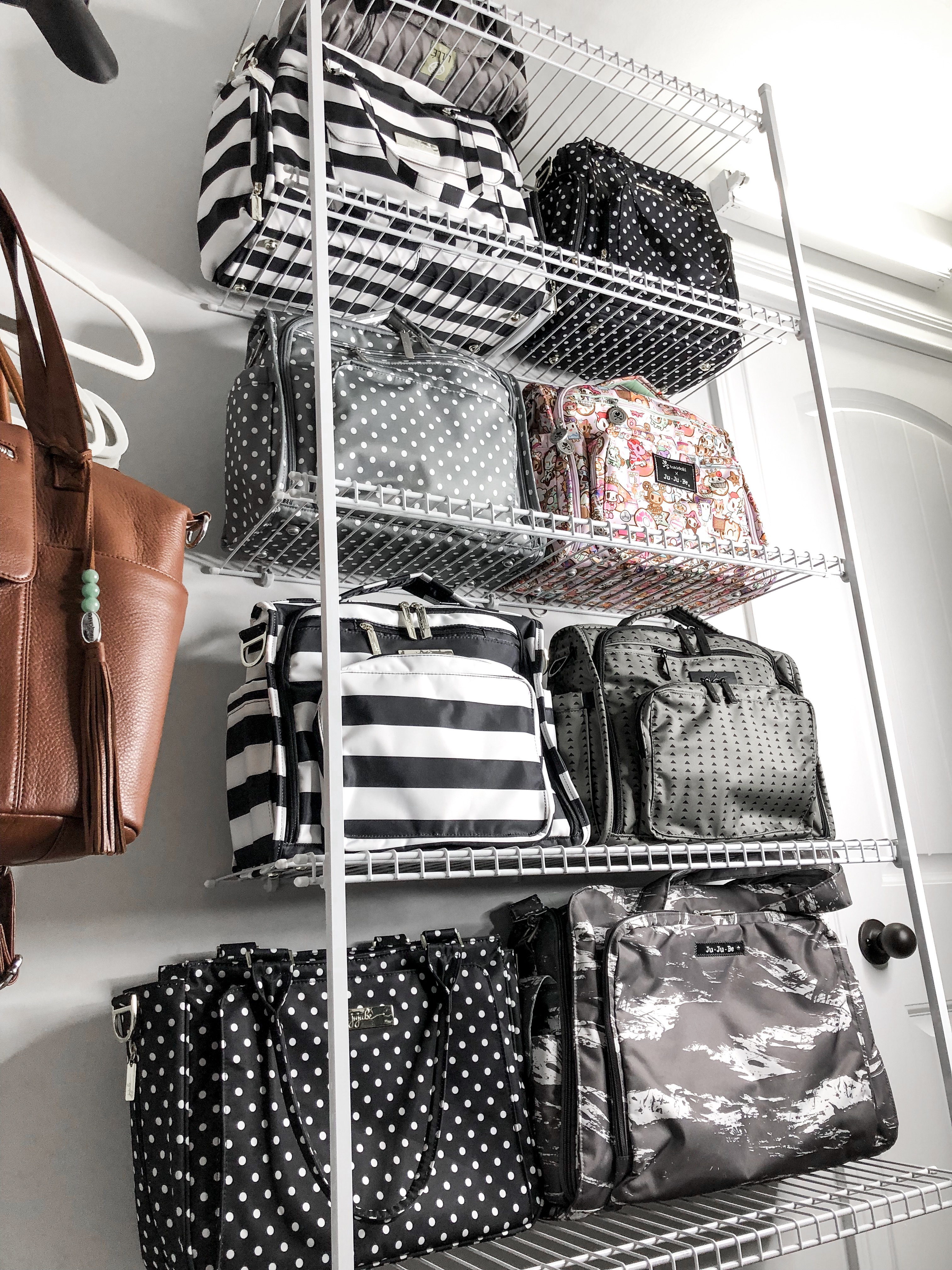 Last, but certainly not least, is the opposite side of my closet! I recently moved this shelf from my closet downstairs up to my Ju-Ju-Be closet because it wasn't being used. Turns out it was exactly what this room needed for extra organization. I love it. Let's start at the top! The very top of this rack will be storing my Lillebaby baby carriers that aren't currently in use. The next row has the Ju-Ju-Be Be Pumped and Be Supplied (these are a couple of Ju-Ju-Be's breast pump bags). Below that is two rows of Ju-Ju-Be BFF's! You may notice that that is one of my favorite bag styles. The last row has my Be Classy and Be Prepared diaper bags. There is actually more Ju-Ju-Be under this rack, which is not pictured. If you want to see everything in further detail and hear me talk about everything even better, please watch the video below!
And if you would like to purchase any of the items mentioned in this Blog post, please click the clickable words and they will take you to where you need to go, or you can also click below! Thank you so much for stopping by!