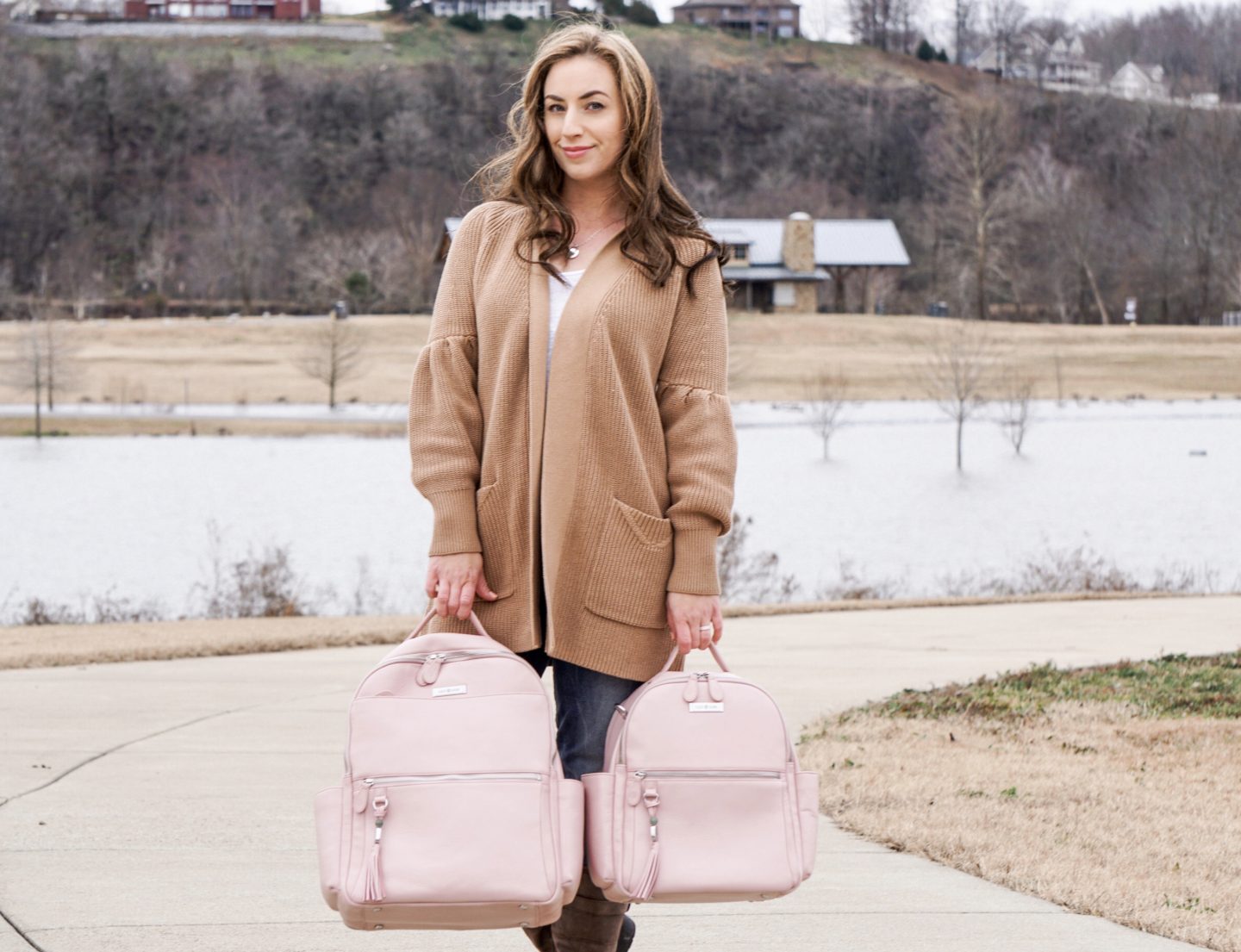 Lily Jade lent me the bags to make this Blog post for my followers. A big thank you to them!
Meet Anna.
Something GORGEOUS and NEW is coming soon to the Lily Jade website! Meet Anna, the newest Lifestyle Bag style from Lily Jade. But she doesn't just come in one size…She comes in two!
If you are new to Lily Jade bags, welcome to my leather diaper bag obsession lol! Lily Jade makes gorgeous, full-grain leather Diaper and Lifestyle bags for every occasion!
The Anna is Lily Jade's first Backpack style bag, which is specifically made to look like a backpack, unlike their other styles. Most Lily Jade bags are made to look more like a Tote style bag, so this new design is totally different and I'm loving it!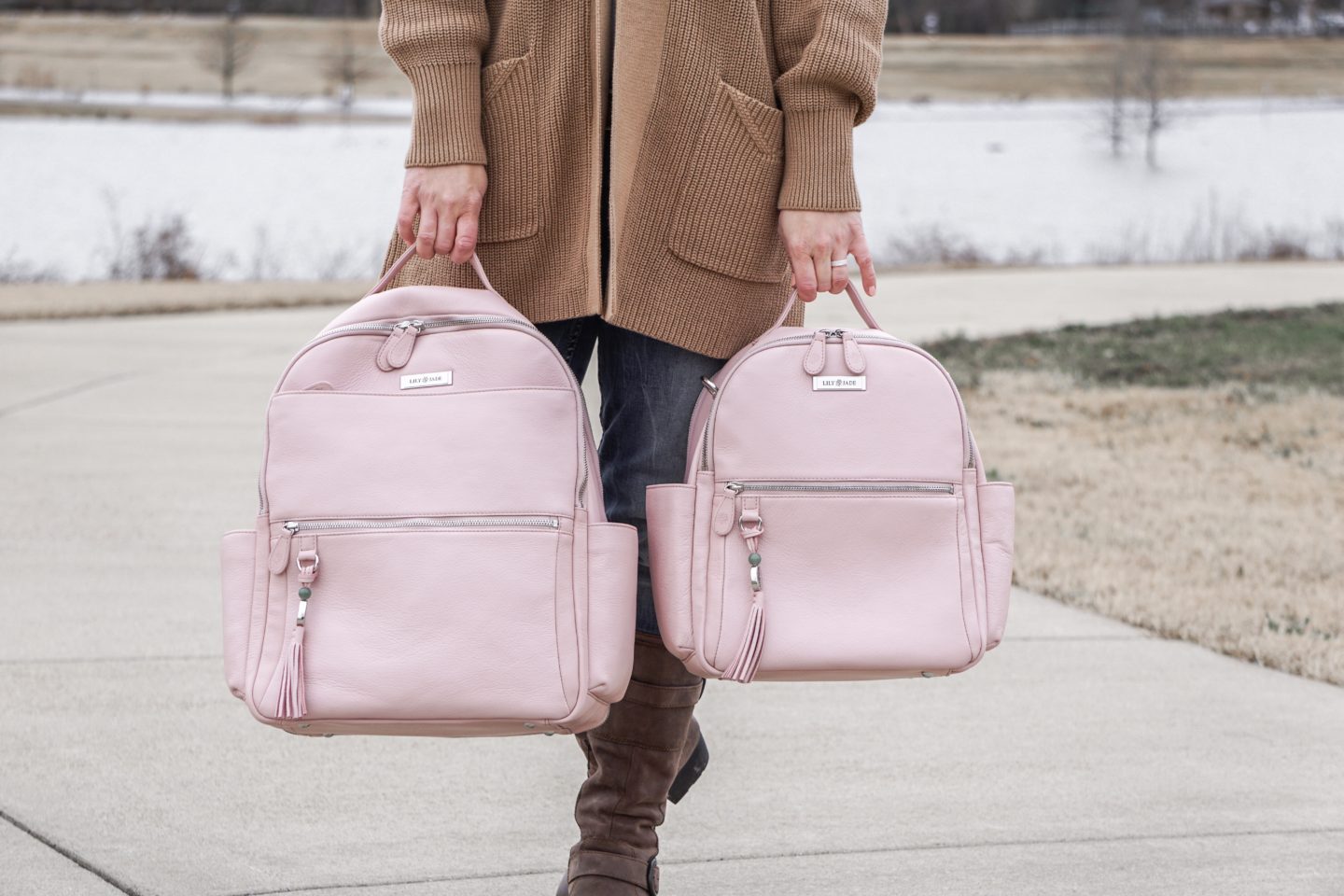 The Anna Backpack comes in two different styles and sizes! The Large Anna is very roomy and an over-packer's dream bag! The Medium is perfect for minimalists, but still holds all of the necessities. In case you haven't already guessed it, BOTH of these bags are Convertible! These can be worn in three different ways: backpack style, messenger, and over the shoulder. Check out the video below to see ALL of the differences there are between these two bag styles, inside and out, as well as On The Body Comparisons. Like to just look at pictures? Keep scrolling down!
Large Anna Backpack
The Anna bag is actually 2 bags in 1! The Large Anna (shown below) has two main compartments, each with their own zippered openings for easy access. Compartment 1 in the front of the bag is perfect for holding anything from baby gear to personal items, and the back compartment is perfect for holding your work gear and electronics, and it's even big enough to fit a large pair of tennis shoes! And don't forget about those awesome metal feet on the bottom of the bag; They are on both styles!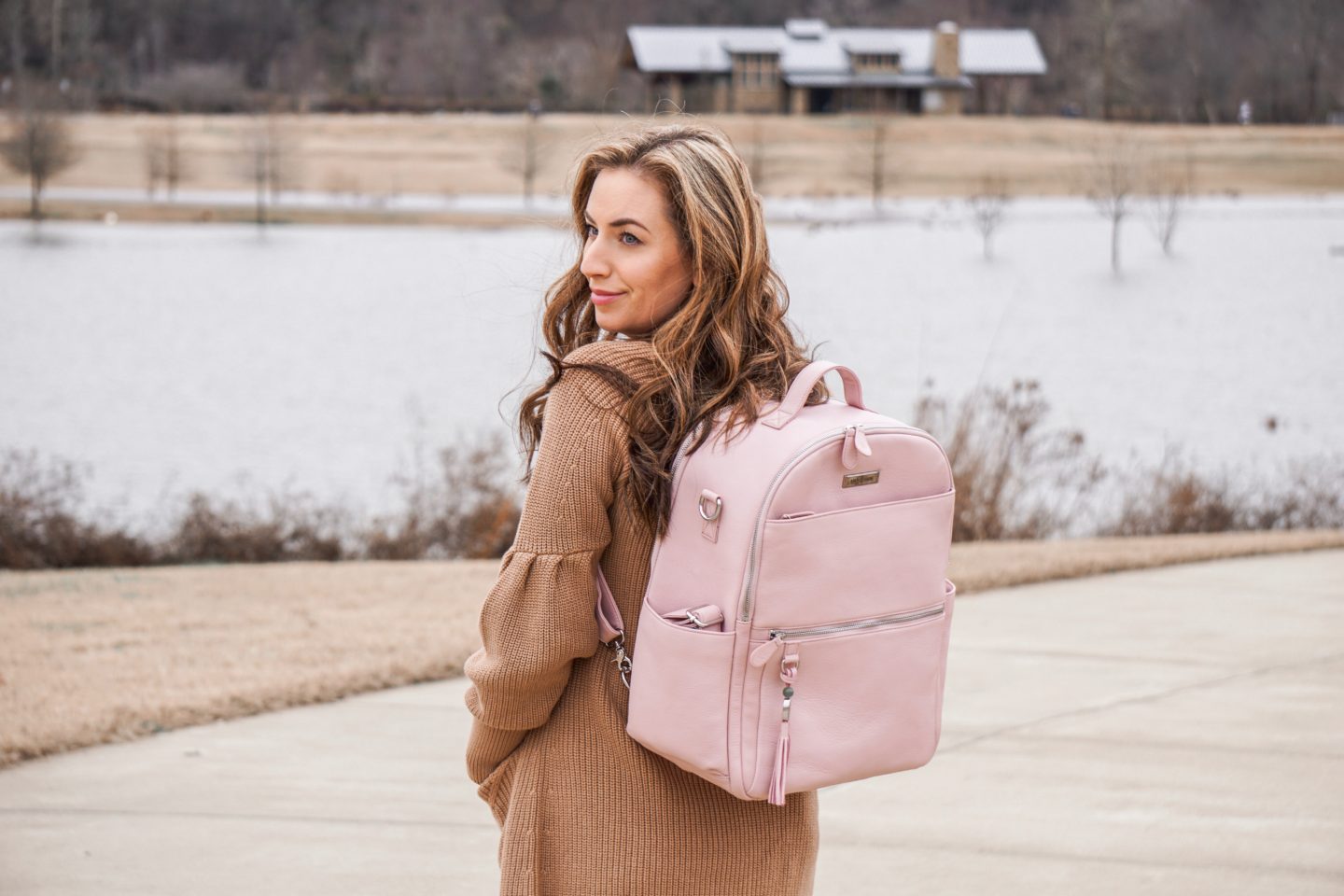 Medium Anna Backpack
The Medium Anna (shown below) is probably one of my new favorite bags! I love Convertible bags, as you guys well know! The size of the Medium Anna makes it super easy to convert this adorable backpack into a cross body bag for everyday use. And just like the Large Anna, this bag is also 2 bags in 1! The Medium Anna is a scaled-down version of the Large, with fewer pockets, but overall it still packs like a dream and holds everything I need for a day out with my little one!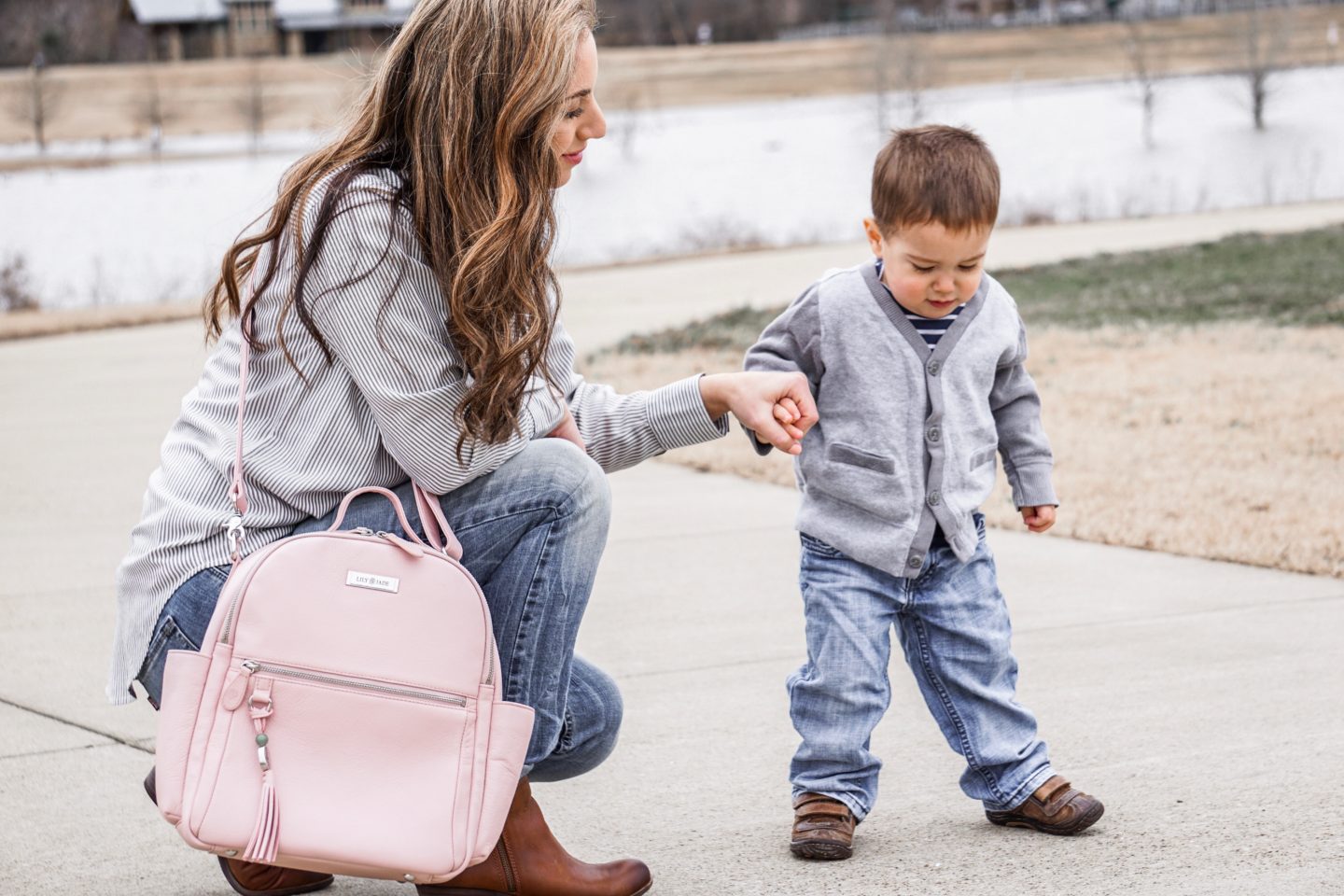 Besides coming in leather, there will also be Nylon options as well, which significantly lighten the weight of the bag, and they are also a bit cheaper. If this sounds like something you'd like to take a look at, make sure you check out GatorMom's Review on Youtube for all the details. Find the Lily Jade Anna backpacks on the Lily Jade website on January 21!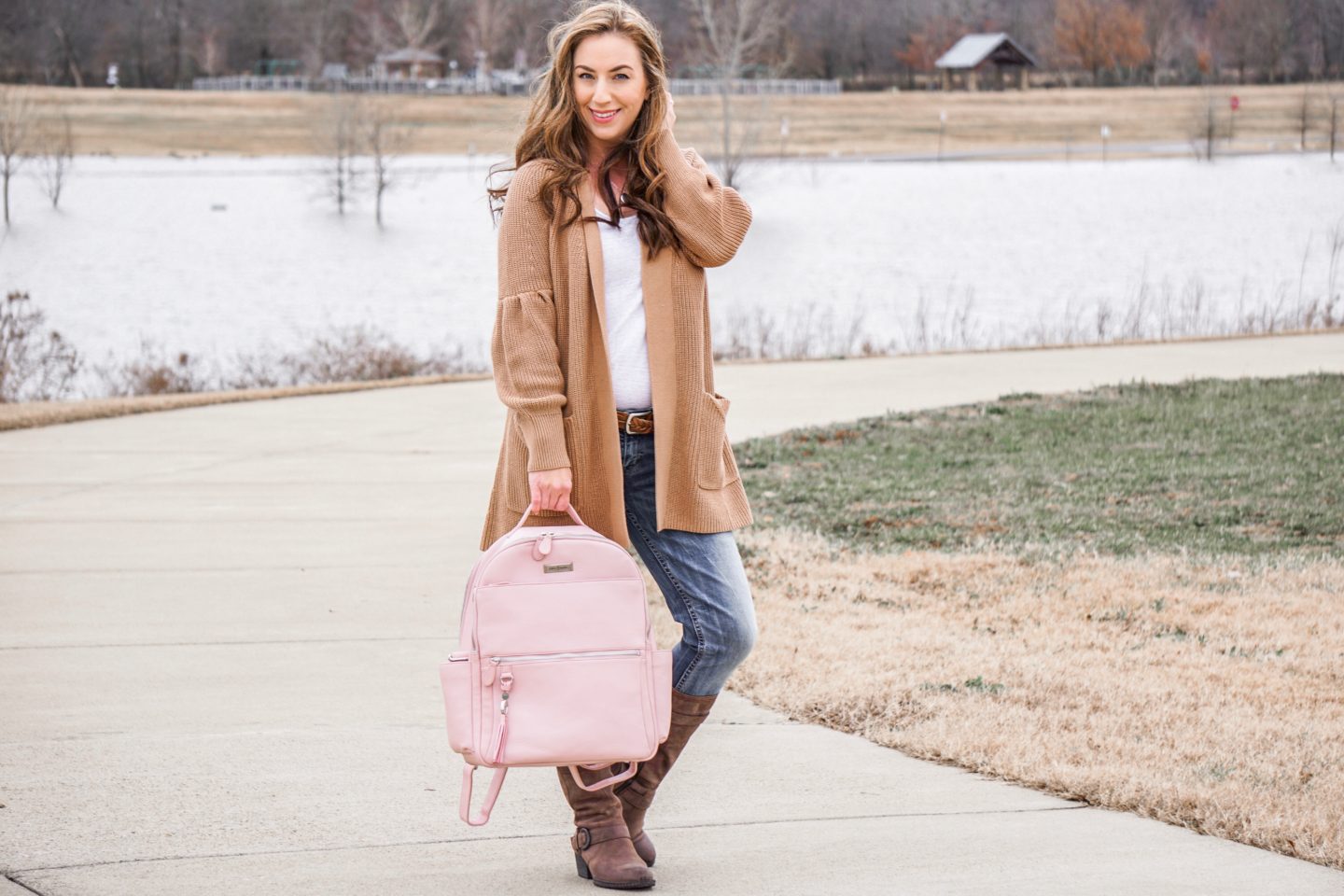 To see a more in-depth look on these two bags, please visit the video posted above! And stay tuned for a Review and Packing Video for the Medium Anna coming soon. Thank you so much for stopping by! Make sure you Subscribe to my Blog for updates on all my newest posts!
Make sure you Subscribe to my Blog for updates on all my newest posts!
If you love the sweater I'm wearing in this Blog post, it is the Elizabeth from Evy's Tree!
*Some links mentioned in this Blog Post are affiliate. When you shop through those links I earn a small commission when a sale is generated.
Shop with me!